This secret portfolio is trouncing the market – here are 6 of the stocks included in it.
After a rocky end to 2018, the stock market has had a bullish start in the new year with hopes of a truce in the trade war between the U.S. and China, a seemingly more dovish Fed, and a solid earnings season pushing stocks higher. And so far, both the Dow Jones Industrial Average and the S&P 500 are up around 11% this year.
Goldman Sachs has put together a portfolio of the stocks that top hedge funds and mutual funds are loving right now, and this portfolio is crushing both the market and some of Goldman's own secret portfolios.
The stocks in this basket include those stocks that overlap between two other portfolios created for Goldman's elite clients – the hedge funds top holdings portfolio and the large-cap mutual funds overweights. These stocks that overlap the two portfolios have delivered outperformance for years and have a better earnings outlook than either portfolio according to the investment bank.
"Great minds think alike," David Kostin, Goldman Sachs' chief U.S. equity strategist, wrote in the note. "The median shared favorite is expected to have higher margins and faster growth in 2019 than the median S&P 500 stock."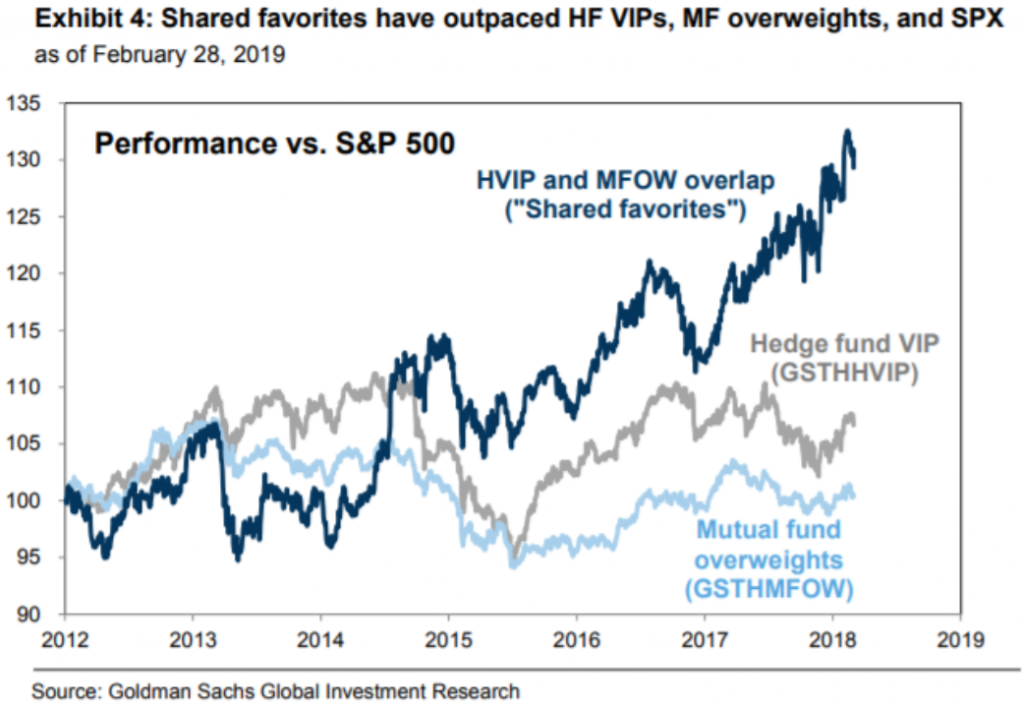 In total, the bank found 13 stocks that were ranked as most loved by both hedge funds and mutual funds, the most since early 2017. Both groups have increased their bets on industrial and technology stocks and have trimmed their exposure to drugmakers, consumer staples, and banks, Goldman said.
For the Goldman strategists led by Kostin, this concentration on 13 stocks is a sign of conviction among stock pickers. And it's clear their bets are paying off: both industrial and tech stocks have been leading the market's rebound so far in 2019.
Included among the 13 overlapping stocks are ServiceNow (NYSE: NOW), Adobe (NASDAQ: ADBE), PayPal (NASDAQ: PYPL), Delta Air Lines (NYSE: DAL), Visa (NYSE: V), and Google-parent Alphabet (NASDAQ: GOOGL, GOOG).
As a group, the basket of favorite stocks has outperformed the S&P 500 by 70 basis points so far in 2019. These stocks also have a track record for beating the market, returning an annualized return of 19% since 2013 compared to the S&P 500's return of 14% in the same time frame.
Goldman covers 880 hedge funds with $2.1 trillion of gross equity positions and 521 large-cap mutual funds with $2.1 trillion of equity holdings. The most loved stocks basket has delivered a higher return than both the bank's hedge fund and mutual funds baskets.
Over the past five years, there has been an average of 11 stocks that have been most loved by both hedge funds and mutual funds, according to Goldman. Alphabet is the only stock that has been a favorite for both of the groups over the last 18 quarters. On average, Goldman says stocks stay on the list of shared favorites for four consecutive quarters.
But there's also a warning here. And anyone who watched crowded stocks take a vicious beating in the sell-off between October and December of last year has witnessed the risk of unwinding when there's too much money chasing the same stocks. When that money pulls out, the fall is brutal.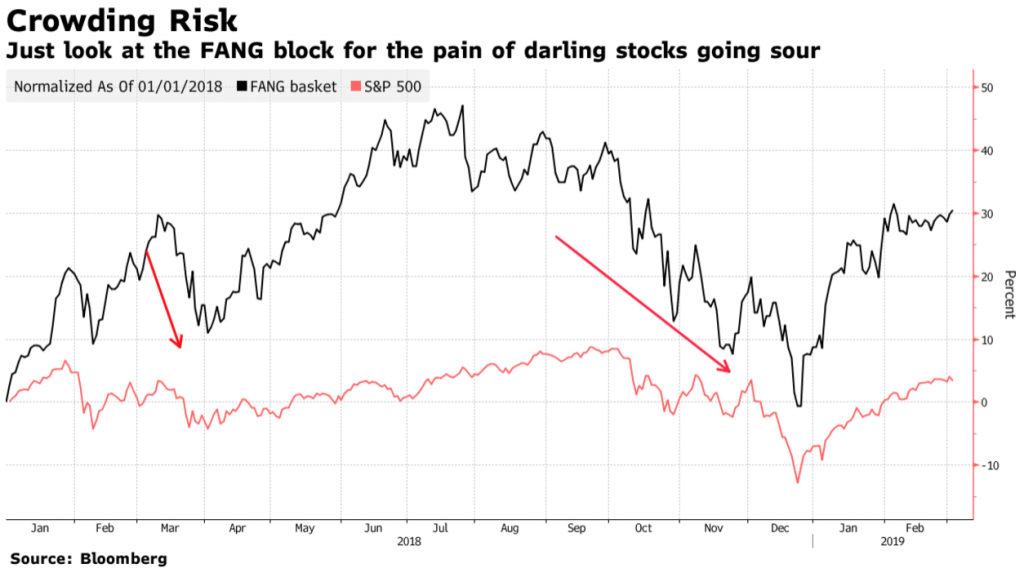 "Hedge funds once again appear to have crowded into similar stocks, and have done so with increased leverage. That momentum typically feeds on itself," said Christopher Hillary, the chief executive and portfolio manager for Roubaix Capital in Denver, which has around $120 million under management. "When the market reverses, however, you have the equal and opposite reaction as everyone runs for the exits at the same time."
"That is what occurred in late 2018, and we see no less risk in the market today," Hillary said. So watch out when the sentiment shifts.