After a few days of doing like the rest of the market and paying a lot of attention to tariff news and trade war rhetoric, it felt like today might be a good time to shift the focus – at least a little bit – away from some of those issues and look for something familiar and comfortable. For my wife and a lot of people I know, there isn't anything that is much more familiar and comfortable than a good cheesecake. Personally, cheesecake doesn't do a lot for me, but after so much angst-ridden, hand-wringing tension since last weekend about whether the trade war is reaching a critical point of no return that can finally signal the beginning of the end for the longest run of economic growth in most investor's memory, I can appreciate the "comfort food" argument that usually comes from tasty treats like cheesecake.
---
Hey, did you know if you really want to retire early, this free training lays it all out for you! Check it out here.

---
Cheesecake Factory Inc. (CAKE) doesn't just do cheesecake, of course. The industry this stock occupies is an interesting niche of the Consumer Discretionary sector, though, that generally does well during periods of economic growth. Hotels, restaurants, and leisure companies consist of hotels, restaurants, casinos, cruise lines, resorts, and theme parks. These are businesses where demand is driven by factors like personal income, total employment, and consumer confidence. Most of the data coming in from these areas lately has been pretty strong; unemployment remains historically low, and personal income is generally trending upward. This week a recent report indicated that consumer spending was lower last month than expected, but by itself that isn't an entirely bearish indicator.
CAKE is an interesting company in the industry. This is a small-cap stock with big name recognition, trading at the lower end of its 52-week range. Despite rising about 8.5% year-to-date, the stock is still about 20% below a July 2018 high around $60. It has also retraced about – 8% from a high around $51 at the beginning of May. Is that setting up a new opportunity to work with a stock at an attractive price level? Let's run through the numbers.
Fundamental and Value Profile
The Cheesecake Factory Incorporated is engaged in the restaurant and bakery business. As of March 2, 2017, the Company operated 208 Company-owned restaurants: 194 under The Cheesecake Factory mark, 13 under the Grand Lux Cafe mark and one under the Rock Sugar Pan Asian Kitchen mark. The Company's segments include The Cheesecake Factory restaurants, and other. It also operates bakery production facilities, which produce desserts for its restaurants, international licensees and third-party bakery customers. Its restaurants offer lunch and dinner, as well as Sunday brunch. Its restaurants also offer a bar. As of January 3, 2017, its menu consisted of over 200 items in addition to items presented on supplemental menus, such as its SkinnyLicious menu, which offers approximately 50 items. Its Grand Lux Cafe is a casual dining concept that offers artisan cuisine. It offers appetizers, seafood and steaks. CAKE has a current market cap of $2.1 billion.
Earnings and Sales Growth: Over the last twelve months, earnings grew by almost 11%, while sales increased by just 1.5%. In the last quarter, earnings growth was modest, at 3.33%, while sales growth was 2.45%. Not surprisingly for stocks in this industry, CAKE operates with a narrow, but relatively stable margin profile, with Net Income that is around 4.5% for both the last twelve months and the most recent quarter.
Free Cash Flow: CAKE's Free Cash Flow is healthy, at more than $164 million. That translates to a Free Cash Flow Yield of 7.6%, which is pretty solid.
Debt to Equity: CAKE has a debt/equity ratio of 1.78. That number is pretty high by itself; but it is also marked by its increase from .02 in the quarter previous. That is a reflection of the fact that long-term jumped from just $10 million at the end of 2018 to more than $966.79 million in the last quarter. By comparison, cash and liquid assets have been relatively consistent at around $22.53 million. The increase in long-term debt is a very big red flag; given the company's narrow margin profile and limited liquidity, their ability to service this increase in debt has to be called into question.
Dividend: CAKE pays an annual dividend of $1.32 per share, which at its current price translates to a dividend yield of about 2.76%.
Price/Book Ratio: there are a lot of ways to measure how much a stock should be worth; but one of the simplest methods that I like uses the stock's Book Value, which for CAKE is $11.99 per share. At the stock's current price, that translates to a Price/Book Ratio of 3.93. The stock's historical average is 4.1. That only offers about 4% worth of upside in the stock, with a top-end target at around $49 per share; however the stock's average Price/Cash Flow ratio suggests the stock is actually overvalued by about -4%, and offers a lower target price at around $45. The net result is that the stock is probably fairly valued right now, with a bargain price sitting somewhere in the $36 to $39 level.
Technical Profile
Here's a look at the stock's latest technical chart.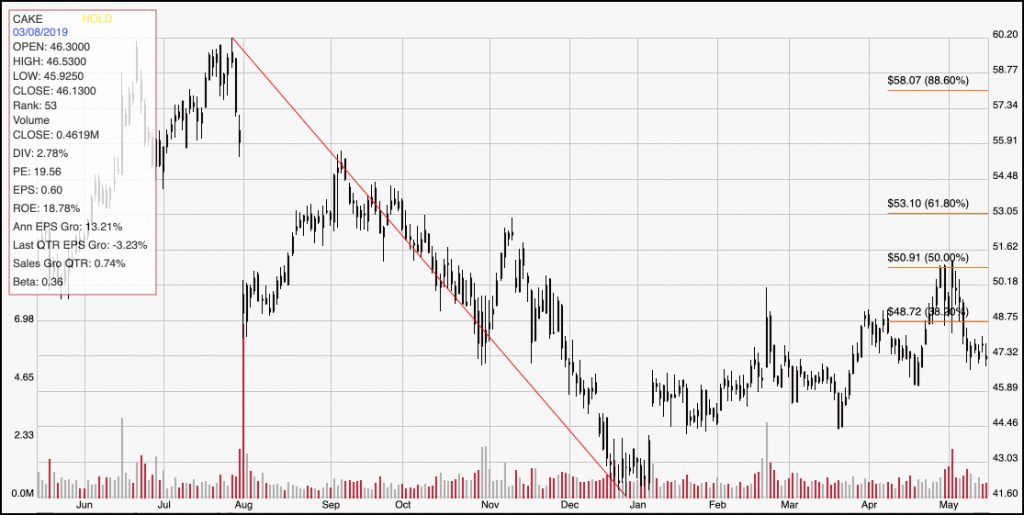 Current Price Action/Trends and Pivots: The chart above covers the last year's worth of price activity for CAKE. The red line traces the stock's downward trend from its July peak at around $60 to December 2018, and also informs the Fibonacci retracement lines on the right side of the chart. From the trend low at around $41.50, the stock has rallied a little over 8.5% higher, but after peaking at about $51, it has lost a big chunk of that momentum, declining a little over -8% in just the last couple of weeks. The stock appears to be consolidating at support right around $47, but another push lower could see the stock test its next support around $44.50 pretty easily. A break above the 38.2% Fibonacci retracement line at around $49 could signal a strong upward short-term rally, but in order to confirm its upward trend so far this year, the stock would need to push above that pivot high at the 50% retracement line around $51. If that happens, I would expect the stock to see pretty solid bullish momentum to push above the 61.8% retracement line and test the $56 range.
Near-term Keys: The plain truth is that I don't think the fundamentals for CAKE are very attractive right now. The company's sudden, big jump in debt is a big concern, and to me makes the contention that the stock is even fairly valued suspect. That means that under current conditions, there is no way CAKE would fit into any kind of long-term investing strategy I might try to devise. I would consider shorting the stock, or working with put options if the stock drops below $47 per share, with a near-term target at $44.50 per share. If you want to be very aggressive, and the stock pushes back above the 38.2% retracement line to about $49, you might consider buying the stock or working with call options with an eye on the stock's late April-early May peak at around $51; but you should note that is a very aggressive short-term trade that I don't think has good probabilities to associate with it.
By the way, if you liked this article, you'll LOVE this Meaty free training I just published on the top 3 questions and challenges every investor faces AND how to overcome them. It's titled "10k into $2.4 Million in 18 months" and you can grab it for free here