Kohl's Corp. (KSS) was one of the worst performers across all U.S. indexes during Tuesday's session thanks to a disappointing first-quarter earnings report that spelled a rough three months for in-store sales. Investors were shocked by the ugly financials, sending shares to their worst close in more than a year.
---
Hey, do you want to be the next stock market millionaire? This free training lays it all out for you! Check it out here.

---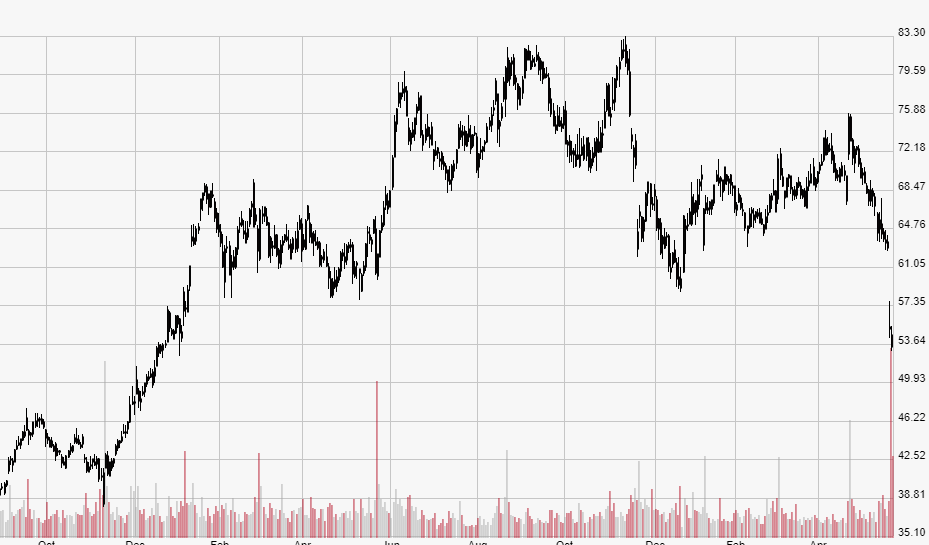 The news is particularly surprising when considered in the larger context of the big-box retailer's recent earnings history. Tuesday's report strongly contrasts Kohl's Q4 2018 report, whose 1% increase in same-store sales – the firm's most widely observed metric – indicated a road to recovery following an exceptionally volatile 2018 performance. With same-store sales growth now far back in the red, investors are unsure about Kohl's future that once looked poised to stave off the creeping retail apocalypse.
Here's a detailed look at Kohl's Q1 financials – and what they prognosticate about the stock's potential performance in the future…
The News
Although the firm managed to beat revenue expectations, Kohl's missed analyst estimates for earnings per share (EPS) and significantly cut its full-year earnings forecast for 2019. The firm posted revenue of $4.09 billion, edging past the $3.94 billion estimate by 3.8%. However, Kohl's earned only $0.61 per share during the January-March period, marking a year-over-year decline of 4.7% from $0.64 and missing Wall Street's expected $0.68 by 10.3%. The company now expects full-year earnings to range between $5.15 and $5.45, far below the previously estimated range of $5.80 to $6.15. The high end of the new forecast was also 9.8% under analysts' expected full-year EPS of $6.04.
But the report's most gruesome metric was same-store sales, which declined 3.4% last quarter, making for the firm's first drop in nearly two years. It widely missed Wall Street's expectation of measly 0.2% drop, sending analysts and investors alike into a frenzy.
On her earnings call, CEO Michelle Gass admitted that "the year has started off slower than we'd like" and went on to mention how rising competition – particularly in the home décor sector – contributed to lower sales in the first three months of 2019. She continued: "It's a highly competitive market, and we've seen more aggressive pricing and promotions in categories like home."
How Investors Reacted
Investors responded to the dismal earnings with mass panic selling, sinking KSS stock a whopping 12.3% from $62.91 at Monday's close to $55.15 by the end of Tuesday trading. That was the worst settlement since Jan. 5, 2018 when shares ended the day at $54.36. To make matters worse, Tuesday's loss erased Kohl's total gain for 2019. Shares are now down 16.9% from the Dec. 31 close of $66.34.
Kohl's was by far the S&P 500's worst performer Tuesday, more than quadrupling the losses of other losers like Lamb Weston Holdings Inc. (LW) and Varian Medical Systems Inc. (VAR). Those two declined 3.2% and 1.97%, respectively.
The Bigger Picture
For most of the year, Kohl's has been widely lauded for innovating its in-store experience in a way that other retailers couldn't. When the company crushed expectations in its Q4 report, retail analysts cited the shift to smaller stores as one of Kohn's stronger benefits since it pulls the average shopper away from the larger, more intimidating department stores typically found in shopping malls. Bloomberg analyst Poonam Goyal elaborated on the matter back in March, explaining how "off-mall retailers have been outperforming on-mall retailers if you look back over the past five years, and that probably will continue to be the case."
Additionally, the firm has been taking interesting initiatives to stay relevant amid the rising e-commerce trend, the biggest of which is Kohl's interesting partnership with Amazon.com Inc. (AMZN). The agreement involves Kohl's selling popular Amazon products – including the Echo – at retail locations and even processing returns for products bought on Amazon.com. In the Q4 earnings call, Kohl's stated it plans to expand this partnership to about 200 stores, marking an enormous 567% increase from 30 stores as of last quarter.
It was a surprising move that has been met with praise across the industry. CNN Business' Nathaniel Meyersohn summarized the strategy by noting that, while most retailers "spend billions to make their businesses Amazon-proof," Kohl's has done the exact opposite by inviting Amazon to "live inside its stores" in a "bold plan that would become a test case for old-school retailers' partnerships with Amazon."
However, investors now understand just how important these initiatives will be following the in-store sales decline, a huge bruise that the company needs to make up for should it become a trend. In fact, the Amazon partnership appears to be Kohl's single largest bet, especially in regard to bringing in coveted millennial shoppers.
Looking Ahead
Despite taking strides to insulate itself from the retail apocalypse by trying to enhance the in-store experience, Kohl's currently faces a wake-up call following the dismal Q1 report. Now, the company must face the prospect of doubling down on its partnership with the single most lethal threat to its brick-and-mortar business, a move that could either boost its overall business – and stock price – or disastrously ruin it.
Investors interested in buying KSS at the currently low levels should consider this conundrum before making a decision. The stock's value at 16-month lows could be taken advantage of, but investors shouldn't bet too much on the once-thriving stock. Small positions are recommended as market participants take a wait-and-see approach with how this Amazon partnership plays out.
By the way, if you liked this article, you'll LOVE this Meaty free training I just published on the top 3 questions and challenges every investor faces AND how to overcome them. It's titled "10k into $2.4 Million in 18 months" and you can grab it for free here