GE's chart is pointing to possible double-digit upside ahead.
General Electric (NYSE: GE) shares have had a good start to the year.
The stock is up nearly 25% year-to-date, outperforming the S&P 500's gain of just under 11%, and is within striking distance of its 52-week high of $14.42 set in early March.
And this week, Blue Line Futures' Bill Baruch said that the technical picture points to further upside ahead.
"I'm looking at a lot of good technicals here," Baruch, the firm's president, said. "Last year, [GE] made a new low but it held that 2009 low."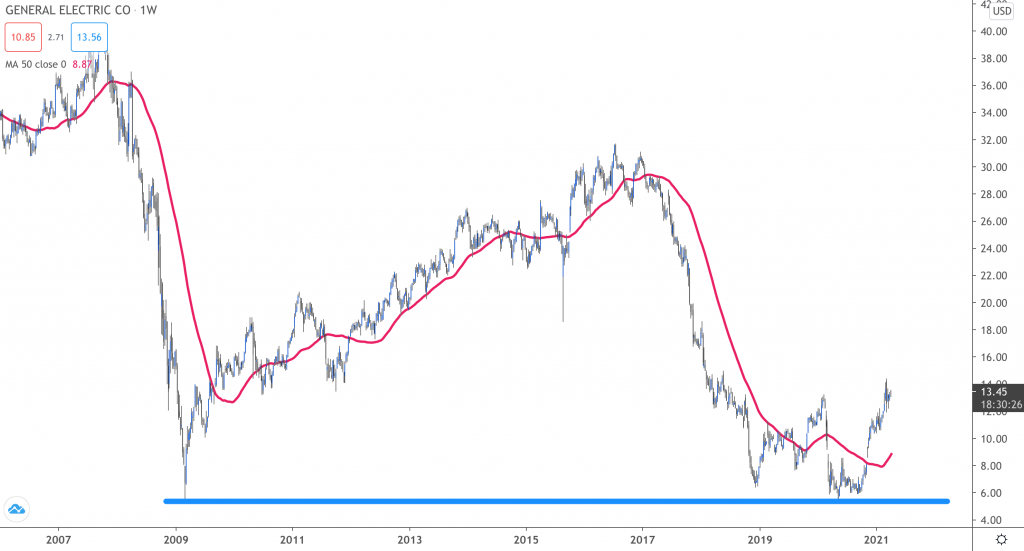 "It's recovered strongly and you've got the wedge right now that's really consolidating and it's holding the 50-day moving average very well," Baruch continued.
The falling wedge also appears to be at the top of a cup-and-handle pattern beginning in February 2020, which is considered a bullish signal.
"If it can move out above this wedge, which it has started to do, and really get through that $14 to $14.50 area," Baruch added, "the upside is $16.80 there which is where a lot of the selling pressure really kicked in back in 2018, so I think that's the sort of target."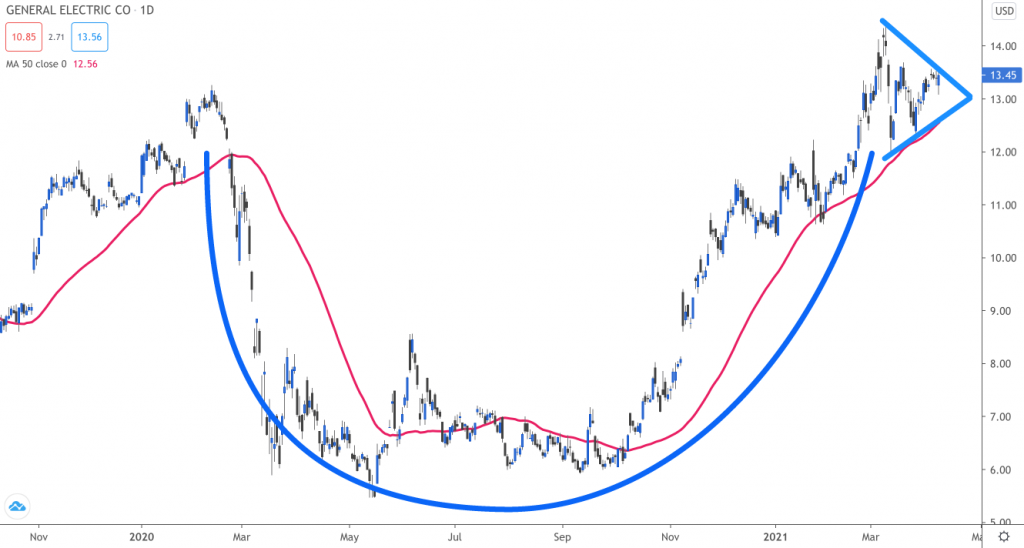 The last time GE shares traded at around $16.80 was back in January 2018, and Baruch's target suggests upside of nearly 25% for the stock.
One thing that could boost the stock is President Joe Biden's infrastructure plan unveiled last week.
GE has invested heavily in wind turbines, having installed roughly 49,000 globally, and is beginning to challenge the likes of Siemens (OTC: SIEGY) and Vestas Wind Systems (OTC: VWDRY) among others in the space.
CEO Larry Culp has made renewable energy a big priority for the company, with it now working in both onshore and offshore wind projects, grid solutions, hydro power, and combination renewable energy and storage solutions.
GE's Haliade-X wind turbine has also been selected as the preferred supplier for the Vineyard Wind project, which will be the first utility-scale offshore wind farm in the U.S. locked 15 miles offshore from Martha's Vineyard in the Atlantic Ocean.
"The selection of GE as our preferred turbine supplier means that [an] historic American company will play a vital role in the development of the first commercial scale offshore wind power in the U.S.," Vineyard Wind CEO Lars T. Pedersen said in a press release announcing the partnership. "This is a huge moment not only for the future of our project, but also for the future of an industry that is poised for exponential growth in the coming decades."
GE projects its renewable energy segment will see full year revenue growth in the mid-single digits for 2021.
Still, Tocqueville Asset Management's John Petrides says he's skeptical on the stock and taking the wait-and-see approach.
"The whole story here is a 'show me' story," Petrides said. "This will be the third time we've got infrastructure plans coming through in the last 12 years, and I think it's been cautionary to chase stocks purely on the back of infrastructure, specifically only one piece of the infrastructure plan."
---
Here's How To Potentially Retire In 18 Months With $2.4 Million Regardless Of Market Conditions. It takes a certain sort of person to sit back while the global markets are on fire and say, 'I just don't care…bring it on. What do they know that you don't? (ad)

Find Out