One of my favorite methods to quickly filter through the thousands of companies in the stock market is to focus on stocks that pay a consistent dividend.
There are a couple of primary methods companies have to return the value of their business to shareholders. If you pay much attention to market media, you've probably heard or read about stock buybacks, where a company purchases its own stock from the broad market. By reducing the amount of available shares in the marketplace, the company can often provide a bullish source of momentum over time via buybacks, which theoretically should increase the value of its shareholders' respective positions. I say theoretically, because buybacks take a lot of time to be completed, and the company's buying activities get mixed in with all of the other daily activity that takes place for the stock, including institutional trading as well as trading by average, retail investors like you and me.
I think the second method, which is dividends, is a better way for a company's executive management team to return value to its shareholders. A consistent dividend represents an immediate measurable commitment by management, and a useful, passive income source for long-term investors. The cash a shareholder receives from a dividend payout can be used for additional investments (including buying more shares of the company), or simply to cover living expenses and other cash needs. No matter how you intend to use them, you can think of a dividend as cash in your pocket that you get for doing nothing more than holding shares in a company you already like.
One of the sectors where I have found a number of useful, dividend-paying companies is the Materials sector. This is a sector that also provides what I believe is a good barometer for broader economic activity. That's because the companies that comprise it produce or mine many of the raw materials that make up the building blocks for most of the finished goods we use every day. The sector includes industries that cover chemicals and plastics, construction materials, paper, forest, and packaging products, and even metals and minerals – which means that in some form, this sector touches practically every other segment of the economy in one form or another.
2022 saw a lot of market volatility that pushed a number of the stocks in this sector into downward trends. Most of the factors that contributed to market volatility in 20222 – inflation and interest rates, and the war in Ukraine to name just the biggest headlines – continue to contribute to market uncertainty right now. After staging a strong start to the new year, the elements I just described have been joined with mixed earnings results that have pushed many of the stocks in the Materials sectors as much -10% lower, or more, in the past month.
Huntsman Corp (HUN) is a company that has benefitted from a homebuilding industry that saw a surprising level of robustness in 2020 and 2021, as residential construction saw big increases in numerous parts of the country. The last few months have blunted some of that enthusiasm, and the effect is being seen on the company's bottom line, however management announced a 12% increase in its annual dividend payout following its latest earnings announcement. Contrasted against its fundamental backdrop, including the dividend increase, the stock's price activity over the last month has seen a drop from its most recent peak at about $33 to its current price a little below $30 per share. That begs the question of whether the stock might offer a useful value proposition along with its attractive dividend yield at its current price. Let's dive in.
Fundamental and Value Profile
Huntsman Corporation is a manufacturer of differentiated organic chemical products and of inorganic chemical products. The Company operates all of its businesses through its subsidiary, Huntsman International LLC (Huntsman International). The Company operates through five segments: Polyurethanes, Performance Products, Advanced Materials, Textile Effects, and Pigments and Additives. Its Polyurethanes, Performance Products, Advanced Materials and Textile Effects segments produce differentiated organic chemical products and its Pigments and Additives segment produces inorganic chemical products. The Company's products are used in a range of applications, including those in the adhesives, aerospace, automotive, construction products, personal care and hygiene, durable and non-durable consumer products, digital inks, electronics, medical, packaging, paints and coatings, power generation, refining, synthetic fiber, textile chemicals and dye industries. HUN's current market cap is $5.7 billion.
Earnings and Sales Growth: Over the last twelve months, earnings declined -95.8%, while revenues also shrank by about -28.5%. In the last quarter, earnings were -94.4% lower while revenues declined by nearly -18%. HUN's operating profile is experiencing deterioration. In the last year, Net Income was 5.47% of Revenues, and weakened to -7.22% in the last quarter. This is a pattern that has extended over the last nine months, which is a red flag.
Free Cash Flow: HUN's free cash flow is $642 billion. This marks a drop over the last year, when Free Cash Flow was $741 million, and $1.1 billion in the last quarter. Despite the drop, the current number translates to a useful Free Cash Flow Yield of 11.37%.
Debt to Equity: HUN has a debt/equity ratio of .44. This is a conservative number that signals management's conservative approach to debt management. HUN's balance sheet shows that total cash in the last quarter was about $654 million (down from $807 million a year ago), while long-term debt is $1.67 billion. Debt service is not a concern given the company's still-healthy Free Cash Flow and a balance sheet that remains healthy even with its drop over the last year.
Dividend: HUN pays an annual dividend of $.95 per share, which translates to an annual yield of about 3.23% at the stock's current price. It is also worth noting that along with the latest increase from $.85 per share, management increased the dividend at the beginning of 2022 from $.75 per share, and from $.65 per share earlier in 2021. An increasing dividend is a significant signal of management's confidence in their business in the months and years ahead.
Price/Book Ratio: there are a lot of ways to measure how much a stock should be worth; but I like to work with a combination of Price/Book and Price/Cash Flow analysis. Together, these measurements provide a long-term, fair value target at around $43 per share. That suggests that at its current price, the stock is undervalued by about 45%.
Technical Profile
Here's a look at the stock's latest technical chart.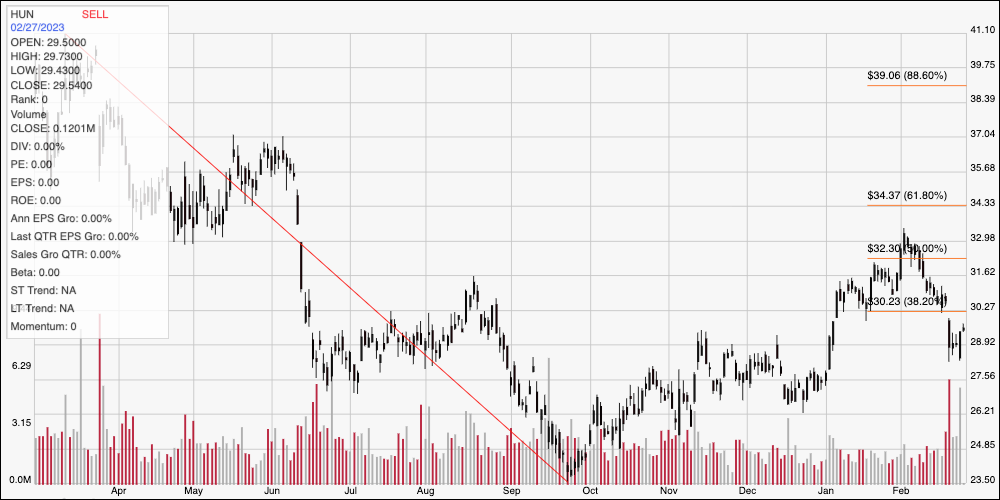 Current Price Action/Trends and Pivots: The diagonal red line on the chart above traces the stock's downward trend from a peak at around $41 in March of last year to its low point around $23.50, reached in late September. It also provides the baseline for the Fibonacci retracement lines shown on the right side of the chart. After peaking to start February at around $33, the stock has dropped back quickly, pushing below the 38.2% retracement line to mark immediate resistance at around $30.50, with current support at about $29. A drop below $29.50 should find next support at around $27.50, while a push above $30.50 should have upside to about $32 before finding next resistance around the 50% retracement line, with the last peak at around $33 possible if buying activity increases.
Near-term Keys: HUN has developed an interesting, bullish short-term trend, which could mean that if you prefer to focus on short-term trading strategies, the drop back off of the last peak could provide some interesting set ups. A push above $30.50 could offer a signal to buy the stock or work with call options, with $32 offering a practical, near-term profit target. A drop below $29 could be a signal to consider shorting the stock or buying put options, using $27.50 as a useful initial profit target on a bearish trade and $26.50 possible if selling activity increases. The company's fundamentals, however are showing enough signs of deterioration that while HUN has a tempting value proposition at its current price, it's probably smarter to wait to look for a reversal in the current, declining Net Income pattern before taking a value-driven buying opportunity seriously.
By the way, if you liked this article, you'll LOVE this Meaty free training I just published on the top 3 questions and challenges every investor faces AND how to overcome them. It's titled "How To Retire In 18 Months With $2.4 Million" and you can grab it for free here.
Access Our Premium Services