Moxian, Inc. operates a social network platform that integrates social media and business into a single platform in China. The company's products and services focuses on creating interaction between users and merchant clients by allowing merchant clients to study consumer behavior.

---
If you're a stock investor who wants to retire early, check out this free training and learn how! Click Here

---
It provides Moxian+ Business App for merchant clients, which allows merchants to manage their presence within the platform, as well as plan a campaign, offer discounts, manage payments, and receive analytics. The company also offers Moxian+ User App that provides access to a social media platform with a package of services, such as MO-Talk; News Center with daily updates; and Game Center and MO-Shake, which allows users to win vouchers, discounts, etc.
It serves small and medium sized enterprises. Moxian, Inc. has a strategic partnership with Fujian Sihe Media Co. Ltd. The company was formerly known as Moxian China, Inc. and changed its name to Moxian, Inc. in July 2015. Moxian, Inc. was founded in 2010 and is based in Beijing, China.
Moxian Inc is a purely speculative trade based on the chart pattern alone.
Trade Setup
| | |
| --- | --- |
| Buy Target $1.03 | Sell Target 1 $2.21 |
| Trailing Stop 50% | Sell Target 2 $3.04 |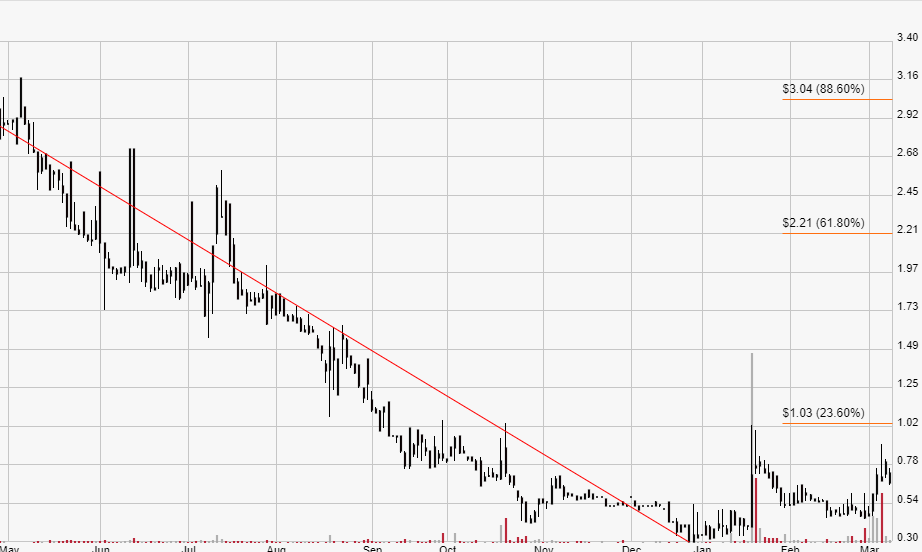 By the way, if you liked this article, you'll LOVE this Meaty free training I just published on the top 3 questions and challenges every investor faces AND how to overcome them. It's titled "10k into $2.4 Million in 18 months" and you can grab it for free here