Several of the most prominent U.S. shale producers posted their best daily gains of the year on Friday after news broke of a historic acquisition by Chevron Corp. (CVX), the country's second-largest energy company. The deal's announcement sent investors into a buying frenzy, lifting shares of Texas- and New Mexico-based energy firms like Pioneer Natural Resources Co. (PXD) and Concho Resources Inc. (CXO).
---
Hey, did you know if you really want to retire early, this free training lays it all out for you! Check it out here.

---
The sector's rally stems more from the implications of Chevron's deal than the actual deal itself. With West Texas Intermediate (WTI) prices near year-to-date highs and Big Oil firms sitting on mountains of cash, investors are hoping Friday's announcement means more M&A activity – and more share-price gains – to come in 2019.
Here's a closer look at Chevron's deal – and how it could mark a new direction for the U.S. energy market the rest of the year…
The News
Early Friday morning, Chevron announced intentions to buy Anadarko Petroleum Corp. (APC) – a midsize energy firm with massive stakes in the oil-rich Permian basin, among other reservoirs – in a cash-and-stock deal valued at $33 billion. Chevron will purchase all outstanding APC shares at $65 each, valuing them at an enormous 38.9% premium to Thursday's closing price of $46.80. The deal is the sixth-largest oil and gas deal ever and the biggest since Royal Dutch Shell Plc.'s (RDS.A) blockbuster $82 billion buyout of British firm BG Group in 2015.
That 39% premium is something of a steal for Chevron when investors consider how the domestic drilling prospects of the newly combined company are expected to be valued around $100 billion. According to the Wall Street Journal, the new company will produce about 3.6 million barrels, nearly on par with other majors like Shell, which produces 3.67 million barrels a day. It will also be just 6% less than U.S. leader Exxon Mobil Corp.'s (XOM) daily output of 3.83 million barrels as of most recent 2018 data. However, once the deal closes, Chevron is likely to become the single largest producer in the Permian, providing it the much-needed edge against its closest rival.
How Investors Reacted
Anadarko stock naturally shot up like a rocket, becoming the S&P 500's top performer by a long shot. Shares climbed from $46.80 at the Thursday's close to $61.78 for a staggering one-day gain of 32%, the best settlement since Oct. 23. Meanwhile, as is usually the case for acquiring companies, Chevron stock dropped 4.9% on the day from $125.99 to $119.76 per share.
Additionally, four of the S&P 500's top five performers Friday were oil stocks, including Pioneer, Concho, and Devon Energy Corp. (DVN). Their shares rose 11.5%, 8.8%, and 7.4%, respectively.
The Bigger Picture
It's much more productive to examine the geographical implications of the Chevron-Anadarko deal than it is to look at the financial ones, especially considering Anadarko's assets now give Chevron a footprint in nearly every major oilfield in the world.
As mentioned earlier, Chevron's purchase of Anadarko's drilling assets ensure the new company will have the largest presence in the Permian as well as the Denver Basin in eastern Colorado and sites in the Gulf of Mexico. But its reach will stretch across the Atlantic Ocean and into Africa, where Chevron will own massive natural gas and oil projects in Algeria, Ghana, and Mozambique. Those new prospects – combined with Chevron's current operations across Canada, South America, and China – make Chevron a much more prominent threat on the global energy stage.
This expansive deal also illustrates the energy industry's broader state of affairs, which have mostly centered on investors' long-held hopes for more M&A activity. New wells in some American basins are producing far less than old ones, meaning the return on investment for many firms drilling at new sites isn't matching the exorbitant costs required to make these new sites operational. It's ultimately easier for these companies to simply snatch up other companies' wells, which is Chevron's central goal in buying Anadarko.
All of this points to the re-emerging trend of M&A activity that last hit its stride in early 2015 when prices were down toward $50 a barrel from over $100 just a year earlier. The Shell-BG Group mega-merger gave way to more buyouts across the industry as smaller firms reeled from abysmally low prices, forcing them to strike a deal or face bankruptcy. While WTI currently sits above $60, the fact that many firms are dealing with output problems from new wells means M&A could start to make a triumphant return.
Looking Ahead
It appears that now is a good time to own small or midsize oil and gas firms. In the eyes of Big Oil, they're ripe buyout targets that solve the problem of high costs associated with drilling new wells. That means any upcoming purchase will reward shareholders with massive double-digit gains akin to what Anadarko shareholders enjoyed on Friday.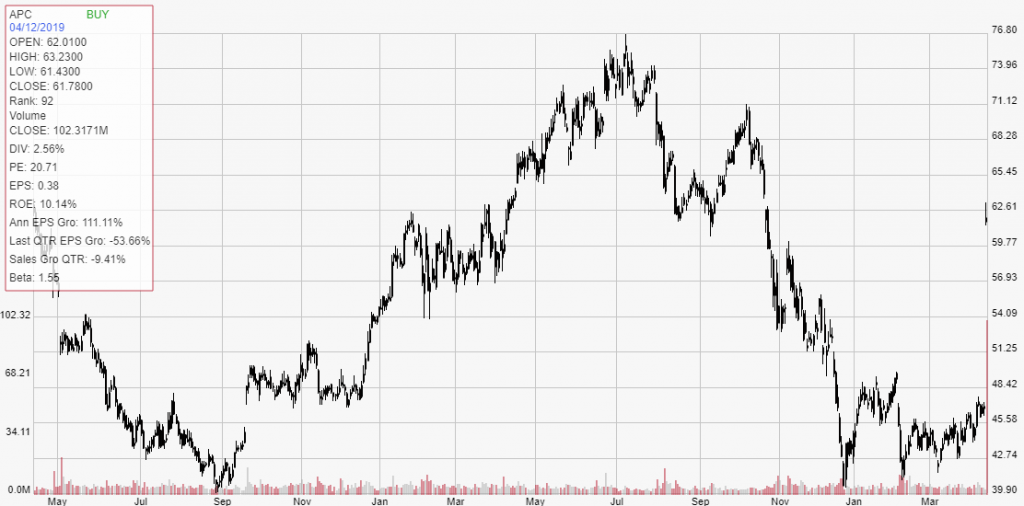 By the way, if you liked this article, you'll LOVE this Meaty free training I just published on the top 3 questions and challenges every investor faces AND how to overcome them. It's titled "10k into $2.4 Million in 18 months" and you can grab it for free here