Billionaire's Secret Strategy Beats Passive Investing By 5,500%
This strategy survived the '87 crash, the dotcom bust and the subprime panic—and turned $1K into $66.7 million…compared to $1.2 million buying and holding the S&P 500. This year will bring new trends...laws…tariffs…increased volatility…maybe even a market crash. To use this strategy to protect, revive, and multiply your retirement savings by leaps and bounds - even in a bad economy - click here. [ad]
Read More
As the market edges ever nearer to the all-time high it set late last year, the number of opinions about where the market will go from here are becoming increasingly divergent. The market has been pricing in the expectation of positive catalysts so far this year, like a trade deal between the U.S. and China that hasn't actually come to fruition as of yet. Pessimists could point to that fact to argue that even if it does happen, the market could drop, following the classic "buy the rumor, sell the news" mantra.
We've started into a fresh, new earnings season as well, and there has been concern that earnings this quarter could show broad signs of slowing growth. That, along with global economic pressures, have prompted the Fed to confirm its patient approach to determine whether to raise rates at all this year, which has prompted investors to price in the expectation of no interest rate increases through the rest of 2019. I think that means that this could be a good time to start thinking about ways to manage investment risk. One of the ways to do that is to work with stocks that are defensive in nature, which means that even if the economic picture begins to shift negatively, or the market does fall off of its current highs, they should generally hold up better than stocks that tend to be more sensitive to the pressures I just outlined.
I've used food stocks in the past when I wanted to make the posture of my portfolio a bit more conservative. I think of stocks in the Consumer Staples sector, and the Food Products industry as good defensive alternatives when market conditions may be reaching a turning point. Will the market push above its all-time and keep surging, or drop back again? That's hard to say, but either way I believe CALM is a stock that I think is well-positioned given consumer trends towards healthier food options that have put a lot of traditional, larger names in the industry back on their heels for the last year or so.
Fundamental and Value Profile
Cal-Maine Foods, Inc. is a producer and marketer of shell eggs in the United States. The Company operates through the segment of production, grading, packaging, marketing and distribution of shell eggs. It offers shell eggs, including specialty and non-specialty eggs. It classifies cage free, organic and brown eggs as specialty products. It classifies all other shell eggs as non-specialty products. The Company markets its specialty shell eggs under the brands, including Egg-Land's Best, Land O' Lakes, Farmhouse and 4-Grain. The Company, through Egg-Land's Best, Inc. (EB), produces, markets and distributes Egg-Land's Best and Land O' Lakes branded eggs. It markets cage-free eggs under its Farmhouse brand and distributes them throughout southeast and southwest regions of the United States. It markets organic, wholesome, cage-free, vegetarian and omega-3 eggs under its 4-Grain brand. It also produces, markets and distributes private label specialty shell eggs to customers. CALM has a current market cap of about $1.8 billion.
Earnings and Sales Growth: Over the last twelve months, earnings declined significantly, by more than -35%, while revenues dropped by almost -12%. The picture improved in the last quarter, as earnings improved almost 68% while sales increased by nearly 8%. The company's margin profile is very healthy and strengthening, with Net Income as a percentage of Revenues in the last quarter at 10.35% versus 9.56% over the last twelve months.
Free Cash Flow: CALM's free cash flow is adequate, but not especially impressive, at $107.67 million. That translates to a Free Cash Flow Yield of 5.28%.
Debt to Equity: CALM's debt to equity is .0, which in this case doesn't mean CALM has no debt, only that it is so small that it's easier to leave the ratio at zero. Long-term debt was just $680,00 in the last quarter, versus $341.85 million in cash and liquid assets.
Dividend: CALM's annual divided is $.85 per share, which translates to a yield of a little over 2.05% at the stock's current price.
Price/Book Ratio: CALM's Book Value is $20.70, which marks an increase from about $18.50 in mid-2018. That means that the stock's Price/Book ratio is 2.02 versus their historical Price/Book ratio of 2.56, which suggests that the stock is undervalued by more than about 26.5% right now.
Technical Profile
Here's a look at the stock's latest technical chart.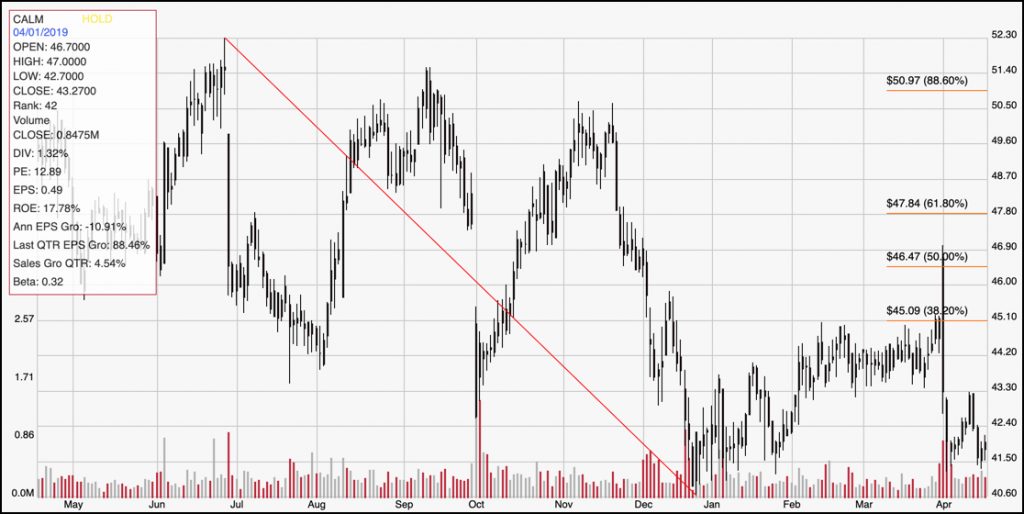 Current Price Action/Trends and Pivots: The diagonal red line traces the stock's downward trend from late June 2018 to the end of that year, and provides the reference for calculating the Fibonacci retracement levels indicated by the horizontal red lines on the right side of the chart. CALM's movement since the beginning of the year was consistent with the broad market, if a bit more conservative, increasing from around $41 at its Christmas Eve low to about $45 – about 10% – at the beginning of April. The stock dropped sharply from that point when the company released its latest earnings report, which beat earnings estimates but also indicated that egg prices were dropping. The stock appears to be holding at strong support around $41 right now.
Near-term Keys: I think the best opportunity with CALM is the long-term, value-based approach. The company has a solid fundamental basis, and a very attractive value proposition that I think smart investors shouldn't ignore. If you prefer to work with a short-term trade, you could look for a bullish, swing-based trade if the stock can push above the $43 pivot high that the stock has dropped off of in just the last few days. If you choose to buy the stock or work with call options on that basis, you should probably look at the 38.2% Fibonacci retracement line at $45 as the first exit point, since that should provide the nearest level of resistance. If the stock drops below its 52-week low at around $40.50, its next support level should be somewhere between $37 and $38 per share; that might be a nice set up to short the stock or even to start working with put options.