As the market pushes to a new set of all-time highs, more and more analysts seem inclined to shrug aside the volatility and uncertainty that defined practically all of 2018. In fact, the market has reclaimed all of the decline that pushed the market nearly to bear market levels. Most of the indicators of the last week, including U.S. GDP and most earnings reports, have come in stronger than expected, and that, along with the perception of positive progress on the U.S.-China trade front seems to be giving investors reason to become optimistic again.
---
Hey, did you know if you really want to retire early, this free training lays it all out for you! Check it out here.

---
That push to a fresh set of highs means that a lot of stocks are back to pretty high valuation levels, which makes the process of tracking good value-based investments harder. There are always good opportunities to be had in any market, however for the patient value investor – but part of that also means expanding the scope of your investment research. That has pushed me to stretch my stock screening tools to look at parts of the market that generally don't get a lot of my attention.
Take-Two Interactive Software Inc. (TTWO) is a stock that generally doesn't pass muster for my value screeners, primarily because it doesn't pay a dividend. That's consistent with most stocks that make up the gaming segment of the software industry; but in contrast to the rest of the software industry, the stock is down a little over -5.5%. The stock is also nearly 30% below the highs it set at the beginning of October 2018, which to me belies the fact that the company has an exceptionally solid fundamental profile. The stock's underperformance appears to be setting a very compelling bargain proposition that I think most investors would be smart to pay attention to – even without the strength of a dividend payout that I typically require for any kind of value-based investment.
Fundamental and Value Profile
Take-Two Interactive Software, Inc. is a developer, publisher and marketer of entertainment for consumers around the world. The Company develops and publishes products through its labels, Rockstar Games and 2K. It operates through publishing segment. It has a portfolio of software content for the hardware platforms in a range of genres, including action, adventure, family/casual, racing, role-playing, shooter, sports and strategy, which it distributes across the world. The Company's products are designed for console gaming systems, such as PlayStation 3 and PlayStation 4; Xbox 360 and Xbox One, and personal computers, including smartphones and tablets. Rockstar Games is the developer and publisher of Grand Theft Auto, as well as other franchises, including L.A. Noire, Max Payne, Midnight Club and Red Dead. 2K publishes owned and licensed titles across a range of genres. It has internal development studios in Canada, China, Czech Republic, the United Kingdom and the United States. TTWO has a current market cap of $11 billion.
Earnings and Sales Growth: Over the last twelve months, earnings increased 170%, while sales increased almost 160%. Growing earnings faster than sales is difficult to do, and generally isn't sustainable in the long-term; however it is also a good indication of management's ability to maximize their business operations. The company's Net Income versus Revenue is both healthy and consistent, at more than 14% for both the last twelve months as well as the most recent quarter.
Free Cash Flow: TTWO's Free Cash Flow is healthy, at more than $522 million. This is a number that was only about $128 million in the last quarter of 2018. That increase is far more interesting than the stock's mostly unimpressive Free Cash Flow Yield of 4.79%.
Debt to Equity: TTWO has a debt/equity ratio of 0, reflecting the fact that the company carries no long-term debt. Their balance sheet also shows more than $1.8 billion in cash and liquid assets, which gives TTWO a lot of flexibility to work with.
Dividend: like most stocks in its industry, TTWO does not pay a dividend.
Price/Book Ratio: there are a lot of ways to measure how much a stock should be worth; but one of the simplest methods that I like uses the stock's Book Value, which for TTWO is $17.92 per share. At the stock's current price, that translates to a Price/Book Ratio of 5.42, which appears high, but is more than 41% below the stock's historical average of 7.66. That puts the stock's long-term target price at $137.26 per share – which is right around the stock's 2018 high.
Technical Profile
Here's a look at the stock's latest technical chart.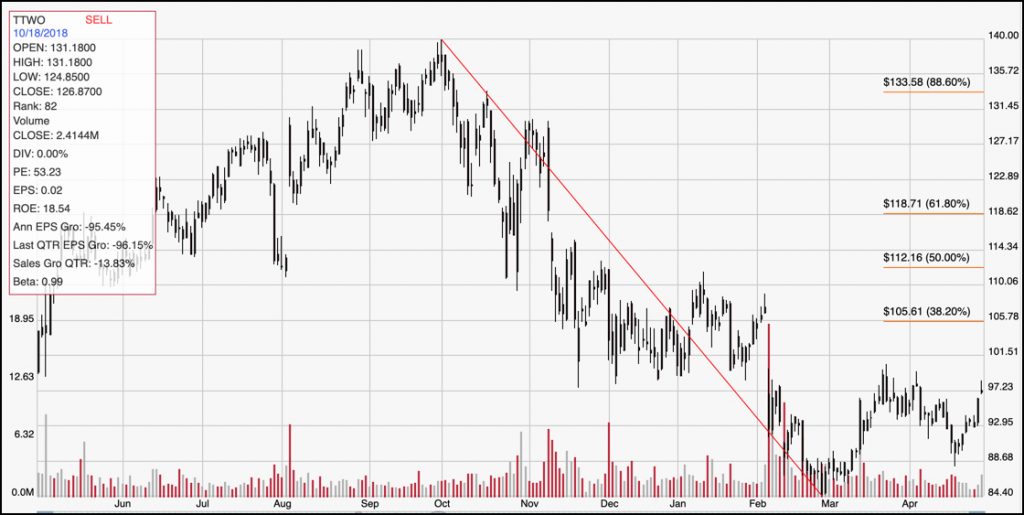 Current Price Action/Trends and Pivots: The chart above displays the stock's price action for the last year. The diagonal line traces the downward trend from October 2017 to its low at the beginning of March at around $85. From that point, the stock rallied about 15% to around $97 per share before dropping back again. More recently the stock has been picking up bullish momentum again and is pushing near to that pivot high in the $97 price area. A push above that price would mark a new upward trend, with room to push at least to the $106 price level shown by the 38.2% Fibonacci retracement level. The stock's closest support level is around $89 per share, and a drop below that point should see it drop back again to its 52-week low around $84.
Near-term Keys: TTWO's best opportunity is on the long-term, bullish side of the market; the fact the stock is trading around levels it hasn't seen since late 2017 has pushed the stock to valuation levels that make it hard to ignore. If you prefer to work with a short-term, bullish trade, look for a push to $98 per share as a signal to buy the stock, or work with call options with a near-term target to about $105 per share. If the stock does pick up bearish momentum, a drop below $89 could present an opportunity to short the stock or work with put options with an eye on the stock's current 52-week low around $84.
By the way, if you liked this article, you'll LOVE this Meaty free training I just published on the top 3 questions and challenges every investor faces AND how to overcome them. It's titled "10k into $2.4 Million in 18 months" and you can grab it for free here