Shares of Ralph Lauren Corp. (RL) tumbled during Tuesday's session, ending as the S&P 500's worst-performing stock despite the index overall sneaking out a 0.8% gain. The fashion company's stock fell on the heels of lackluster earnings, despite besting analysts' expectations.
---
Hey, did you know if you really want to retire early, this free training lays it all out for you! Check it out here.

---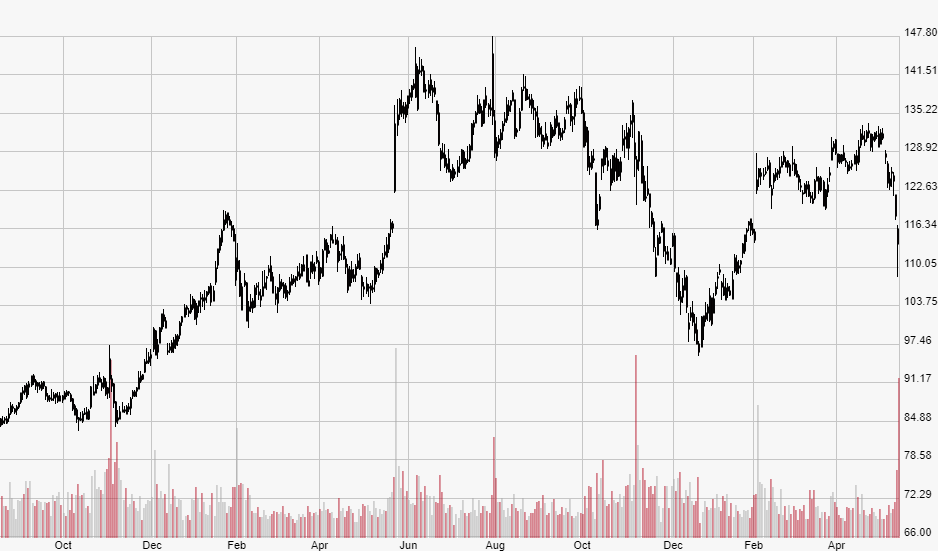 Ralph Lauren's Tuesday's performance marks something of an anomaly, primarily due to the fact that shares of the stock dropped more so than they should because the firm's latest financials surpassed expectations. Investors are curious as to whether or not the Tuesday drop ties into the broader market's volatility, particularly as the trade war between the United States and China wages on.
Here's a closer look at Ralph Lauren's latest news – and what it could indicate for the retailer's performance in 2019….
The News
In its fiscal fourth-quarter earnings report Tuesday, Ralph Lauren posted earnings per share (EPS) of $1.07 during the January-March period. That exceeded Wall Street's estimate of $0.93 by slightly more than 15%. As for revenue, the company raked in $1.51 billion, upsetting the $1.47 billion forecast by a marginal 2.7%.
However, revenue in North America – one of the company's largest and most dominant markets – dropped by 7% from roughly $661 million to $708 million. Other metrics that experienced declines included wholesale revenue from department stores and sales excluding newly opened branches, which dropped 10% and 4%, respectively. Brick-and-mortar stores also saw a 7% year-over-year decline in revenue.
How Investors Reacted
Despite the firm's EPS topping estimates, investors sold their positions on fears that the Ralph Lauren's sales trend would continue downward. RL stock tumbled 3.7% on the day from $118.28 at Monday's close to $113.95 by the time Tuesday's bell rang. That close leaves it with just a 10.1% gain on the year since settling at $103.46 on Dec. 31.
A 3.7% drop typically doesn't take the cake as the S&P's top decliner, but Ralph Lauren happened to steal that top spot on Tuesday. RL's tumble overpowered Church & Dwight Co. Inc. (CHD) and Exelon Corp. (EXC), which fell 2% and 1.7% on the day.
The Bigger Picture
Tuesday's RL selloff was less likely a product of the earnings than it was a product of the escalating trade war, which many investors saw as a threat to the American retail market Ralph Lauren happens to be an integral component of.
It started last week when President Trump tweeted that he would raise tariffs on $200 billion worth of Chinese products from 10% to 25%. He cited it as retaliation for the world's second-largest economy's massive price of American tech imports, conflicting the note a bit by continuing in the same tweet thread, "The Tariffs paid to the USA have had little impact on product cost, mostly borne by China. The Trade Deal with China continues, but too slowly, as they attempt to renegotiate."
China retaliated in kind on Monday, offering up tariffs on $60 billion worth of American goods ranging from alcohol to liquefied natural gas (LNG) and – investors guessed it – shirts like Ralph Lauren polo shirts. What most investors didn't realize until Tuesday was that roughly 25% of the retail company's products are sourced to China, leading Ralph Lauren's CEO Patrice Louvet to provide some very skeptical statements regarding the company's sales in the Chinese economy. Regarding China's integral role in his company's clothing production, Louvet said: "Think sweaters, polo shirts, some of our footwear. As you can imagine, we are working on different scenarios, absolutely."
Looking Ahead
Predicting Ralph Lauren's future performance is about as futile as predicting what happens next in the U.S.-China trade war: both are flat-lining and showing fewer and fewer prospects for progress in terms of what can be done and should be done.
Investors looking to buy a stake in RL should assume a wait-and-see approach. There's no way to prognosticate what could happen to Ralph Lauren's bottom line should the tariffs escalate any further. The only way to really see if the clothing retailer gets hit is to wait for at least a few more earnings reports – or, rather, to see if the trade war actually dies down from here.
By the way, if you liked this article, you'll LOVE this Meaty free training I just published on the top 3 questions and challenges every investor faces AND how to overcome them. It's titled "10k into $2.4 Million in 18 months" and you can grab it for free here