Shares of Activision Blizzard Inc. (ATVI) continued their recent streak of whipsawing Monday after they dropped to their lowest level in a week. The decline came on the heels of new developments regarding friction over an upcoming entry in one of the company's most successful video-game franchises.
---
Hey, do you want to be the next stock market millionaire? This free training lays it all out for you! Check it out here.

---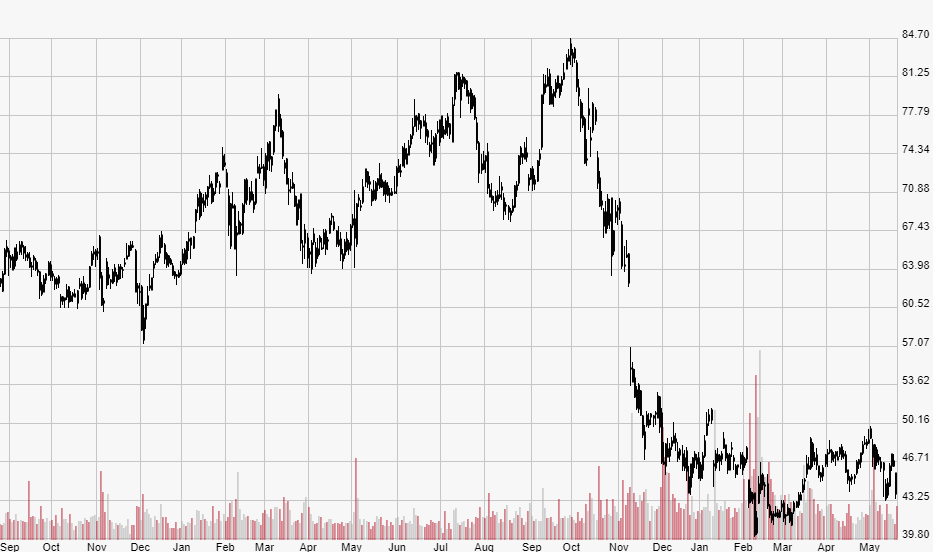 While the overall market has steadily floated higher this year, Activision remains one of the few S&P 500 stocks that are in the red for 2019. The index itself is up more than 13% this year, but ATVI is down a sizable 7.3% to $43.61 at Monday's close and appears to be having a difficult time breaking back above the $50 level last seen in January. Investors are naturally concerned over whether or not a rebound is on the horizon, particularly as the ongoing drama that flared up Monday continues to unspool.
Here's the story that sank Activision shares – and how it could influence the stock price through this year and even into 2020…
The News
On Monday, an article from major video-game news outlet Kotaku reported that Activision announced last week it would institute a massive change in lead developers for the new Call of Duty: Black Ops installment due out next year. According to the article's sources, Raven Software and Sledgehammer Games – two developers that have led other past installments – will no longer co-lead next year's release, with third long-time developer Treyarch now taking charge on it.
The decision is rumored to be the result of creative differences between Raven and Sledgehammer. It marks a strong departure for Activision, which has cycled through developers on a regimented basis since at least 2012. If Activision tries to stick to the current schedule of each developer having three years to make the next game, it means Treyarch will have only two years instead of three now that it's unceremoniously taking the reigns from Raven and Sledgehammer. That could lead to a sharp decrease in game quality and therefore sales, something investors clearly didn't ignore on Monday.
How Investors Reacted
Shares of Activision plunged 5.99% on the news, falling from $46.39 at last Friday's close to $43.61 on Monday. That marked the lowest settlement since May 13 when the stock ended the session at $43.41 per share. ATVI was the S&P 500's third-worst performer, right behind Keysight Technologies Inc. (KEYS) and Western Digital Corp. (WDC), which respectively tumbled 8.9% and 6% on the day.
Other gaming companies also felt the selloff in the wake of Activision's decision. Shares of retailer GameStop Corp. (GME) dropped 6.4% from $8.06 to $6. Publishers like Take-Two Interactive Software Inc. (TTWO) and Electronic Arts Inc. (EA) – respectively behind hit franchises like Grand Theft Auto and Madden – dropped 3.45% and 4.7% during Monday trading hours.
The Bigger Picture
While it may seem like a random squabble between companies that wouldn't even make the business section, the removal of Raven and Sledgehammer as lead developers has much larger implications when investors consider just how enormous the Call of Duty franchise is in terms of sales.
Every fall since 2004, Activision has put out a new Call of Duty game, supported by a stable of different developers who rotated duties as required. Since 2012, Activision has followed a three-year cycle for its three lead studios: Infinity Ward, Treyarch, and Sledgehammer. With Sledgehammer and assisting studio Raven now off the docket for the next Black Ops game, Treyarch is stuck with an enormous amount of work, as it's set to ostensibly develop two games within a much smaller window of time.
That could be devastating to rabid gamers who both follow insider news and happen to be huge fans of the best-selling Call of Duty franchise. As of February, total unit sales of Call of Duty games has topped roughly 284.3 million. That's overwhelming compared to other popular franchises like Take-Two's Grand Theft Auto, which has sold only 94.01 million units across all installments.
Looking Ahead
While video-game consumers may not be investors, they're certainly a surefire indicator of sales that investors observe under a microscope. If the new Black Ops shake-up continues to unfold in heavily read gamer-targeted publications like Kotaku, it may eventually reflect itself in weak sales once the installment comes out next year. Sales of Black Ops games in particular are weaker compared to the other Call of Duty installments, meaning the 2020 installment could be dead on arrival if Treyarch isn't able to produce a quality product.
That being said, Activision's output schedule is still on track despite the mix-up. And although 2020 is still more than half a year away, investors may look to ATVI as a short-term trade opportunity. Volatility may continue as news continues to come out, but investors can still find profitable entry points if they keep a close eye on day-to-day moves.
By the way, if you liked this article, you'll LOVE this Meaty free training I just published on the top 3 questions and challenges every investor faces AND how to overcome them. It's titled "10k into $2.4 Million in 18 months" and you can grab it for free here