Billionaire's Secret Strategy Beats Passive Investing By 5,500%
This strategy survived the '87 crash, the dotcom bust and the subprime panic—and turned $1K into $66.7 million…compared to $1.2 million buying and holding the S&P 500. This year will bring new trends...laws…tariffs…increased volatility…maybe even a market crash. To use this strategy to protect, revive, and multiply your retirement savings by leaps and bounds - even in a bad economy - click here. [ad]
Read More
While the market has found itself on increasing shaky ground throughout the month of May, one stock in particular seems to have stood out above the entire market. Roku, Inc. (ROKU) has nearly quadrupled in value from its bottom at the end of December, running from about $26 per share to its Friday close at nearly $96. That's an increase over that period of nearly 270%, and if you were one of the lucky people that bought into the stock in late December, or even at the beginning of 2019, you've been able to make a small fortune in not quite six months of time.
The stock really picked up momentum in the latter part of April, breaking out of a consolidation pattern around $70 and really surging in the last couple of months. Driving the stock's price have been a couple of earnings reports that come in stronger than the market expected, and which have prompted investors to jump on the bandwagon of a company that is directly tied into the prevailing "cut the cord" trend in broadcast television. As such, they straddle a couple of different market segments that, in my opinion their categorization in the Consumer Discretionary sector and Household Durables industry doesn't really describe.
In reality, ROKU isn't just taking on broadcast providers, including cable and satellite companies, but also, in the long-term lining up to go up against other services like Dish Network's Sling TV, Apple's Apple TV, and perhaps to a lesser extent, streaming content providers like Amazon, Netflix, and Hulu. The market seems to really like ROKU's dominant position as the leading connected TV manufacturer in the U.S., as well as the company's ability to shift its business and revenue model to rely more and more on advertising and content relationships versus its hardware business. Historically, hardware accounted for about 75% of revenues, while advertising and content was about 25%. According to their last earnings report, however, advertising and content revenue made up about 45% of their 2018 Q4 total revenue. That could be a positive, because the hardware segment is maturing as demonstrated by the fact that sales of Roku TV's and players, while still healthy, are tapering off as other providers, including big-name players like Apple, Alphabet, and Amazon ramp up their competitive choices. Is the stock positioned at a price point that could still be attractive for the aggressive investor, then, or has the best already been seen? Let's see if we can figure that out.
Fundamental and Value Profile
Roku, Inc. operates television streaming platform. The Company connects users to streaming content, enables content publishers to build and monetize audiences and provides advertisers with capabilities to engage consumers. Its Roku platform allows users to personalize their content selection with cable television replacement offerings and other streaming services that suit their budget and needs. Ad-supported channels available on the Roku platform include CBS News, Crackle, The CW Television Network and Vice; subscription channels include HBO Now, Hulu and Netflix, as well as traditional pay TV replacement services like DirecTV Now, Sling TV and Sony PlayStation Vue; and transactional channels include Amazon Video, Google Play and Vudu. Its product categories include advertising, Roku TVs and Streaming Players. ROKU has a current market cap of about $7.9 billion.
Earnings and Sales Growth: Over the last twelve months, earnings decreased a little over -28.5%, while revenues increased more than 51%. In the last quarter, earnings dropped about -280%, while sales declined -25%. ROKU is a company that appears to be bleeding cash; their Net Income over the last twelve months was -1.47%, and in the last quarter accelerated to -47%. Negative earnings and negative Net Income together are a definite indication of fundamental weakness.
Free Cash Flow: ROKU's free cash flow is 0. This isn't surprising given the company's negative operating profile, and it should be a concern to investors, who so far have seemed content to ignore this fact amid signs that advertising and content revenues are increasing along with user engagement. Those are positive things, but until they actually translate to positive fundamental numbers like Net Income and Free Cash Flow, it's hard to call it a useful, sustainable sign of strength.
Debt to Equity: A has a debt/equity ratio of 0. This is, from a fundamental standpoint, really their only saving grace. With no long-term debt on their balance sheet, the company has been able to rely on cash to keep things going. That numbers has been rising since mid-2017, from $0 to $290.25 million in the most recent quarter. If that bottom-line number keeps improving, it is reasonable to suggest that Net Income and Free Cash Flow should both also turn positive.
Dividend: ROKU does not pay a dividend.
Price/Book Ratio: there are a lot of ways to measure how much a stock should be worth; but one of the simplest methods that I like uses the stock's Book Value, which for ROKU is $3.18; that translates to a Price/Book ratio of 30.11 at the stock's current price. Their historical average Price/Book ratio is 15.2, suggesting the stock is currently about -50% overvalued. That shouldn't be too surprising given the numbers we've covered so far, or the stock's rapid rise in price this year. Their Price/Cash Flow ratio provides a similar perspective since the stock it currently about -55% above its historical average. Together, Price/Book and Price/Cash Flow analysis provide a "fair value' price of between $43 and $48 per share. A real discount can't be identified under current conditions above $38 – which means from a value perspective the downside risk for the stock is more than -60% from the stock's current price.
Technical Profile
Here's a look at the stock's latest technical chart.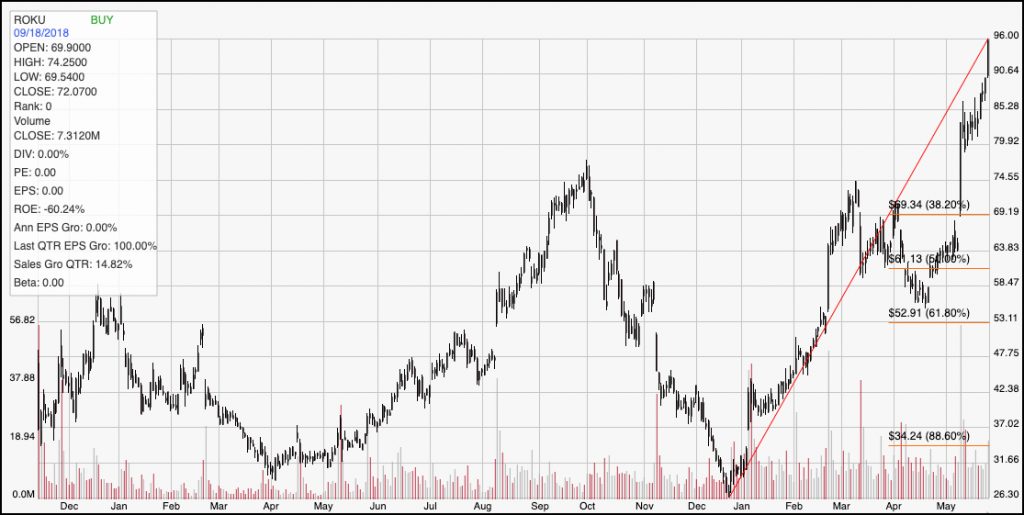 Current Price Action/Trends and Pivots: The red diagonal line measures the length of the stock's upward trend from January to now, and also informs the Fibonacci trend retracement lines shown on the right side of the chart. The stock broke through its last major resistance point at around $75 earlier this month, which is a big part of what has provided the stock's current bullish momentum. Could it continue? Certainly; but given the size of the increase, including a rally of about $5 per share last Friday alone, the short-term forecast should be to see the stock retrace and draw back a bit as aggressive traders take profits. Whether this latest rally provides legitimate bullish strength will likely be determined between the $80 to $85 price range; the stock briefly consolidated there in the last couple of weeks before pushing to its current high. If the stock drops below $80, the next bullish test will be at $75. A drop below that price will likely see the stock drop into the $58 to $61 price range.
Near-term Keys: I see no way to justify a bullish short-term trade on ROKU right now, either with the stock itself or by buying call options. That does mean that if the stock keeps going up, I would pass on any trade, since identifying the stock's next high is nothing more than guesswork. It is also very speculative, given the stock's current bullish momentum, to swing to the opposite and bet on a bearish move right now. If the stock finds a new level of support and begins to turn lower, and you want to be aggressive, you could short the stock or buy put options with a near-term price target at around $85. As I observed before, there is no way to tag ROKU as a good value right now. The stock would have to drop all the way to $38 or below before I would be willing to reconsider that question as things stand right now. What could change the fundamental picture to shift the value proposition more into the stock's favor? Positive earnings, Net Income, and Free Cash Flow would be a great start.