While oil prices wallow in a bear market and stocks continue to whipsaw, gold has been the stealth winner of June so far. Prices for the yellow metal have recently surged toward their highest level in more than three months, with that rally continuing during Thursday's session.
---
Hey, did you know if you really want to retire early, this free training lays it all out for you! Check it out here.

---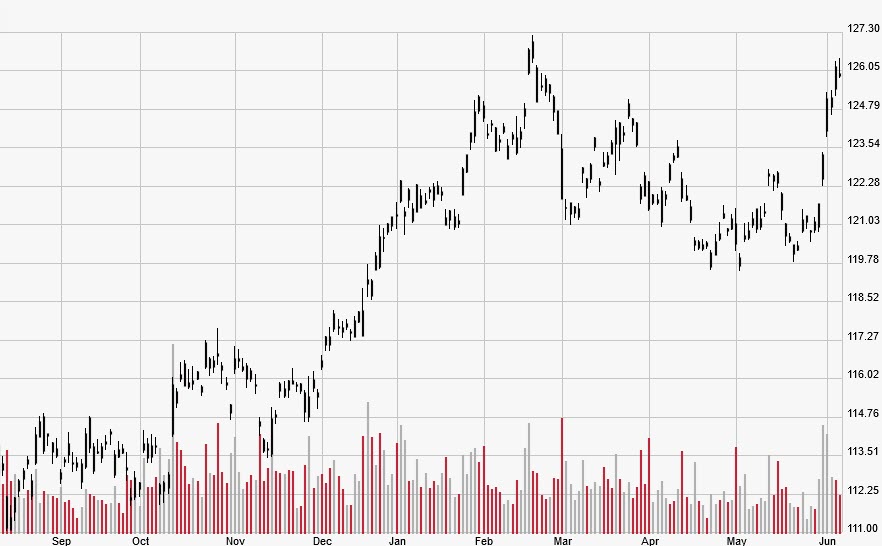 As a market, gold is hardly discussed since it's somewhat illiquid and largely unexciting compared to other areas like high-flying tech stocks. But when investors dig a bit deeper, they'll find that gold prices can often be easy to predict, mainly because their movement largely depends on three simple factors. The metal tends to follow patterns around these factors, making them profitable tools when investing in any area of the gold market.
Here's a closer examination of the recent rally – as well as a look at those three factors that can help investors make strong gold bets…
The News
Gold prices – measured in the front-end futures contract for August delivery – jumped Thursday on continued bullish sentiment from the Federal Reserve. Over the last week, market participants have widely started to expect the central bank to cut interest rates sometime this year, with the CME FedWatch tool predicting a 90% chance of it occurring at the September meeting.
The bullish sentiment really came to the forefront on Tuesday when Fed Chairman Jerome Powell spoke during a conference at the Federal Reserve Bank of Chicago. Though Powell is never direct in conveying the central bank's intentions, most investors interpreted his words as accommodative and indicative of a "lower for longer" stance on interest rates. Gold prices benefit from this kind of talk because it's seen as the government responding to weak economic data, which portends an economic downturn and drives people toward safe-haven investments like precious metals.
How Investors Reacted
Investors have been buying gold like crazy over the last week, pushing August futures up more than 5% for over a week's worth of consecutive gains since May 28. On Thursday, prices jumped 0.7% from $1,333.60 to $1,342.70, which was the highest close since Feb. 20 when they ended the day at $1,347.90.
The Bigger Picture
While expectations of an interest-rate cut have been pushing prices higher in recent sessions, it remains only one of three factors responsible for gold's sizable rally over the last week.
The second factor is stock market volatility, which investors have seen no shortage of since early May. The Dow Jones Industrial Average and S&P 500 have respectively declined 2.8% and 3% from last month's peaks due to rising trade tensions with both China and now Mexico. Meanwhile, the tech-heavy Nasdaq's 6.4% loss more than doubles that of the Dow and S&P thanks to the federal government's renewed interest in pursuing antitrust cases against Silicon Valley titans like Apple Inc. (AAPL) and Alphabet Inc. (GOOG).
Similar to how the prospect of economic turmoil urges investors to buy gold, stock market turmoil also entices gold buying. When the Dow and S&P nosedive, investors take their money out of stocks and tend to reinvest it in risk-averse – or safe-haven – assets like precious metals or bonds. Because of this psychology, these safe havens often rise in value during times of panic in the broader markets. As the de facto face of safe-haven investments, gold tends to get the most attention and therefore tends to dish out the most substantial returns.
The third factor that gold investors usually focus on is a declining U.S. dollar. Since it's internationally priced in the dollar, gold and the dollar move inversely to one another since a falling dollar makes the metal more affordable to users of other currencies, thus boosting international demand. The U.S. Dollar Index (DXY) is the most common gauge of overall dollar performance, as it measures the greenback against a basket of other currencies like the euro and British pound.
And the DXY has taken on steep losses lately, falling from 98.14 on May 30 to 97.04 on Wednesday. That's the lowest since about April 17 when the index closed at 97.01. For context, gold prices have increased 3.6% to above the psychologically important $1,300 level since May 30.
Looking Ahead
Gold may not be the most salacious asset class, but it's a worthy addition to any serious investor's portfolio. The metal isn't susceptible to the same multitude of factors that swings the stock market on any given day; instead, day-to-day gold prices really only move on those three aforementioned economic factors. This can allow investors to make smarter plays in the gold sector than any other area of the market.
By the way, if you liked this article, you'll LOVE this Meaty free training I just published on the top 3 questions and challenges every investor faces AND how to overcome them. It's titled "10k into $2.4 Million in 18 months" and you can grab it for free here