Goldman's portfolio has returned 16% so far this year.
Amid the trade war chaos and the Fed hinting at a possible rate cut early this week, the stock market has been on a wild ride.
---
Hey, do you want to be the next stock market millionaire? This free training lays it all out for you! Check it out here.

---
But Goldman Sachs has a portfolio that's beating the market despite the noise, and has already returned 16% so far this year.
The firm has multiple exclusive portfolios for its clients and many are underperforming the S&P 500 this year, including its portfolio that tracks hedge funds' top holdings and its portfolio of large-cap mutual funds overweights. However, the stocks that overlap these two baskets have performed incredibly well in 2019.
"The underperformance of popular positions today following President Trump's announcement of tariffs on imports from Mexico underscores investor concern about crowded positions," Goldman chief U.S. equity strategist David Kostin wrote in a note. "The 'wisdom of the crowds' can be a positive signal for subsequent stock returns."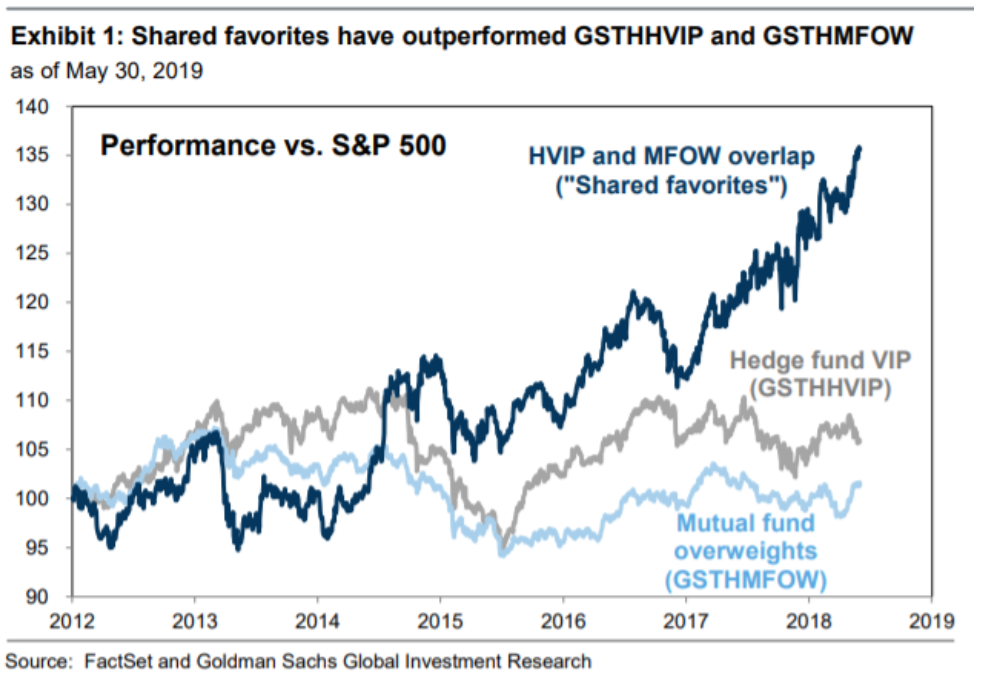 The firm covers 880 hedge funds with $2.1 trillion of equity positions, and 521 large-cap mutual funds also with $2.1 trillion in equity holdings.
Goldman identified twelve stocks that overlap the two groups and are the most popular with both hedge funds and mutual funds, and they include Adobe (NASDAQ: ADBE), Google-parent Alphabet (NASDAQ: GOOGL, GOOG), Citigroup (NYSE: C), Mastercard (NYSE: MA), PayPal (NASDAQ: PYPL), ServiceNow (NYSE: NOW), UnitedHealth (NYSE: UNH), and Visa (NYSE: V). Together, they have outperformed the S&P 500 by 6.1 percentage points so far this year.
A few of the stocks in this "shared favorites" basket have been weighed down by the trade war, but PayPal, Mastercard, UnitedHealth, and Visa all held up last month. Of the stocks on Goldman's list, ServiceNow has performed the best so far this year, having returned 50.79% year-to-date.
The S&P 500 has returned roughly 10% year-to-date, but it lost more than 6% in May alone as trade tensions between the U.S. and China got hotter. The market sell-off then got worse after the Trump Administration announced a surprise 5% tariff on all Mexican imports—with the tariff increasing incrementally in an effort to pressure Mexico to stem the flow of immigrants coming to the U.S. at the southern border—last week.
Goldman said that the "shared favorites" also boast a track record of beating the market, and have generated an annualized return of 19% since 2013, handily beating the S&P 500's return of 13% in the same period.

By the way, if you liked this article, you'll LOVE this Meaty free training I just published on the top 3 questions and challenges every investor faces AND how to overcome them. It's titled "10k into $2.4 Million in 18 months" and you can grab it for free here