Netflix is up 2,900% over the last 8 years, and one expert says history could repeat itself with this stock.
Back in 2011, Netflix (NASDAQ: NFLX) shares were under pressure after the company increased its prices for its DVD-mailing and streaming services. The stock dropped more than 80% over just a few months.
---
Hey, do you want to be the next stock market millionaire? This free training lays it all out for you! Check it out here.

---
At the time, Netflix's subscriber numbers dropped to just 800,000. But eight years later, that ancient history has been erased from memory as Netflix is up a whopping 2,900% and the company now boasts roughly 150 million paying subscribers worldwide.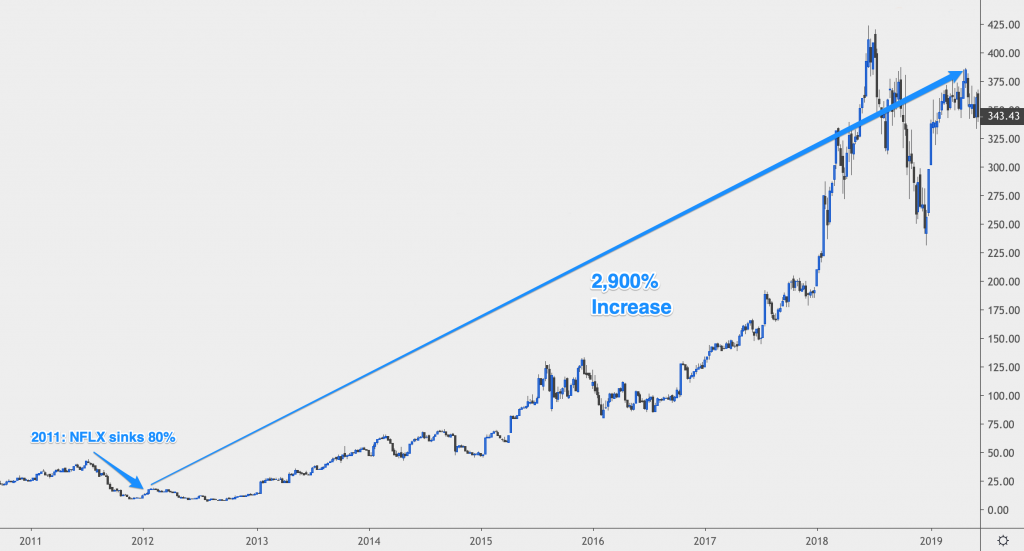 Now one expert says that another big-name stock is showing a similar pattern and says we could see Netflix-style history repeated.
"Gloom and doom seemed to occur about the demand that had run out for streaming" back in 2011, Eddie Yook, founder of think tank EddieWouldGrow, said to CNBC on Tuesday. "When I looked at it then, I had written several articles about how, 'You know what? Streaming demand has a ton of growth.'"
Yoon says that he's now "seeing a very similar situation with Tesla (NASDAQ: TSLA)," and its recent performance looks very similar to Netflix's performance back in 2011. 
"You might say media and cars [are] completely different industries, but they're going direct-to-market to some degree," Yoon said. "They're kind of cutting out the middleman."
The electric car maker is down nearly -36% year-to-date, but Yoon says that its industry-changing qualities, along side some sizable shifts in the U.S. auto market, make him confident that Tesla can make it out of its monthslong bear market.
On Wednesday, shares were volatile after CEO Elon Musk said that "there is not a demand problem" at Tesla and that the company has a "decent shot at a record quarter on every level."
"I want to be clear: There is not a demand problem," Musk said to shareholders at the company's annual meeting Tuesday night. "Sales have far exceeded production and production has been pretty good so we're actually doing well."
But the analyst at Cowen questioned Musk's confidence in a note, and said "basic microeconomic theory would suggest that goods or services that don't have a demand problem don't see their prices lowered by half a dozen times in 4-5 months."
The analyst at Baird disagreed and said "the narrative is overly negative" around Tesla and that "bear arguments will be disproven in the coming weeks and months" as there have been "several signs of steady demand." Baird rates the stock an Outperform and its twelve-month price target is $340 – 59% higher than Thursday's closing price.
But Yoon notes that Tesla brings something to the table that other car makers don't.
"Stocks and companies like Tesla, one of the things that's notable about them is when they compete against compromise," Yoon said. Generally in the auto industry, "you have people who buy fun cars and people who buy functional cars. Tesla has broken the compromise so that you can actually get both in the same car."
This has resulted in people who typically opt for Toyotas or Hondas to buy Teslas "at significant price premiums" to comparable models, a trend that Yoon says makes any bear case based on shrinking demand for Tesla vehicles "silly."
"If you look at the cumulative losses that Prius sales have had [since 2015], it's about the same amount that Tesla has grown by in that same four-year time period," Yoon said. "I think you're seeing a massive amount of consumers trade up out of… mass-market pricing into something because they no longer have to choose between fun and function."
According to Yoon's research, 50% of Honda Accord and Toyota Camry owners both want and could afford to buy a Tesla, putting half of the sales of those mass-market vehicles—700,000 per year in the U.S.—at risk of disruption.
"That's a significant amount of near-term demand, and then that can, I think, tie them over until they kind of catch the wave of the next [electric vehicle] growth that's coming up," Yoon concluded.
There are currently twelve Buy ratings for TSLA and analysts' price target for the stock is $289.24, suggesting possible upside of 35% over the next twelve months.
By the way, if you liked this article, you'll LOVE this Meaty free training I just published on the top 3 questions and challenges every investor faces AND how to overcome them. It's titled "10k into $2.4 Million in 18 months" and you can grab it for free here