One expert says these 2 fast-food chains are about to break out to new highs.
Billionaire's Secret Strategy Beats Passive Investing By 5,500%
This strategy survived the '87 crash, the dotcom bust and the subprime panic—and turned $1K into $66.7 million…compared to $1.2 million buying and holding the S&P 500. This year will bring new trends...laws…tariffs…increased volatility…maybe even a market crash. To use this strategy to protect, revive, and multiply your retirement savings by leaps and bounds - even in a bad economy - click here. [ad]
Read More
McDonald's (NYSE: MCD) jumped past a record high Wednesday to close at $212.81. The Big Mac maker is up 4% for the week and nearly 20% so far this year.
So far in 2019, the world's largest food chain has hit 20 record highs, and a positive July would mark the seventh straight month of gains.
But while McDonald's is soaring, two other fast-food stocks are serving up some big competition.
That's according to Piper Jaffray's chief market technician, Craig Johnson.
"If we take a look at the chart of Chipotle (NYSE: CMG) here, this is a stock that has been in a pretty tight consolidation range, really since about March," Johnson said to CNBC. "It's now breaking the topside of that consolidation range, and as an individual who looks at charts, you'd look at a measured objective probably in the mid-$800s on that particular stock."
To get to the mid-$800s, Chipotle stock would rally roughly 16% from its current level. The stock has never before traded above $800.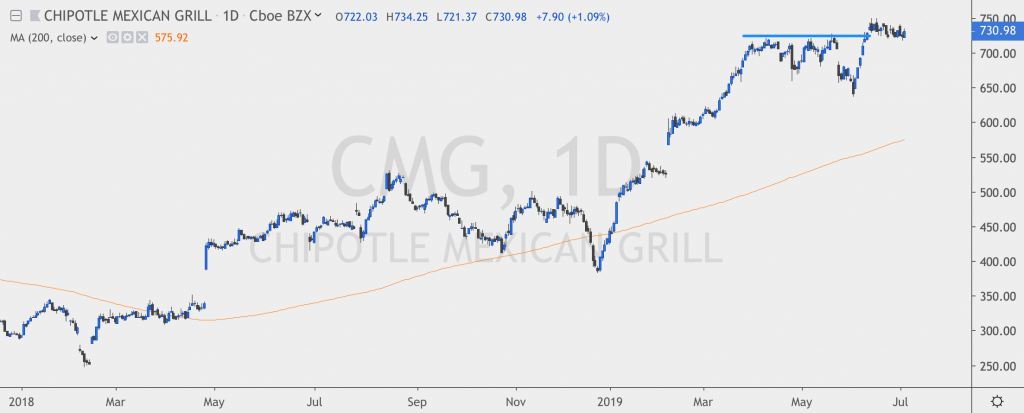 Johnson isn't the only one bullish on Chipotle. Activist investor Bill Ackman bought the struggling burrito maker back in 2016 at an average price of $405 per share, and the stock has since gained 80%.
Ackman wrote in a recent letter to shareholders that there has been "significant progress" at Chipotle under CEO Brian Niccol and, despite the fact that the stock is up nearly 70% year-to-date, the company "is in the early innings of its transformation."
The other fast-food stock Johnson likes is burger chain Shake Shack (NYSE: SHAK).
"This is a stock that is breaking out to new highs," Johnson said. "You've just broken out, and you're seeing confirmation with the relative strength trends also. So, from our perspective this is a stock that we think can move up appreciatively from here."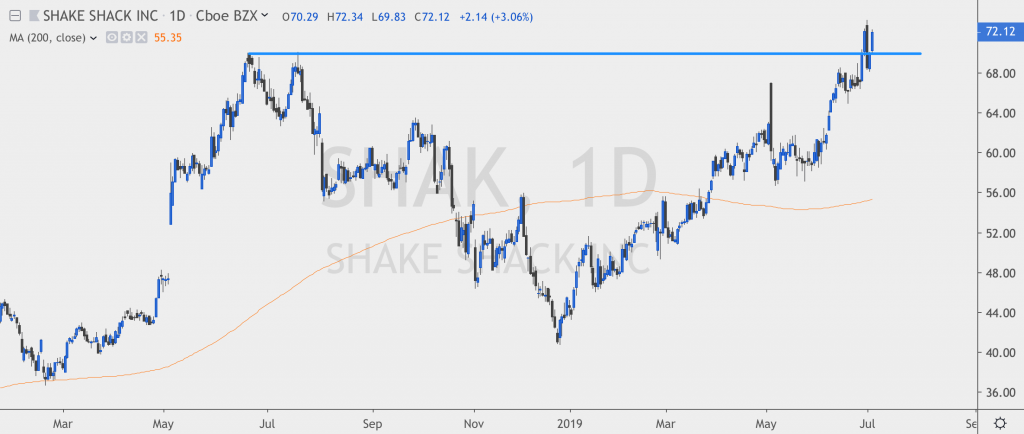 So far this year, Shake Shack has gained nearly 59%.
Steve Chiavarone, portfolio manager at Federated Investors, says that there are a few tailwinds that have converged around these fast-food stocks that should help them continue to rally.
"The first story is that of the consumer," Chiavarone said. "The consumer has remained strong despite some of the headline noise out there. You've got good unemployment numbers, moderate wage growth—maybe a little bit better than moderate wage growth—[and] gas prices have been relatively well behaved. So, overall the consumer is looking healthy."
Chiavarone noted that these chains are adapting to changing tastes and demographics, and that ability to adapt has been a strong selling point.
"They've been doing some things to help themselves. So, by and large, we remain positive on the consumer and we think this group can benefit from that," Chiavarone said.