Shares of DaVita Inc. (DVA) plunged to their lowest level in more than two weeks during Tuesday's session. Investors were negatively reacting to a fresh announcement from President Trump regarding the dialysis and healthcare firm's primary market, dragging the stock to its worst level since June 20.
---
Hey, do you want to be the next stock market millionaire? This free training lays it all out for you! Check it out here.

---
President Trump is known for having a direct impact on financial markets, but the lasting impact of his announcements on certain companies is widely disputed. With Tuesday's plunge putting DVA shares near a year-to-date loss, investors want to know if the statements are only temporarily impacting the stock or could potentially keep the healthcare company lower for longer.
Here's everything to know about Tuesday's news – and what it could mean for DaVita in the future…
The News
Reports broke late Monday night and early Tuesday morning that President Trump is set to announce a series of initiatives that would allow for more kidney transplants and procedures to be conducted at a patient's home. According to Politico, Trump will sign an executive order Wednesday overhauling national kidney transplant systems with the goal of reducing the cost of care associated with clinics operated by DaVita and other healthcare firms.
The Department of Health and Human Services' (HHS) strategy also entails new payment models meant to keep patients off dialysis longer and improve the performance of the nearly 60 U.S. nonprofits that collect transplant organs. This, the government says, could make available 17,000 additional kidneys and 11,000 additional hearts, lungs, livers, and other essential organs.
Many politicians praised Trump's initiative, including former HHS Secretary Tommy Thompson, who worked in the Bush administration. He told Politico he's "very impressed" with the announcement, as it marks the start of "finally modernizing organ procurement."
How Investors Reacted
DVA investors engaged in panic selling Tuesday out of fear that DaVita's bottom line could take a hit if the new initiatives go into effect. The stock was the S&P's worst performer, dropping 5.3% during the session from $55.51 to $52.55 for the lowest close since ending June 20 at $52.41. DaVita is now up only 2.1% on the year since closing Dec. 31 at $51.46.
The Bigger Picture
Whether they're transmitted via his Twitter account or other public forums, investors have closely followed Trump's statements on certain companies since the 2016 election since they can often have a marked impact on their stock prices. The statements typically concern companies choosing how to handle domestic operations that can influence the broader U.S. economy, the solitary strength of which has always been central to Trump's agenda.
A recent example concerned Harley-Davidson Inc. (HOG), which popped 2% in premarket trading on April 23 after Trump said he would retaliate against European Union tariffs that threatened the company's ability to maintain U.S. operations. In a tweet that day, he quoted Fox Business reporter Maria Bartiromo's statement regarding the motorcycle producer paying 31% on the dollar and continued to say how it was "unfair to U.S." and that "we will reciprocate."
However, his negative comments regarding companies and sectors tend to be much more devastating to stock prices. On March 7, 2017, shares of pharma giants Mylan NV (MYL) and Allergan Plc. (AGN) both fell more than 4% at one point during the session after he tweeted that the government is working on a "new system where there will be competition in the drug industry."
But it's important to know these statements typically only lead to knee-jerk reactions quickly followed by rebounds. MYL and AGN have both recovered strongly since then due to the fact that his planned actions often take a while to come to fruition. The same can be said of DaVita's action on Tuesday, as it will certainly take the government months – if not years – to implement its new organ transplant initiatives.
Looking Ahead
In the modern era, Twitter fingers are capable of sucking millions of dollars out of a company's stock price. These statements often scare market participants, but only for a very brief period of time. DaVita will likely follow this pattern of a short-term dip followed by a rebound due to Trump's statements constantly getting lost in the ongoing news cycle.
With that in mind, investors who held onto their DVA shares through Tuesday's volatility should continue to do so in the long term. There's no way of knowing if or when the government's new initiative will go into effect, so being scared into selling wouldn't be wise at this juncture.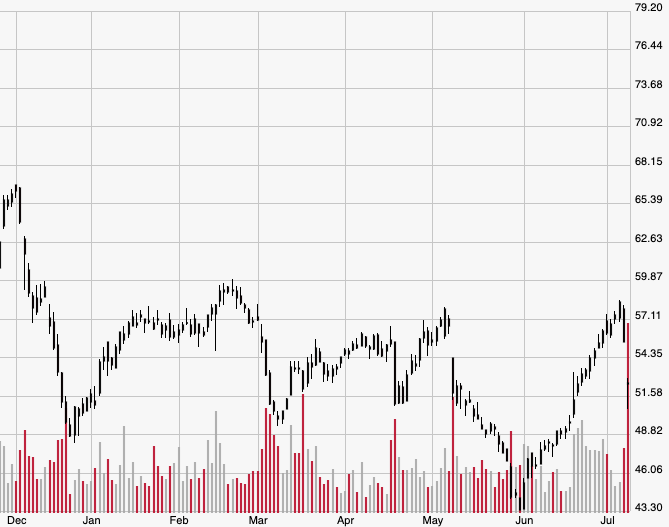 By the way, if you liked this article, you'll LOVE this Meaty free training I just published on the top 3 questions and challenges every investor faces AND how to overcome them. It's titled "10k into $2.4 Million in 18 months" and you can grab it for free here