One of the challenges about investing in the stock market is knowing where to look. With tens of thousands of different companies, in more than a dozen different sectors, hundreds of industries and even more sub-industries to consider, it can be pretty easy to throw your hands up in the air in desperation. How do you decide if a stock is worth your time or not? It doesn't take much time or experimentation to realize the futility of trying to follow the stocks that are generating the most buzz in news media, simply because that list changes so frequently and quickly that it can make your head spin.
The longer I've been involved in investing, on both a personal and professional level, the more I've come to appreciate the importance of being a student of the markets. That means being will to invest the time and effort to talk to others who have the same interest, but who may have more experience and knowledge than I do, and who certainly will operate with a different perspective. It also means doing a lot of reading. Over the years, I've built up a pretty impressive library of books about different aspects of the financial markets that have proven useful to me.
One of those books is called one Up on Wall Street, by legendary value investor Peter Lynch. As the manager of the Fidelity Magellan Fund from 1977 to 1990. In that time, the fund grew from just $18 million in assets under management to more than $14 billion. Perhaps the biggest driver in that growth was Mr. Lynch's performance; the fund averaged a 29.2% annual return, putting it at the top of the mutual fund industry.
In his book, Mr. Lynch outlined the methods that he used to identify and begin his analysis of the companies that made him so successful. One of the first principles he discussed and has become well-known for is to "invest in what you know." The logic is that since most of us tend to become expert in fields that interest us, we may have more knowledge that we realize about companies in that those fields, which can help shorten the amount of time required to make a good decision about a stock's suitability as a potential investment. The same principle applies simply to stocks that produce the goods and services we use on a daily basis.
I immediately gravitated to this idea, and have used it for years as a starting point to help me start the evaluation process for stocks that come across my desk. That is why this weekend I smiled when I saw Scholastic Corp (SCHL) come up in one of the many screeners I use. I've been a bookworm for as long as I can remember, and this company has a lot to do with helping me find a love for reading as a very small child. Perhaps you remember, as I do, combing through pages of Scholastic Books catalogs that you got at school, and then begging your parents to let you place an order. I also used whatever funds I could scrape up – allowance money, earnings from mowing lawns or shoveling sidewalks, whatever – to buy several books at a time. I had usually read them all well before the next catalog came around, so I was already anxious to place my next order.
The warm memories of a happy adolescence spent exploring the world through those books are a nice introduction to today's highlight, but of course the real question is what kind of basis SCHL has to work as a useful investment right now. This is a small-cap stock in the Media industry that is easily overshadowed by bigger, sexier-sounding names like Walt Disney (DIS), Netflix (NFLX) and the New York Times (NYT). Their specialization as a publisher puts them in a different niche, however, and that is something that I think creates an interesting opportunity. The stock's performance has severely underperformed the market and the entire Media industry, declining about 32% over the past ten months. There are some fundamental concerns, like deteriorating Net Income, declining earnings, and a modest level of cash flow that are certain to give growth-oriented investors pause. The stock's poor price performance is certainly a reflection of many of those realities, however from a technical standpoint it also looks like it could be reaching a bottom. With some other fundamental indicators pointing to a good possibility the company is about to turn a corner, its current price level might translate to an excellent opportunity to buy in at a bargain rate before the rest of the market starts to recognize the turnaround is taking effect.
Fundamental and Value Profile
Scholastic Corporation is a publisher and distributor of children's books, a provider of print and digital instructional materials for pre-kindergarten (pre-K) to grade 12, and a producer of educational and entertaining children's media. The Company operates through three segments: Children's Book Publishing and Distribution, Education and International. The Children's Book Publishing and Distribution segment includes the publication and distribution of children's books, e-books, media and interactive products in the United States through its book clubs and book fairs in its school channels and through the trade channel. The Education segment includes publication and distribution to schools and libraries of children's books, classroom magazines, supplemental classroom materials, and print and online reference and non-fiction products for grades pre-K to 12 in the United States. The International segment includes its international operations, and export and foreign rights businesses. SCHL has a current market cap of about $1.1 billion.
Earnings and Sales Growth: Over the last twelve months, earnings have declined by -6.6%, while revenues improved about 4.5%. The company's margin profile is a reflection of their troubling earnings pattern, having dropped from a narrow 2.28% over the last twelve months to -3.49% in the last quarter. Negative Net Income means the company paid out more than they made in the last quarter, which is absolutely a red flag that shouldn't be ignored.
Free Cash Flow: SCHL's free cash flow is modest at $37 million over the last year. That translates to a Free Cash Flow Yield of 3.17%. That doesn't sound particularly impressive, but it is also worth noting that SCHL's free cash flow has improved significantly, from -$29.1 million at the end of the first quarter 2018. This is a good sign that the deterioration in Net Income I just mentioned could be a cyclical dynamic rather than a systemic one.
Debt/Equity: The company's Debt/Equity ratio is zero, reflecting the fact that the company carries no long-term debt. Their balance sheet also shows a little over $338 million in cash and liquid assets, which is very healthy and acts as a strong indication the company has good liquidity and carries little to no underlying financial risk in the form of interest payments for debt service.
Dividend: SCHL's annual divided is $.60 per share and translates to a yield of about 1.81% at the stock's current price.
Price/Book Ratio: there are a lot of ways to measure how much a stock should be worth; but one of the simplest methods that I like uses the stock's Book Value, which for SCHL is $36.04 and translates to a Price/Book ratio of .92 at the stock's current price. The stock's historical average Price/Book ratio is 1.18, which provides a target price for the stock at about $42.50 per share. That's pretty attractive, since that is currently about 28% above the stock's current price.
Technical Profile
Here's a look at the stock's latest technical chart.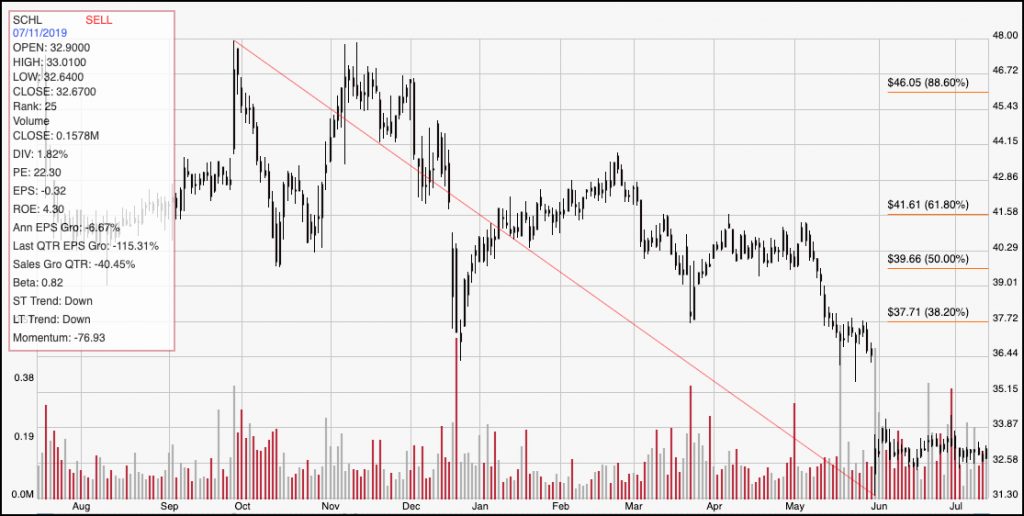 Current Price Action/Trends and Pivots: The chart above shows the last twelve months of price activity for SCHL. The red diagonal line traces the stock's extended downward trend that began in September of last year; it also informs the Fibonacci retracement lines shown on the right side of the chart. The stock has built a good stabilization pattern since June, with a narrow range between near-term support at about $32.50 and resistance a little above $33.50 per share. The large gap you can see at the end of May that pushed the stock from about $36 to its current level overnight came as the company issues a revised, lower-than expected outlook for its 2019 fiscal year. The results for this reporting period will be released in the company's earnings announcement later this month. A break above resistance, to about $34 could be an excellent bullish short-term catalyst, with resistance between $36.50 and $37.70, where the 38.2% retracement line currently sits. A break below support around $32.50, however, would likely see the stock test lows between $27 and $30 that were last seen in 2013.
Near-term Keys: There are enough red flags in the company's fundamental profile that I'm hesitant to call the stock a great bargain right now. There's also a good chance, given the strength of the downward trend and the expectation a revised outlook usually creates, that the stock could break below $32.50 and extend the downward trend further. That means that the highest probability signal would come on the bearish side, with a break below $32.50 acting as a good indication to consider shorting the stock or working with put options with an eye on the range between $27 and $30 as an exit target. If, however, the company's next earnings report shows better-than-anticipated results, the stock could easily break its resistance at about $33.50 per share. That could be an excellent signal to consider using the stock as either an interesting short-term play with call options, or to give more serious thought to the stock's long-term prospects as an attractive value-based investment.