Shares of Netflix Inc. (NFLX) endured massive double-digit losses after the closing bell Wednesday following the Q2 earnings release. The streaming giant reported some of its worst user numbers in years, leading investors to rake the stock over the coals and drag it toward the lowest levels of 2019. 
---
Hey, do you want to be the next stock market millionaire? This free training lays it all out for you! Check it out here.

---
While most public companies traditionally rely on earnings per share (EPS) and revenue to fuel post-earnings moves, Netflix mostly relies on subscriber numbers and user growth. With the firm having just reported a dismal drop in its most paramount metric, investors are curious as to whether or not the world's largest streaming service will be able to bounce back from this drop-off.
Here's what investors need to know about Netflix's latest financials — and how the company hopes to bounce back next quarter…
The News
To start, the earnings report's biggest bright spot was the bottom line, which came in at $0.60 per share during the April-June period. That surpassed Wall Street's $0.56 estimate by 7% but declined more than 29% from the $0.85 reported in the year-ago quarter. However, Netflix only earned $4.92 billion in revenue, marking a nearly 26% increase from $3.91 billion in Q2 2018 but just missing analysts' $4.93 billion estimate by 0.2%. 
The report went from bad to catastrophic when the company said there were only 2.7 million global subscriber additions in the second quarter. That missed the guidance of 5 million net additions by a whopping 46%. Analysts expected the service to add 352,000 U.S. subscribers, but they were blindsided when the service instead lost 126,000.
Netflix execs cited a weaker slate of content in Q2 as the primary reason for the poor numbers but went on to say their current mission is to keep producing quality content in order to restore user growth. The firm said it expects to "have a more valuable business in the long term by staying out of competing for ad revenue and instead entirely focusing on competing for viewer satisfaction."
How Investors Reacted
Shares of Netflix were down as much as 12.2% after hours to reach $318.40. If the stock were to close at that price during Thursday's session, it would be the worst settlement since Jan. 7 when shares ended the day at $315.34. However, NFLX closed Wednesday at $362.44 for a 1% loss, which still technically leaves it with a 35.4% gain from the Dec. 31 close of $267.66. 
The Bigger Picture
Netflix is no stranger to the second-quarter slump, as investors also witnessed an 11% loss in premarket trading after the company missed subscriber estimates in Q2 2018. The firm commented Wednesday how it hopes to remedy the situation, with newly released original titles like "Stranger Things" and "When They See Us" expected to boost user growth next quarter. It forecasts 7 million global net subscriber additions for Q3 and revenue of $5.25 billion, which would be a 6.7% increase from Q2. 
However, the company could still struggle beyond that thanks to an onslaught of competing streaming services expected to debut. The Walt Disney Co. (DIS) is set to launch its Disney+ service on Nov. 12 at a cost of $7 a month, below the $9 that Netflix charges for its cheapest plan. Apple Inc. (AAPL) and NBCUniversal also have services waiting in the wings, with NBC's set to debut in the first quarter of 2020.
Another tailwind for Netflix's user growth is the fact that it's losing some of its most viewed non-original programs. Eight of the 10 most popular shows on Netflix are reruns from other networks. The hit NBC show "The Office," for instance, will be moving to its parent network's platform, and Netflix users watched the show for a total of 45.8 billion minutes between August 2017 and July 2018. 
Looking Ahead
With more and more companies entering the streaming war, Netflix has a tough road ahead of it. The company could only stranglehold the streaming market for so long, and Wednesday's user numbers show it has to fight harder than ever to maintain growth. Still, Netflix's roughly 150 million users worldwide can keep the profits afloat while the firm keeps churning out original content. 
All things considered, investors should consider buying the current dip for a short-term ride through the Q3 earnings release. Expect volatility around the launch of Disney's streaming service, as market participants will likely trade erratically on news of Disney+'s successful or unsuccessful debut.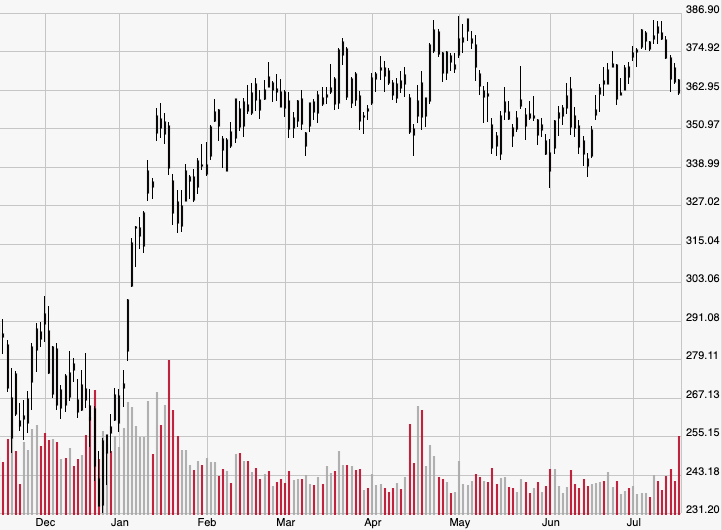 By the way, if you liked this article, you'll LOVE this Meaty free training I just published on the top 3 questions and challenges every investor faces AND how to overcome them. It's titled "10k into $2.4 Million in 18 months" and you can grab it for free here