No. 5: Union Pacific Corp. (UNP)
Shares of Union Pacific — which operates the largest railroad system in the U.S. and is one of the world's largest transportation companies in general — surged 5.9% during Thursday's session from the previous close of $164.55 to $174.25. With that settlement, UNP stock is now up more than 26% on the year from the Dec. 31 close of $138.23. The firm's gains on Thursday lifted the rest of the railroad sector, with peers like Norfolk Southern Corp. (NSC) gaining 2.5% from $191.02 to $195.86. 
Union Pacific rallied following its Q2 earnings release, which saw earnings per share (EPS) of $2.22 on sales of $5.6 billion during the April-June period. The EPS surpassed Wall Street's estimated $2.15 by 3.25%, but revenue fell just 0.7% shy of the $5.64 billion estimate. Still, investors embraced the strong bottom line due to railroad companies serving as bellwethers for the broader U.S. economy.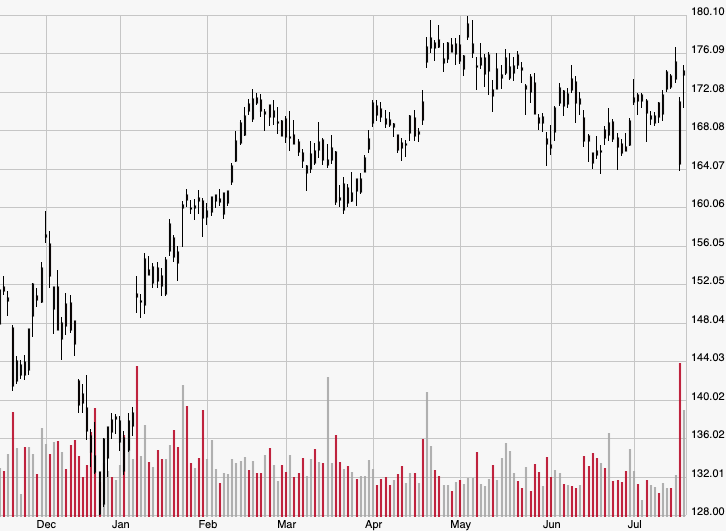 No. 4: KLA Corp. (KLAC)
KLA is a semiconductor company that sells a variety of chip manufacturing products. Its stock rose 6.3% on Thursday from $125.49 to an all-time high of $133.41 per share. KLAC has been one of the year's best-performing semiconductor stocks, earning a 49.1% return since settling at $89.49 on Dec. 31. 
No company-specific news appears to be responsible for KLA's performance Thursday, but it comes not long after several investment banks initiated coverage on the stock. Cleveland-based bank KeyCorp (KEY), for instance, boosted KLAC's price target from $143 to $149 back in May and gave it an "Outperform" rating, a prediction that the stock has clearly surpassed. 
No. 3: United Rentals Inc. (URI)
The world's largest equipment rental firm saw its shares plunge 7.9%, going from $131.49 at Wednesday's close to $121.11 on Thursday. That marks a more than 11% loss so far this week alone, yet shares are still managing an 18.1% gain so far this year. 
As with most companies this week, the biggest stock moves are coming from earnings reports. And despite Q2 earnings growing 23% year-over-year, investors panicked after United Rentals revised the high end of its full-year guidance range from $9.55 billion to $9.45 billion. The firm cited "historically bad weather in several key regions this past quarter" as the primary reason for the guidance revision.
No. 2: Philip Morris International Inc. (PM)
Shares of the multinational tobacco conglomerate — whose products are sold in nearly 200 countries — roared 8.2% higher from $81.05 to $87.71, the best close since April 2 when they ended the session at $88.01. PM stock has soared over 31% in 2019, climbing all the way from the Dec. 31 close of $66.76.
Again, investors were reacting to second-quarter financials, which included the company earning $1.46 per share on revenue of $7.7 billion. Those surpassed analyst expectations by 9.8% and 4.1%, respectively. As for guidance, Philip Morris execs now expect full-year EPS to increase by 9% or more in 2019, up 1% from the previous forecast.
No. 1: Netflix Inc. (NFLX)
The S&P's biggest mover on Thursday was Netflix, the streaming giant whose shares nosedived 10.3% on the day from $362.44 to $325.21. That's the worst close since Jan. 23 when shares ended the day at $321.99 apiece. 
While the company's Q2 EPS surpassed Wall Street's expectations, the worst area of the earnings report was subscriber growth. Netflix said there were only 2.7 million global subscriber additions from April to June, missing the guidance of 5 million net additions by 46%. Analysts expected the service to add 352,000 U.S. subscribers, but the company went in the opposite direction and instead lost 126,000.