This tech stock could jump 20% after next week's earnings report.
There's one streaming stock that has been on a tear this year.
So far in 2019, Roku (NASDAQ: ROKU) shares are up 230%. That's more than 10 times the gain of the S&P 500, Disney (NYSE: DIS), and Netflix (NASDAQ: NFLX). and one analyst says the stock could see a massive move when it reports earnings next week.
"Very, very explosive stock here," TradingAnalysis.com founder Todd Gordon said of the stock. "You can see going back to the beginning of 2019 just an amazing, amazing uptrend here in Roku. I'd like to play a continuation higher on this chart. … We wouldn't expect to see technical resistance until we're right around the $125 mark in terms of that upper channel."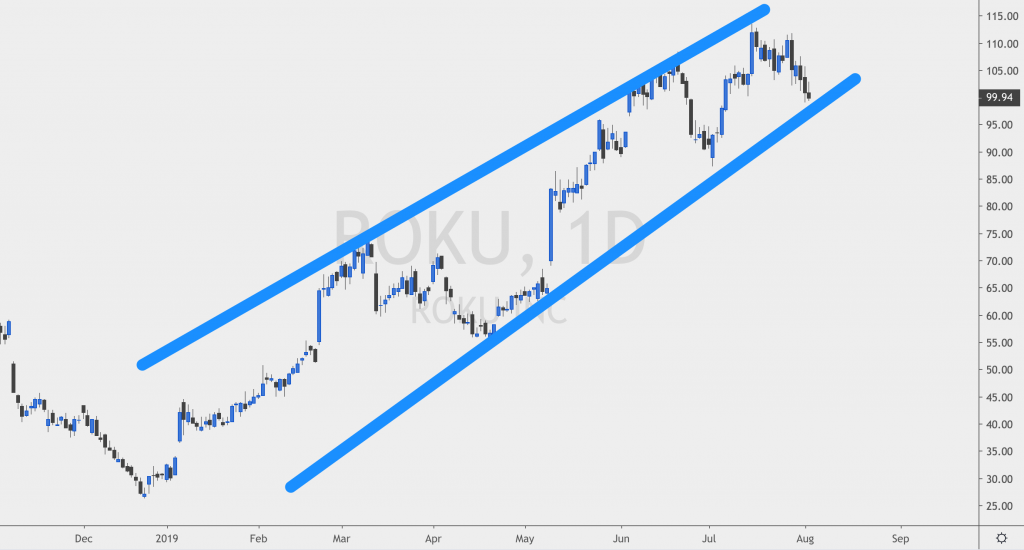 This trend channel stretches on the upside from a series of higher highs beginning back in February through it's all-time high reached on July 16.
Gordon also says there's been a bull flag forming over the past two weeks marked by a descending channel of consolidation that looks like it may be just a breather before the stock continues to surge higher.
"Heading into earnings, it's quite interesting, we have very high implied volatility here in Roku," Gordon said. "If you look at the expected move on the top side, it's looking for a move all the way up to $120 if the stock where to surprise on the upside. Conversely, if we disappoint, you could be looking at something down to $89.58."
If Roku delivers a positive report next Wednesday and moves up to the $120 level, that would represent a 20% climb from current prices. While a drop down to $89 would see the stock slide -12%.
To hedge any volatility risk to the stock's possible moves post their earnings announcement, Gordon is putting in a butterfly call spread by buying the 115 call with August 9 expiration, selling two of the 120 calls, and buying a 125 call. His trade works if options expire at the strike price of the 120 calls.
While the stock may continue to head higher depending on next week's news, Wedbush analyst Michael Pachter cautions investors that the stock's climb so far in 2019 means that any growth in Roku's user base and revenue may already be reflected in its valuation.
The analyst has a Neutral rating on the stock and a price target of $105, or just 5% higher than the current price. Pachter believes there's significant opportunity for Roku to expand internationally, but also says there's a need for it to invest to achieve that growth.
"Smart TVs are under penetrated in many markets and we expect Roku's inexpensive dongle to be well-received," Pachter wrote. "As Roku expands its licensing and dongle distribution globally, the company also must spend heavily on R&D to accommodate various international standards and to collect inexpensive local content to enhance The Roku Channel offerings, along with expanding existing licenses to international."
Pachter also says that the slate of new streaming services coming out over the coming year, from Apple + to Disney+, are both an opportunity and a threat for the company.
He expects that these high-quality viewing options will ultimately "drive increased cord-cutting and grow the overall pool of active users for the Roku platform," but will also pull users from The Roku Channel, which could put the company's advertising revenue growth at risk.