No. 5: Flux Power Holdings (FLUX)
Flux is a producer of rechargeable lithium-ion batteries called "LiFT," which offer a "better performing, cheaper and more environmentally friendly alternative" to old-school lead-acid batteries. The company's battery solutions are used by several high-profile customers, including automakers like Toyota and utility firms like the Raymond Corp. From March 2018 to March 2019, Flux raked in sales of $7 million, ensuring the stock offering will debut at an affordable price.
Originally expected to debut last week, the company is set for a $13 million deal this week by selling 1.45 million shares at an even $9 share price. That would give the firm a market cap of $59 million. The two underwriters are Roth Capital and Maxim Group LLC, and shares of Flux will trade on the Nasdaq under the ticker "FLUX."
No. 4: BioVie Inc. (BIVI)
BioVie is a microcap biotech currently developing treatments to target the symptoms and life-threatening complications associated with liver cirrhosis, which affects more than 200,000 people every year. The firm's lead candidate is BIV201, which, despite containing a drug ingredient not yet available in the U.S., just completed patient enrollment for a Phase 2a clinical trial back in February. 
The firm is expected to raise $15 million through the sale of 1.26 million shares at an even $11.88 apiece. If the stock prices at that level, BioVie would command a $64 million market cap. Boutique investment bank ThinkEquity is the deal's sole bookrunner. The company will list on the Nasdaq under the ticker "BIVI."
No. 3: WiMi Hologram Cloud (WIMI)
Based in Beijing, WiMi provides holographic augmented reality (AR) technology that can be used for everything from advertising to entertainment and video streaming services. In fact, roughly 80% of WiMi's total sales come from advertising and the other 20% come from entertainment and media. During the first three months of 2019, holographic AR ads produced using WiMi's software generated roughly 2.3 billion views, which was up 91.7% year-over-year. For the total 12-month period ended March 2019, the firm earned sales of $37 million.
WiMi will generate $34 million by offering 4 million American depository shares (ADSs) at a price range of $7.50 to $9.50 each. That would give the firm a market cap of $496 million at the range's midpoint. Underwriters include the Benchmark Company and Maxim Group. WiMi's stock will trade on the Nasdaq under the symbol "WIMI."
No. 2: InMode Ltd. (INMD)
InMode is an Israel-based medical device maker that focuses primarily on improving body aesthetics. The company's three main treatment categories are body and face contouring; medical aesthetics; and female health. Although sales have tapered off over the last year, InMode's sales still climbed 46% year-over-year during the most recent quarter. The firm will also debut at a strong time for medical device IPOs, with recent offerings ShockWave Medical Inc. (SWAV) and Silk Road Medical Inc. (SILK) both up more than 95% from their offer prices.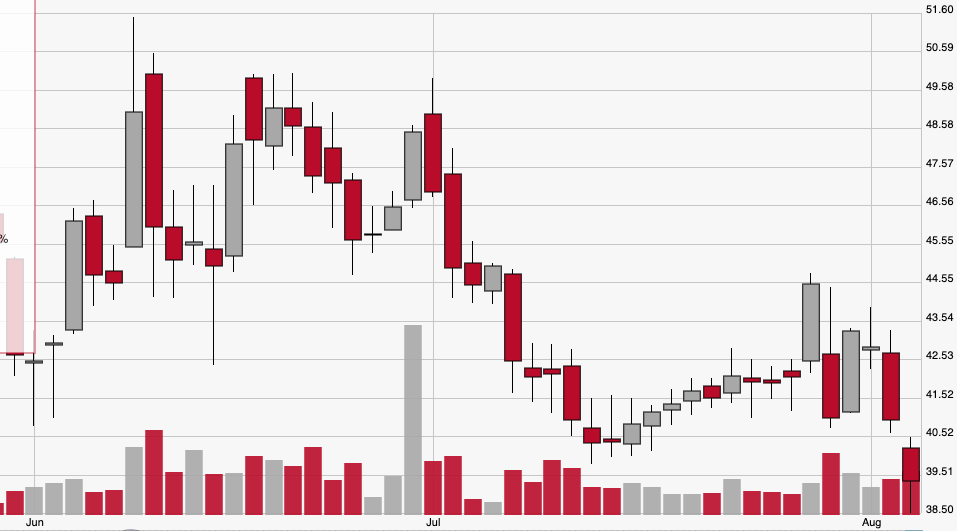 InMode is set to raise $75 million by selling 5 million shares between $14 and $16 each. At a $15 share price, the firm would command a $611 million market cap. The lead bookrunners include Barclays Plc. (BCS) and UBS Group AG (UBS), and shares of InMode will hit the Nasdaq under the ticker "INMD."
No. 1: AMTD International Inc. (HKIB)
The week's largest IPO by deal size is AMTD, a Hong Kong-based investment bank that ranks among the largest financial firms in all of Asia. According to public statements, the firm intends to use the IPO proceeds to grow AMTD's presence in Asia as well as acquire new financial entities. Founded in 2003, AMTD's international business segment has grown exponentially in recent years, contributing heavily to the firm's $155 million in revenue from March 2018 to March 2019.
The firm already began trading on Monday, pricing in the middle of the $8.10-$8.48 range at $8.38 and raising $174 million through the sale of 20.8 million ADSs. As of Monday's close, AMTD boasts a market cap of roughly $2 billion. AMTD's own branch AMTD Global Markets — as well as Loop Capital Markets, MasterLink, Tiger Brokers, ViewTrade, and Boustead Securities — were the joint underwriters on the deal. The stock currently trades on the NYSE under the symbol "HKIB."