Shares of the Walt Disney Company (DIS) plummeted during after-hours trading on Tuesday on the heels of the firm's fiscal Q3 earnings report. The entertainment giant missed both earnings per share (EPS) and revenue estimates, pushing investors to drag DIS stock toward its lowest level in nearly two months.
With enormous acquisitions like the $71.3 billion purchase of 21st Century Fox this year and $4 billion buyout of Lucasfilm in 2012, Disney has assumed something of a too-big-to-fail reputation in recent years. But a constantly shifting content strategy can often lead to growing pains, leaving investors wondering if the new Fox assets and upcoming streaming services — two of Disney's most highly anticipated businesses that were viewed as blemishes on the latest earnings report — may also hamper growth in the long term. 
Here's a closer look at the company's April-June financials — and how those two factors come into play the most…
The News
Disney's top and bottom lines both missed analyst estimates, as the firm reported $1.35 per share on revenue of $20.25 billion. While that EPS grew 38.5% from $1.87 in the year-ago quarter, it landed nearly 23% below the $1.75 Wall Street expected. Revenue saw much more impressive year-over-year growth, rising 33% from $15.23 billion to $20.25 billion. However, the $20.25 billion missed analysts' expected $21.47 billion by 5.7%. 
Investors highly anticipated numbers out of the Studio Entertainment division, particularly following the resounding box-office success of "Avengers: Endgame," recently crowned the highest-grossing movie of all time. The film's record-breaking run helped the division earn $3.8 billion in revenue from April to June, up 33% from $2.8 billion during the same period last year and adding to a 2019 total of over $8 billion in ticket sales. Other movies like "Captain Marvel" and "Aladdin" that were also in theaters those three months contributed heavily to that growth as well. 
How Investors Reacted
DIS stock boasted a strong performance during Tuesday's session, as shares climbed 2.6% to $141.87. However, investors engaged in panic selling after the company missed estimates and dragged shares 4.1% lower to $136.11 per share after the bell. If shares closed at that level, it would have been the worst settlement since June 12 when they ended the session at $135.72. Accounting for the after-hours activity, the stock is still up more than 24% this year from the Dec. 31 close of $109.65.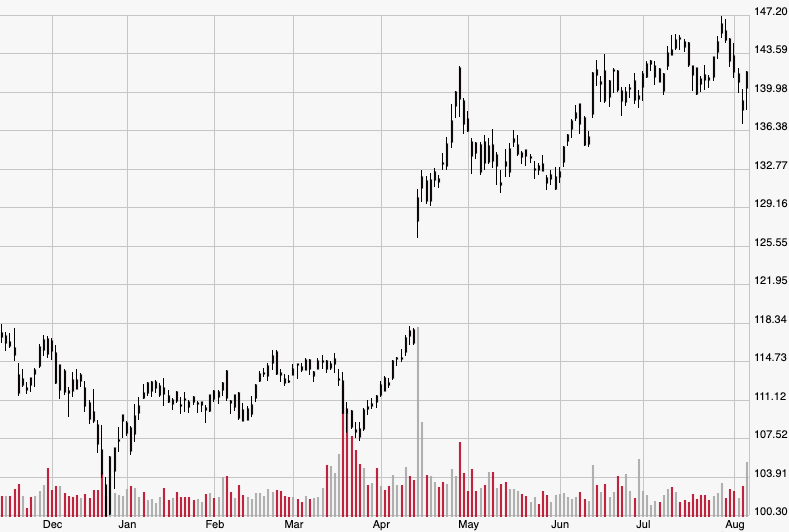 The Bigger Picture
As mentioned earlier, the biggest drags on Disney's financials were the poor performance of newly acquired Fox assets and the consistently heavy investments the firm is placing in new streaming services Disney+ and ESPN+, which CEO Bob Iger recently announced will be able to be purchased as a bundle this fall. 
Arguably the most recognizable Fox flop was "X-Men: Dark Phoenix," the critically reviled final chapter of Fox's X-Men franchise that grossed a dismal $65 million at the U.S. box office. To show just how poor that is, it cost roughly $200 million to produce without even accounting for the exorbitant marketing costs that typically come with a superhero movie. Despite the film's enormous hit to the bottom line, Disney will likely make up for it in spades when it reincorporates the X-Men into the broader Marvel Cinematic Universe, which boasts global box office receipts exceeding $20 billion.
As for the upcoming Disney+ service, it's difficult to prognosticate just how much last quarter's losses will be worth the new revenue stream. The firm plans to offer the ESPN+ and Disney+ bundle for a monthly price of $12.99 — equal to Netflix Inc.'s (NFLX) most popular subscription plan — as well as just Disney+ for $6.99. But according to Disney CFO Christine McCarthy, the costs of launching both services will likely keep ballooning from here, eventually reaching $900 million in the firm's fiscal Q4.