Buckle your seat belts, we could be in for a very wild ride ahead with a "second wave of volatility" just ahead. Here's what you need to know.
If you feel like you've got whiplash this week, you're not alone.
The market has been on a while ride since Monday when the Dow and S&P 500 both sank nearly -3%, while the Nasdaq dropped -3.5%. Then the S&P 500 pulled off its most dramatic intraday turnaround this year on Tuesday, before indexes hit the week's lows Wednesday.
Then stocks staged a strong comeback on Thursday that erased most of the steep losses from the rest of the week.
But investors shouldn't be too optimistic about this rebound. That's according to Nomura macro and quant strategist Masanari Takada.
Takada says that this comeback is supported by dip buying and technical positioning by speculative traders and is bound to be short-lived as market sentiment continues to deteriorate. And there could be a terrifying storm right over the horizon.
"At this point, we think it would be a mistake to dismiss the possibility of a Lehman-like shock as a mere tail risk," Takada wrote in a note from Tuesday. "The pattern in US stock market sentiment has come to even more closely resemble the picture of sentiment on the eve of the 2008 Lehman Brothers collapse that marked the onset of the global financial crisis."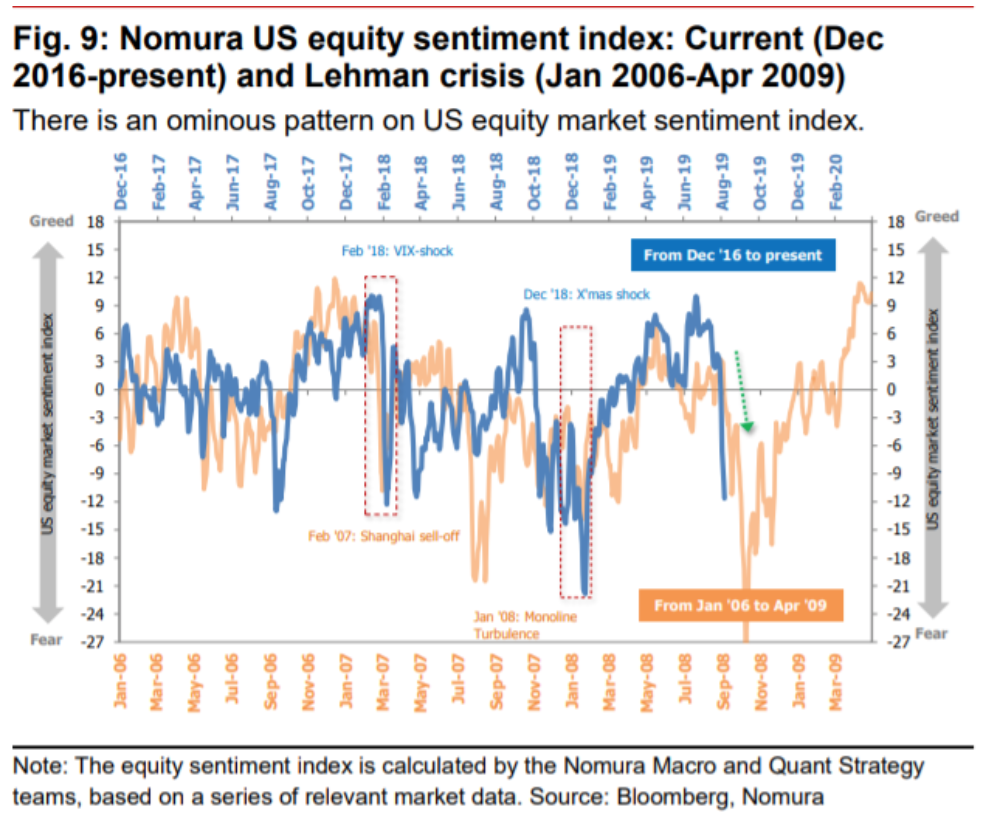 The firm's view is more catastrophic than what the rest of Wall Street is predicting, with much of the Street expecting a correction of -10% at most. However, Nomura noted that a number of hedge funds piled money into the stock market in June and July as it was rallying on the hope of an interest rate cut at the Fed's July meeting and the promise of more easy-money policy ahead.
Fed Chairman Jerome Powell threw some cold water on the hope of a new cycle of monetary easing last week when he called the central bank's quarter-point rate cut decision a "mid-cycle adjustment."
With that disappointment, data now shows that those hedge funds are retreating from the market with more expected to jump ship when their algorithms are triggered by rising volatility. And with hedge funds fleeing the market, there could be a domino effect.
"Like hedge funds, trend-following algos including CTAs [Commodity Trading Advisers] and risk-parity funds have been sucked into the aforementioned chain-reaction selloff. Even so, CTAs' net long position in S&P 500 futures is still only about 45% smaller than it was at its most recent peak on 16 July," Takada wrote. "With much of the unwinding still left undone, we think CTAs are likely to continue selling futures for loss-cutting purposes."
According to this view, Nomura believes a significant market downturn could arrive as early as the end of this month.
"We would expect any near-term rally to be no more than a head fake, and think that any such rally would be best treated as an opportunity to sell in preparation for the second wave of volatility that we expect will arrive in late August or early September," Takada wrote. "We would add here that the second wave may well hit harder than the first, like an aftershock that eclipses the initial earthquake."
Nomura's proprietary sentiment data—which includes a range of macro and quantitative data—is highlighting a "deterioration in supply demand for equities and a sharp downward break in fundamentals," Takada noted.
In other words, their data shows hedge funds and other key players are bailing on the stock market and some are even betting there's a big drop right around the corner.
Takada said that their data predicted a spike in volatility even before Monday's sharp fall, and even some big options traders were betting on a fall through wagers on an increase in volatility. Those bets began to pay off after the Fed signaled no additional rate cuts on the horizon, which sent a shockwave through the market last week.
The chaos then intensified after President Donald Trump ended the cease-fire in the U.S.-China trade war by announcing a new slate of tariffs to go into effect on September 1. China, of course, retaliated with a big statement of their own by allowing the yuan to fall below 7 to the dollar and by ceasing all purchases of U.S. agricultural imports.
This of course sent the VIX surging even higher.
Nomura has made the technical case for another sell-off, though there aren't many who see a fundamental case for a return to the financial crisis era.
However, former Treasury Secretary Larry Summers warned Monday that the ongoing trade war could be setting us up for some serious pain.
"We may well be at the most dangerous financial moment since the 2009 Financial Crisis with current developments between the U.S. and China," Summers said on Twitter earlier this week.