In the latter part of June, I wrote about Westrock Company (WRK), a stock in the Materials sector that had dropped to the extreme low end of its historical range and is in a long-term downward trend that dates back to January of 2018. At the time, there were enough holes in the company's fundamental profile that I felt the smarter move would be to wait for a bit to see if some of those measurements started to improve. It's only been about six weeks from that point, but that is enough time to see the stock release their latest earnings report at the beginning of August, which means it's a good opportunity to revisit the company's fundamental strength.
Why come back to the stock so quickly? WRK occupies an interesting place in the Materials sector, for one thing. Paper & Related Products is a segment that services a variety of business and personal needs; while there is sensitivity to economic cycles and commodity fluctuations, I believe that sensitivity is not as high as it is for stocks in other segments of the industry. WRK is a mid-cap stock, which also means that while they may not be the "600-lb gorilla" in its industry, they are significant player, with plenty of room to grow. They are also working ambitiously to expand the scope and reach of their business, having completed an acquisition in November of last year for KapStone Paper & Packaging. It was a pricy transaction at first blush, at $4.8 billion, but their latest earnings report indicates that they are already seeing positive results from the deal and expect even more in the quarters ahead.
While the fundamentals seem to be improving, the stock's price movement over the last six weeks has been almost entirely stagnant, hovering in a narrow trading range with support at around $34.50, and resistance at about $37 per share. With fundamentals that appear to be turning a corner, price consolidation at the low end of its historical range, and a value proposition that is measurably better than it was in June, it looks like the time could be right to make a move.
Fundamental and Value Profile
WestRock Company, incorporated on March 6, 2015, is a multinational provider of paper and packaging solutions for consumer and corrugated packaging markets. The Company also develops real estate in the Charleston, South Carolina region. The Company's segments include Corrugated Packaging, Consumer Packaging, and Land and Development. The Corrugated Packaging segment consists of its containerboard mill and corrugated packaging operations, as well as its recycling operations. The Consumer Packaging segment consists of consumer mills, folding carton, beverage, merchandising displays, and partition operations. The Land and Development segment is engaged in the development and sale of real estate primarily in Charleston, South Carolina. WRK has a current market cap of $9 billion.
Earnings and Sales Growth: Over the past year, earnings improved almost 2%, while sales improved a little more than 13%. That marks an improvement from the last quarter, when earnings declined by -3.6%. In the last quarter, earnings improved dramatically, by nearly 39%, while revenue growth was about 1.5%. The reversal of the company's earnings pattern extends to their operating profile. The company works with a narrow margin, reflected by the fact that over the last twelve months, Net Income was 4.65% of Revenues; however it also improved in the last quarter to 5.38%. In June, these numbers reflected a deteriorating pattern, so the improvement in earnings along with increasing Net Income looks like a turning point for the company. Management is attributing much of the improvement to the successful integration of KapStone, and expects that momentum to continue in the quarters ahead.
Free Cash Flow: WRK's Free Cash Flow is healthy, at $966.9 million, and which translates to a useful Free Cash Flow Yield of 10.8%. These numbers are lower than they were a quarter ago, but that appears to be a lagging indicator that is more reflective of the struggles the company had to deal with in the quarter previous.
Debt to Equity: WRK has a debt/equity ratio of .82, which is pretty conservative but has declined since November 2018 from just .49. While WRK doesn't have great liquidity, it is also improving with cash and liquid assets of $179.1 million in the last quarter (compared to $154 million in the quarter prior) versus long-term debt of more than $9.7 billion; it is worth noting that the increase in debt, which also corresponds to a significant decline in cash, is primarily tied to the KapStone acquisition.
Dividend: WRK pays an annual dividend of $1.82 per share, which at its current price translates to a very attractive dividend yield of about 5.23%. The passive income the stock's fat dividend offers could be a compelling factor to consider for holding the stock and letting the price work through whatever market conditions do to the stock in the long term.
Price/Book Ratio: there are a lot of ways to measure how much a stock should be worth; but one of the simplest methods that I like uses the stock's Book Value, which for WRK is $46.07 per share and increased in the last quarter from $45.34. At the stock's current price, that translates to a Price/Book Ratio of .75. The stock's historical Price/Book ratio by comparison is 1.34 and puts the top end of the stock's long-term price target at almost $61 per share. The stock's Price/Cash Flow ratio supports that optimistic view, since the stock is currently trading nearly 81% below its historical average. Together, both elements put the stock's long-term target price between $61 to $63 per share. That range narrowed in the last quarter, from about $75 on the high end, but I see that mostly as a positive, since both measurements are largely in agreement. It's true that the stock could break below its current trading range and move lower; but even if it does that will only improve the stock's value proposition from its already impressive level.
Technical Profile
Here's a look at the stock's latest technical chart.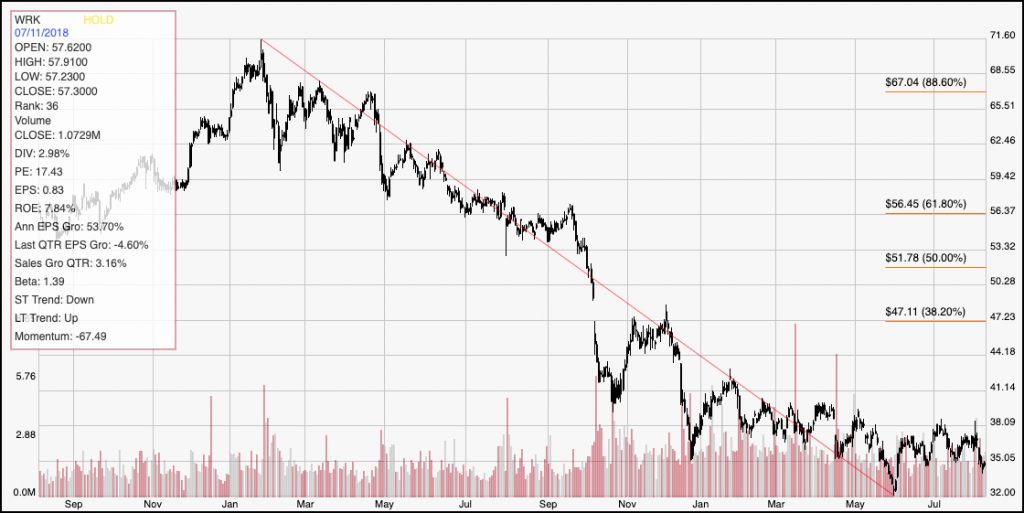 Current Price Action/Trends and Pivots: WRK's downward trend since late January is easy to see. That trend found a bottom at around $32 in the beginning of June, and has stabilized from that point, establishing the consolidation range between $34.50 and $37 I mentioned earlier. The stock is currently at the low end of that range, and appears to be pivoting higher off of support. A break above $37, to a little above $38 could be taken as a good signal the stock is set to reverse its long-term downward trend and begin rallying higher. If, however the stock breaks below support at $34.50, it should test its trend low at around $32, with all-time lows between $28 and $25 not out of the question.
Near-term Keys: The best trading opportunity to work with on this stock right now is based on its value proposition, which means that you should be thinking about this stock with a long-term time horizon if you want to put your money to work with it. Given the stock's consolidation range, short-term bearish trades don't offer very good probabilities, unless it breaks below $32; in that case, consider shorting the stock or working with put options with an exit target somewhere between $25 and $28 per share. On the other hand, a break above the stock's current trading range, above $38 could be an excellent signal to buy the stock or work with call options with an eye on the $42 price level as a useful exit point for a short-term bullish trade.