Shares of Altria Group Inc. (MO) and Philip Morris International Inc. (PM) — both of which own Marlboro cigarettes, with the former selling them in the U.S. and the latter selling them internationally — logged sizable losses during Tuesday's session after the firms announced a potential plan to mitigate falling cigarette sales. Philip Morris — the single largest U.S. tobacco producer — was the bigger loser, as investors dragged PM stock toward its lowest levels of 2019. 
With combined sales of roughly $49.2 billion last year, Altria and Philip Morris obviously wield enormous influence over the global tobacco market. But investors are worried about how the two will move forward profitably under the clouds of lagging cigarette revenue and soaring electronic cigarette — or e-cigarette — usage.
Here's the news that sent both stocks reeling on Tuesday — and what it could mean for the industry down the road…
The News
Altria and Philip Morris said early Tuesday they were holding talks for a potential merger, which at this stage would likely be an all-stock deal with no price premium based on where MO and PM shares have been trading recently. According to a report from the Wall Street Journal, Philip Morris would be the majority owner of the new company with a 59% stake despite the firm originally being a unit of Altria before spinning off in March 2008. 
The potential deal would create a company with a new value likely exceeding $200 billion. It would also notably bring the tobacco industry full circle from the heavy scrutiny of the 2000s when firms tried their hardest to distance themselves from the American market. That was the primary reason Altria spun Philip Morris off in the first place, as the new entity would be solely focused on international sales. 
How Investors Reacted
Investors dragged both stocks through the mud on Tuesday, pulling PM stock down 7.8% on the day from $77.73 to $71.70 per share. That was the worst close since Jan. 24 when shares ended the session at $71.55. Philip Morris is now up only 7.4% on the year from the Dec. 31 close of $66.76. 
As for Altria, shares were less volatile, declining 4% from $47.12 to a seven-month low of $45.25. Despite losing less than Philip Morris on Tuesday, the stock has had a far worse year — MO stock has now dropped more than 8% in 2019 since the Dec. 31 settlement of $49.39.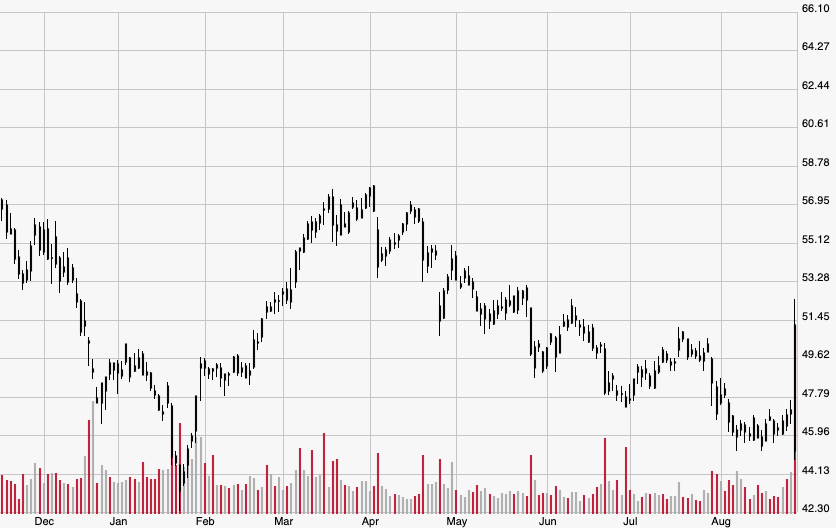 The Bigger Picture
The problem for traditional cigarette companies has always been e-cigarettes wooing customers away, but it's somewhat surprising that the e-cigarette market remains a problem for a company with its own skin in the game. Late last year, Altria bought a 35% stake in Juul Labs — which makes the Juul e-cigarette that commands a stunning 72% of the e-cigarette market — for $12.8 billion. 
Still, falling sales of flagship cigarette brands like Marlboro have hit Altria and Philip Morris hard even as they begin to mitigate it with an entry into the e-cigarette market. While tobacco revenue overall is on the up, traditional cigarette sales in the U.S. have fallen 36.6% from a volume of 380 billion in 2006 to 241 billion in 2018. The decline is even worse in Russia and Japan, where they've dropped 37.8% and 51.3%, respectively, over the same period. 
Altria and Philip Morris seem to be placing most of their eggs in the IQOS, their jointly produced cigarette alternative already on sale in Japan and the U.K. but set to make its U.S. debut next month. That product — combined with Altria's massive stake in Juul — would put the newly merged company in a strong position to weather the continued storm of falling cigarette sales. 
Looking Ahead
Many details of the merger remain nebulous, but it's clear that Altria and Philip Morris have a long-term plan to wean their business of traditional cigarette addiction. Juul's popularity is still strong, so Altria's stake alone will continue to lift the bottom line in the near to medium term. 
That being said, it's difficult to recommend either stock at this point considering investors don't know too much about the deal yet. However, the safer bet would likely be Altria, as Philip Morris stated it will become the majority owner of the new company and will therefore likely be forced to buy up remaining Altria shares.