No. 5: Concho Resources Inc. (CXO)
Shares of energy producer Concho Resources — which exclusively operates in the Permian Basin considered the largest oilfield in the U.S. — climbed 5.08% during Wednesday's session, going from $69.44 to $72.97. Despite WTI oil prices being up more than 17% in 2019, CXO stock is in the red for the year thanks to a bad Q2 earnings report that resulted in a disastrous 22.2% crash on Aug. 1. At Wednesday's close, Concho stock is down 29% since Dec. 31 when shares settled at $102.79.
The rebound comes on the heels of an announcement that Concho plans to sell about 100,000 gross acres — which combined churn out about 25,000 thousand barrels of oil equivalent every day — in the New Mexico Shelf area of the Permian to a Spur Energy Partners affiliate for $925 million. On top of that, Concho announced a share buyback program of up to $1.5 billion in order to bring more of the company under executive control as the firm tries to wind down debt levels.
No. 4: Tapestry Inc. (TPR)
Tapestry — the luxury fashion giant and owner of brands like Coach and Kate Spade — saw its share price rally 5.14% from $20.44 to $21.49 by Wednesday's closing bell. That was the best settlement since Aug. 21 when the stock closed the day at $21.75. It's been trying to recover from the Aug. 15 bloodbath that saw investors dragged shares down more than 22% after the company lowered its earnings forecast. TPR has currently lost 36.3% year-to-date from the Dec. 31 close of $33.75.
Investors seemed to respond positively to Tapestry appointing board chairman Jide Zeitlin to CEO on Wednesday, effective immediately. Zeitlin replaces longtime chief Victor Luis, who held the position for 13 years and oversaw the purchase of the Kate Spade brand currently the biggest sore spot on the firm's financial track record. 
No. 3: General Electric Co. (GE)
Shares of the conglomerate ripped 5.6% higher from $8.33 to a three-week high of $8.80. Despite recently plunging toward 2019 lows late last month, General Electric has seemingly done the impossible of maintaining a positive year-to-date performance overall. The stock is up nearly 21% from the 2018 close of $7.28 per share. 
The stock jumped after Citigroup Inc. (C) analyst Andrew Kaplowitz summarized his surprisingly bullish outlook on GE stock in a report Wednesday. He explained how he believes its long-term potential is "significant" and that, on a long-term timeline, "GE's runway for improving results in 2020 and beyond could be more significant than we think some investors appreciate, given what appears to be an increasing focus on fundamental changes to operational and management practices."
No. 2: IPG Photonics Corp. (IPGP)
IPG Photonics — a leading manufacturer of fiber lasers used in medical and telecom equipment — saw its stock vault 6.3% on the day from $117.26 to $124.69 per share, marking the best settlement since $125.97 on Aug. 1. At that level, IPGP stock has now gained 10.1% year-to-date from the Dec. 31 settlement of $113.29.
No company-specific news seemed to move the stock on Wednesday, but there was an above-average spike in trading volume around 11:00 in morning trading. The number of shares switching hands reached 154,720, far above the average volume around 2,000 earlier in the morning. 
No. 1: PVH Corp. (PVH)
The S&P's best performer on Wednesday was PVH, the parent company of several high-profile fashion brands like Tommy Hilfiger and Calvin Klein. Shares soared 9.1% from $74.30 to a more than one-month high of $81.08. However, the company has been languishing since the stock's $132.71 peak on April 24, and the price is currently down 12.8% on the year from $92.95 on Dec. 31. 
PVH's rally came after CEO/Chairman, Emanuel Chirico, disclosed the purchase of 133,155 shares of stock made Sept. 3 at $74.99 apiece for a total purchase size of about $10 million. Now, Chirico owns 417,351 direct shares and 9,427 indirect shares after the announcement.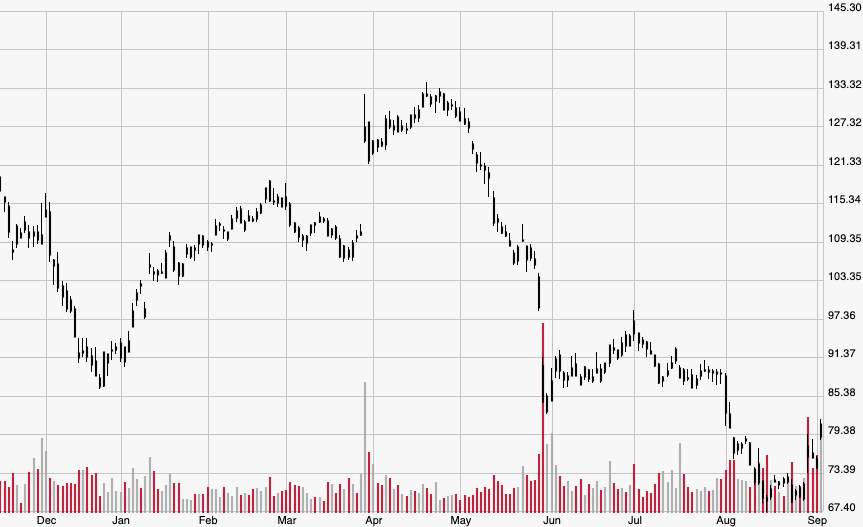 By the way, if you liked this article, you'll LOVE this Meaty free training I just published on the top 3 questions and challenges every investor faces AND how to overcome them. It's titled "10k into $2.4 Million in 18 months" and you can grab it for free here