These 2 biotechs could see double digit upside over the next year.
There's one area of the healthcare sector that has been heating up lately.
The XBI S&P Biotech SPDR ETF is up nearly 13% over the last month following a slew of acquisitions in the space, including two this week with Merck (NYSE: MRK) announcing its acquisition of clinical-stage cancer drug biotech, ArQule (NASDAQ: ARQL), and Sanofi's (NASDAQ: SNY) announcement that it was buying a clinical-stage cancer and autoimmune treatment biotech, Synthorx (NASDAQ: THOR).
Since the start of 2019, the XBI is up more than 32%, outpacing both the XLV S&P 500 Healthcare Sector SPDR's nearly 17% rise and the S&P 500's 26% gain. 
Piper Jaffray senior technical research analyst Craig Johnson said the firm doesn't the rally in biotechs is over just yet.
"If you take a look at the chart of the XBI itself, it has just broken out of a consolidation, which we'd call kind of a symmetrical triangle consolidation. From our perspective, at minimum, you're going to go back to the old highs at about $100, which doesn't seem like a lot right now, but keep in mind that we've had a very strong move."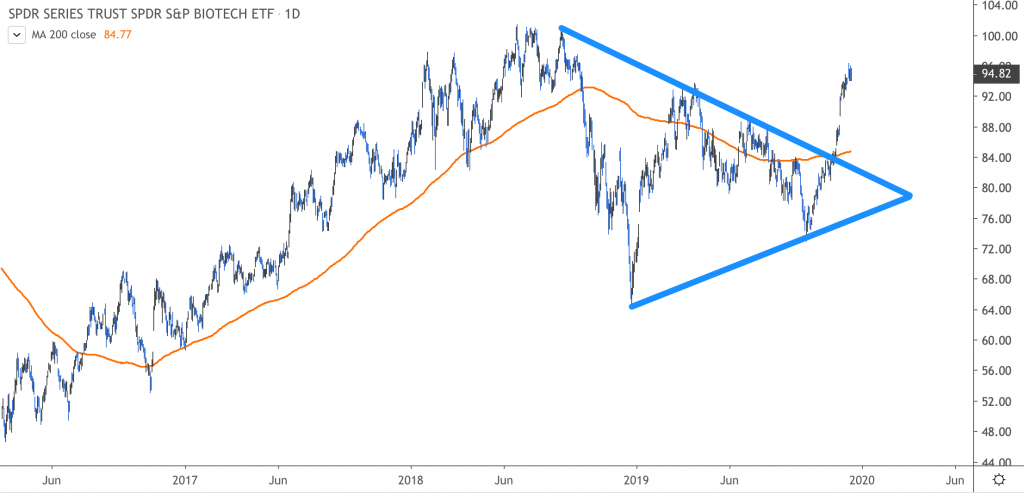 "Once you have this kind of breakout, you typically have a surge ahead, then you… pull back and retest," Johnson continued. "I suspect that pullback takes you back to about $85 – $90, and I would definitely be a buyer of this on pullbacks because I think it's going to be a very solid investment as you move into 2020."
According to Strategic Wealth Partners' Mark Tepper, the surge in bigger players scooping up smaller names indicates that those bigger companies in the space are in need of growth, and that there's a bull case for the smaller players.
"People are living longer, so there's definitely a need for new, innovative drugs, especially [related to] cancer," Tepper said. "We prefer biotech companies where there's already a product in the market right now because it gives you better revenue visibility."
While Tepper noted that "small-cap biotech companies can…be hit-or-miss," he also said that those companies that already have an approval under their belt are a better bet in the space since they already understand the complex approval process required to bring their products to market.
Tepper has got his eye on one biotech in particular.
"Exact Sciences (NASDAQ: EXAS) is one of the top names on our watch list right now," he said. "They specialize in colorectal cancer. So, traditional testing methods cause a lot of patients to either put off or avoid getting tested, and what they've done is they've developed a less invasive, more patient-friendly way to test, and now the FDA's actually approved it for younger people as well, so their market's grown."
The stock is down -45% since its highs reached at the end of July, but analysts rate it a Strong Buy and their average price target for EXAS indicates 46% upside over the next twelve months.
"They're making some acquisitions, they're working to diversify their revenue stream, and the stock's been beaten up," Tepper said. "Valuation's looking much better now at the current price level. I mean, the stock had a great run, they had a tremendous quarter, but expectations were just super high [and] the thing pulled back. However, the growth story's still intact and I think right now is a good entry point."
SVB Leerink analyst Mani Foroohar is bullish on another biotech: Bluebird Bio (NASDAQ: BLUE). 
Bluebird Bio shares jumped early this week after the company reported positive data at a medical conference for its experimental cancer drug ide-cel for the treatment of multiple myeloma.
But Foroohar says the stock is still cheap. "We continue to see BLUE as remarkably undervalued on a fundamental basis," Foroohar wrote in a note. The analyst rates the stock an Outperform and boosted his price target from $119 to $139 – 65% higher than the current price.
"We see a favorable risk / reward at current levels, with the transition to a commercial gene therapy company in early 2020 offering a balance between launch execution as a risk vs high probability of success trial readouts and regulatory decisions in 2020 as potentially appealing catalysts for BLUE over the next twelve months," Foroohar wrote.