The charts for these 2 stocks indicate more upside is on the way even in this uncertain environment.
We're only a week into 2020, and things are already heating up. And not in a way that's providing much comfort to the market.
Last week, President Donald Trump approved an airstrike in Iraq that killed top Iranian General Qasem Soleimani in an effort to head off what the Trump administration said was an imminent attack on Americans.
In the days since, Iran's Supreme Leader has threatened "severe retaliation," Iraq's parliament has voted to oust U.S. troops from the country, Trump threatened to attack Iranian cultural sites raising concerns about possible war crimes, Iran has said it is considering ways to inflict an "historic nightmare" on the U.S. and has already launched missiles at a base in Iraq that houses U.S. military personnel.
While it appears Iran's missile attack looks to have been intentionally intended to avoid any U.S. casualties and Trump said this morning that the country "appears to be standing down," the slight easing of tensions today isn't likely to last considering Iran has suggested that more acts of revenge against the U.S. are being considered.
All these new developments have added even more uncertainty to an uncertain market, but one expert says there are a couple of opportunities to be had.
"It's very important to be opportunistic when volatility picks up," said Bill Baruch, president of Blue Line Capital. "Don't panic, stick to your game plan and look for those stocks that you've always wanted to get."
One area where Baruch says investors can look for a safe place to seek shelter in the current environment is in software and cloud stocks. And he has his eye on two stocks in particular.
Up first is Oracle (NYSE: ORCL).
"Oracle is a very interesting chart," Baruch said, adding that he doesn't like that the stock is trading just below its 50- and 200-day moving averages.
"But there is a bit of an inflection point that it broke out above and it's holding that right now," he said.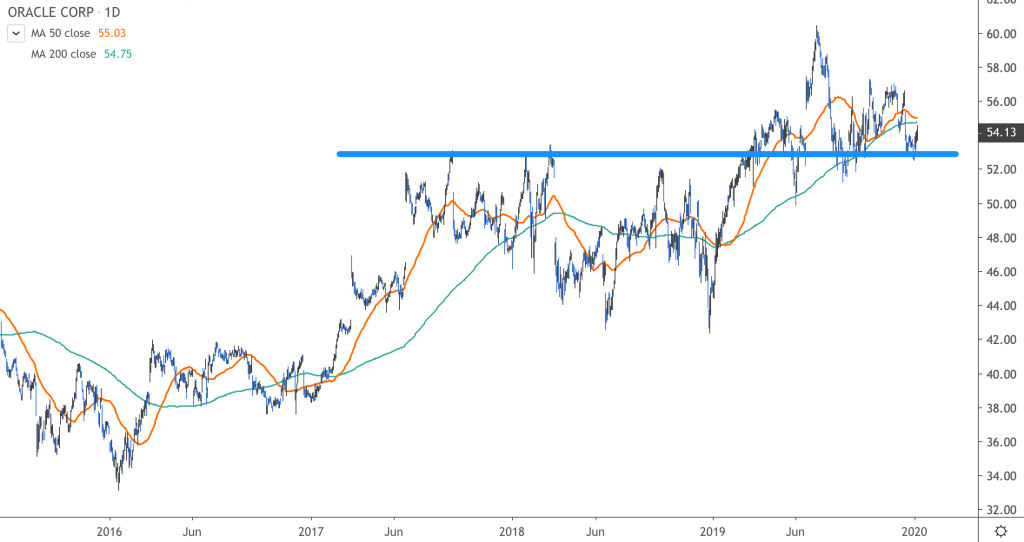 His other pick is Salesforce (NYSE: CRM). 
"Salesforce is something that looks like it's breaking out," Baruch said. "The 50-day crossed out above the 200 for the golden cross mid-December, and now it's up just below $170 and it's about to set a record high."
Salesforce closed at a record high of $177.33 on Wednesday and has gained 9% over the last week.
"It could make its way to the upper end of that channel, near $200 on a breakout," he said. The $200 level would see Salesforce shares gain nearly 13% from the current price.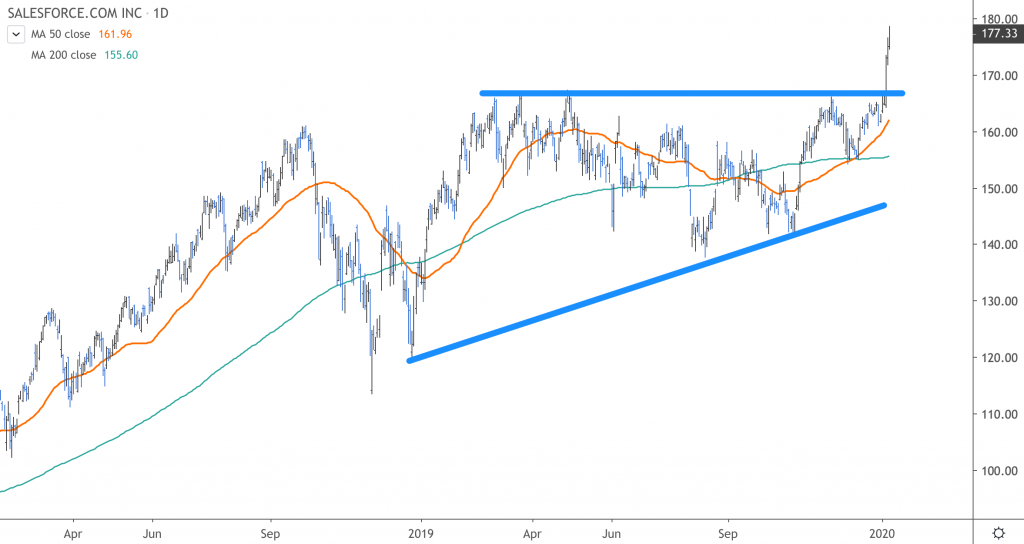 Baruch isn't the only one with his eye on Salesforce.
RBC Capital Markets analyst Alex Zukin raised his rating for the stock last weekend from Outperform to a Top Pick, predicting strong sales growth in the years to come.
"Salesforce has become the trusted vendor for large enterprises in their digital transformation and modernization journeys," Zukin wrote in a note to clients. "With the company guiding to 20%+ revenue growth over the next 4 years (through FY24) and underscoring that this long-term outlook is not predicated on future M&A, the company is bullish on its organic growth prospects."
"We are upgrading CRM to Top Pick given what we see as meaningful potential in share price appreciation."
Zukin also boosted his price target from $200 to $215 – 21% higher than the current price.
"We view a combination of conservative consensus estimates and attractive upside scenario as supporting the potential outperformance," Zukin added.