These 4 energy stocks are primed for massive upside ahead. Here's why.
The coronavirus has hit the energy sector hard.
---
If you're a stock investor who wants to retire early, check out this free training and learn how! Click Here

---
China is the biggest importer of oil, and the outbreak has halted the Chinese economy for weeks, thus severely slowing the demand for oil.
This week, OPEC+ slashed its forecasts for global demand in the wake of COVID-19, reducing its demand projection by a third to 440,000 barrels a day.
With the slowed demand, Saudi Arabia has called for global oil producers to agree to a supply cut, arguing that a delay in action could lead to a costly collapse of prices.
Reuters reported on Wednesday that a source said the kingdom is pressuring oil producers to agree to a supply cut to "put a floor under the prices. …The Saudis want to be proactive and to keep oil prices at $60 a barrel or above."
"The market is keeping a close watch on the possible move by Russia and its oil companies to get on-board with the proposal to deepen the OPEC+ production cuts," said Again Capital's John Kilduff. "The companies seem to be willing to extend the time frame of the deal, but not deepen."
While the news of possible production cuts pushed crude up around 3% Wednesday morning, energy remains the only negative sector in the S&P 500 over the last month.
However, one expert says the sector looks to be bottoming out.
Bill Baruch, president of Blue Line Capital, said there are pockets of opportunity in the sector that's down 11% over the last month.
"Let's start with crude oil," Baruch began. "This thing has sold off more than 20%, into bear market territory, but there is a lot of support at $49 as you can see in this chart going back to 2016."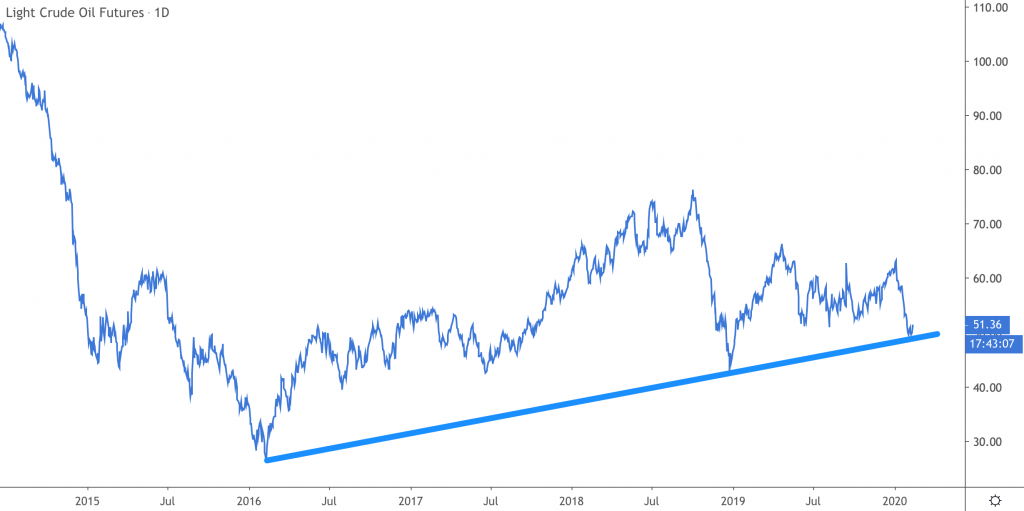 In particular, Baruch is watching the exploration and production segment of the sector with the view that crude could be bottoming, and said he's now bullish on the XOP S&P Oil & Gas Exploration & Production SPDR after turning bearish on the ETF late last year.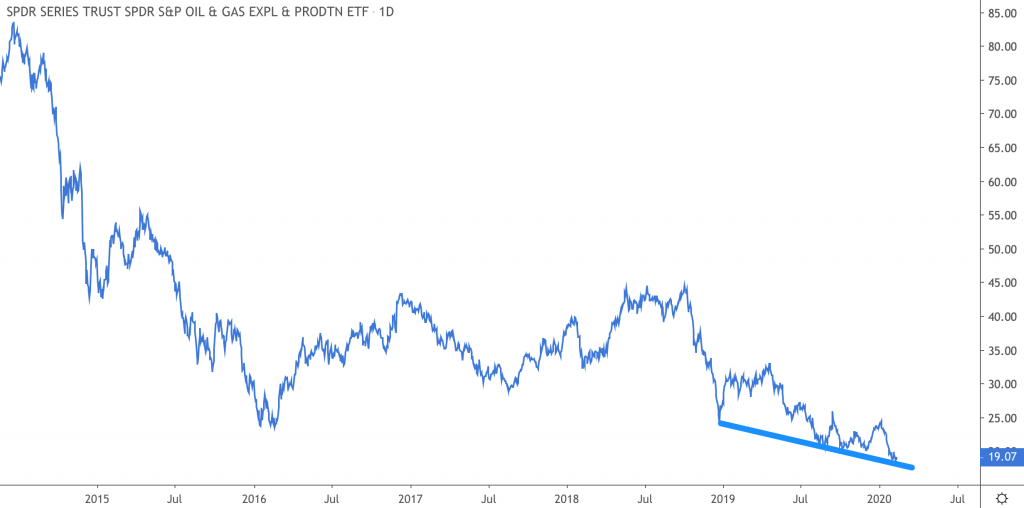 According to Baruch, there are a few standouts among the exploration and production stocks.
"WPX [Energy] (NYSE: WPX) has rallied 40% in December. That is being dragged down right now by the entire sector. Apache (NYSE: APA), Occidental Petroleum (NYSE: OXY), there's other names out there that I think have great support… and they're going to respond here," Baruch said.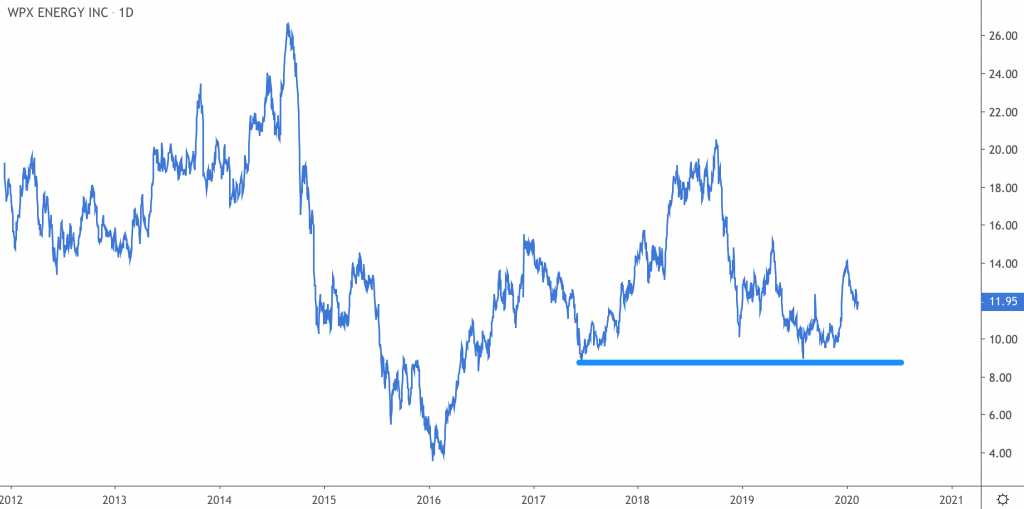 Chantico Global's Gina Sanchez has her eye on another stock in the sector, and said that hydrocarbon exploration company Concho Resources (NYSE: CXO) is her top pick to rebound. 
Concho shares are down nearly -10% since the beginning of 2020 and is down -32% over the last twelve months.
"You want to look for a reasonable price-to-earnings [ratio], low debt on the balance sheet because I think that's the big problem with energy stocks right now. They've had to take on a lot of debt," Sanchez said. "That combination makes Concho an interesting story."
Wall Street is bullish on all four stocks, rating all of them a Buy. Consensus price targets indicate double-digit gains ahead with analysts forecasting upside of 12.5% for APA, 20% for OXY, 29% for CXO, and 44% for WPX.
By the way, if you liked this article, you'll LOVE this Meaty free training I just published on the top 3 questions and challenges every investor faces AND how to overcome them. It's titled "10k into $2.4 Million in 18 months" and you can grab it for free here