While investors have been anxious to find reasons to shrug off fears about the economic impact of coronavirus, there are certainly some individual cases where those risks can't really be ignored. One in the Leisure & Recreation Services industry, which includes cruise line companies. News reports of cruise ships filled with passengers that have been turned away from multiple ports throughout the Asia-Pacific region, along with analyst estimates that have U.S. cruise sales down in the low double-digits, and increasing cancellations are all factors that could weigh on the industry throughout the year.
---
If you're a stock investor who wants to retire early, check out this free training and learn how! Click Here

---
One of the most recognizable names in the cruise line segment is Carnival plc (CUK), whose brands include established names including Carnival, Princess Cruises, and Holland America. The company owns the the Westerdam, the ship that was turned away from four different ports despite the fact that there was no evidence that any of the 2,200+ people on board carried the virus. The company also told investors recently that they could face a per-share impact of 55 to 65 cents in earnings if operations are suspended in Asia through the end of April because of the outbreak. While that worst-case scenario appears unlikely, there will still be a material impact on the business that is yet to be fully realized.
That certainty is a risk that has forced the stock, which appeared set to reverse its long-term downward trend at the end of 2019 to reverse back to approach its multiyear low near $36 per share. Its valuation metrics, not surprisingly, are compelling, which begs the question of whether CUK's fundamentals support thinking about the stock as a long-term investment opportunity.
Fundamental and Value Profile
Carnival plc is a leisure travel company. The Company's segments include North America, and Europe, Australia & Asia (EAA). Its North America segment includes Carnival Cruise Line, Princess Cruises (Princess), Holland America Line and Seabourn. Its EAA segment includes Costa Cruises (Costa), AIDA Cruises (AIDA), P&O Cruises (the United Kingdom), P&O Cruises (Australia) and Cunard. It also includes Cruise Support segment, which represents its portfolio of port destinations and private islands. In addition to its cruise operations, it owns Holland America Princess Alaska Tours, a tour company in Alaska and the Canadian Yukon. Its tour company owns and operates hotels, lodges, glass-domed railcars and motorcoaches. Its Carnival Cruise Line offers cruises generally from 3 to 8 days with almost all of its ships departing from 16 convenient United States home ports located along the East, Gulf and West coasts, Puerto Rico and Hawaii, as of November 30, 2016.CUK has a current market cap of about $11.6 billion.
Earnings and Sales Growth: Over the last twelve months, earnings decreased by about -11.5%, while revenues increased by about 7.25%. in the last quarter, earnings dropped a little more than -75% while sales slumped by almost -27%. The company's margin profile is healthy, but narrowed in the last quarter, as Net Income as a percentage of Revenues in the last quarter was 8.82% versus 14.3% over the last twelve months.
Free Cash Flow: CUK's free cash flow is minimal and declining significantly, at $72 million. That translates to a Free Cash Flow Yield of just .95%. It has also declined from more than $2.1 billion in November of 2018.
Debt to Equity: CUK's debt to equity is .38, which signals a conservative approach to leverage that is a bit misleading by itself. The company's balance sheet indicates cash and liquid assets are with $518 million versus $9.67 billion in long-term in the most recent quarter. While operating profits should be adequate to service their debt, their minimal Free Cash Flow and declining Net Income are sources of concern for the quarters ahead.
Dividend: CUK's annual divided is $2.00 per share, which translates to a much larger-than-normal yield of about 4.9% at the stock's current price.
Price/Book Ratio: there are a lot of ways to measure how much a stock should be worth; but one of the simplest methods that I like uses the stock's Book Value, which for CUK is $36.01 and translates to a Price/Book ratio of 1.14. The stock's historical average Price/Book ratio is 1.69, which puts the stock's long-term target price at about $61 per share – almost 46% above the stock's current price. The stock is also trading 57% below its historical Price/Cash Flow ratio, which offers a target price at nearly $66 per share.
Technical Profile
Here's a look at the stock's latest technical chart.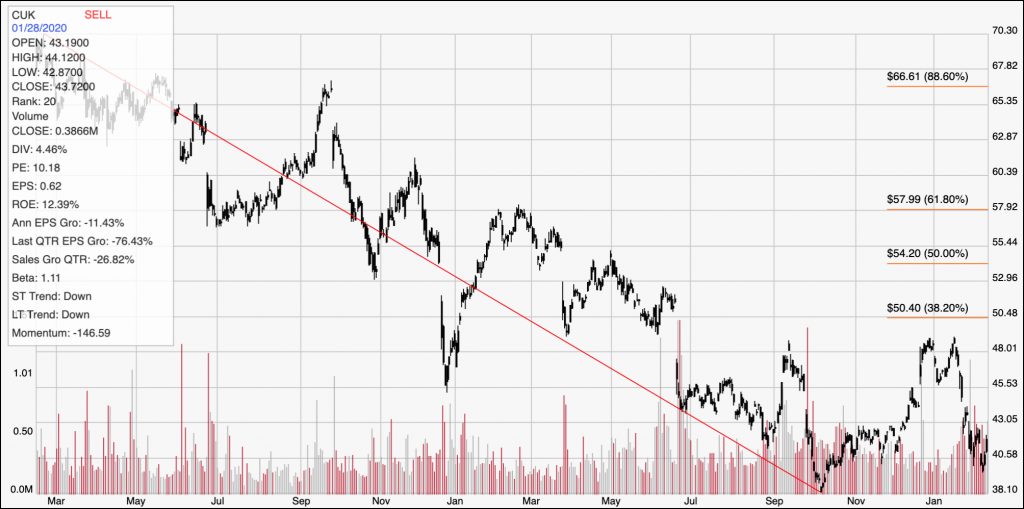 Current Price Action/Trends and Pivots: The chart above covers the last two years of price activity. The red line traces the stock's downward trend to its low at around $38 per share in October of last year. It also informs the Fibonacci retracement lines shown on the right side of the chart. The stock rallied to a peak in late December a little above $48 per share before reversing and dropping quickly back to its current price below $42. Its most recent support is around $40; if the stock drops below that level the stock should test its two-year low at around $38 per share. A drop below that point could give the stock to keep dropping to between $35 and $36 per share – levels the stock hasn't seen since the latter part of 2014. CUK would need to break above $43 to give the stock strong enough bullish momentum to keep rallying; in that case, it could push to somewhere between $45 and $48 per share.
Near-term Keys: Given the strength of the stock's current bearish momentum, and the likelihood that even if the worst coronavirus fears aren't realized, momentum is likely to continue to be strongly bearish. That means that the highest probability short-term trade would come from a push below $40, with room to drop to about $38 or possibly $35 if downward pressure increases. That would be a good signal to consider shorting the stock or working with put options. However, if the stock does find a stabilization point, and manages to push above $43, there could be a useful short-term opportunity to buy the stock or work with call options with an eye on $45 to $8 as a bullish target. The stock's fundamentals are generally solid, and the value proposition is excellent, but given the current broader conditions and concerns, I think the stock is unlikely to see any kind of significant bullish momentum in the foreseeable future.
By the way, if you liked this article, you'll LOVE this Meaty free training I just published on the top 3 questions and challenges every investor faces AND how to overcome them. It's titled "10k into $2.4 Million in 18 months" and you can grab it for free here