Videogame stocks have struggled this year, but 2 stocks in the sector look attractive now.
Much like the rest of the market, videogame stocks have had a wild ride this year.
---
If you're a stock investor who wants to retire early, check out this free training and learn how! Click Here

---
The ESPO VanEck Vectors Video Gaming and eSports ETF had risen 12.5% by February 19, then fell with the rest of the market dropping nearly -22% by March 16. The ETF, which tracks some the biggest names in the space, has since risen just over 28%. 
Despite this gain, the ETF is up just 4.5% year-to-date, illustrating how big-name gaming stocks have struggled to make meaningful moves higher this year.
Call of Duty-maker Activision Blizzard (NASDAQ: ATVI) is up just 1.75% this year, while Grand Theft Auto-publisher Take-Two Interactive (NASDAQ: TTWO) is down -2.5% since the beginning of the year. 
But this week, Wells Fargo analyst Brian Fitzgerald initiated coverage of these stocks, giving both Overweight ratings.
According to Fitzgerald, Activision Blizzard "offers investors exposure to long-term secular growth trends in the global video game markets via a portfolio of seasoned franchise with tens of millions of loyal fans."
"These include 'Call of Duty' which topped the AAA video game best-seller charts in the U.S. for five of the past six years, and 'Candy Crush' which is one of the top five grossing movie games of all time," Fitzgerald wrote in a note. "We think ATVI's four strategic growth pillars and wholly owned-IP are the right recipe for relatively low-risk growth in a frequently unpredictable, hit-driven video game market."
Fitzgerald, who has a $75 price target on Activision shares, indicating 24% upside ahead, added that the company "has demonstrated success in expanding the market for its IP with 'Call of Duty Mobile' and Overwatch League eSports, two new businesses that can bring hundreds of millions of new gamers and viewers into ATVI's ecosystem."
As for Take-Two, Fitzgerald issued a $150 price target for the stock—nearly 26% higher than the current price—and said the company "could be the last mega-product cycle story available among Video Game stocks."
"At $7B lifetime sales & counting, ('Grand Theft Auto V'), released in 2013, is the top selling video game of all time, and potentially the most lucrative media product ever created," Fitzgerald wrote. "We think a successful release of GTA VI would raise the steady state level of net bookings at TTWO by 33-50%, with significant OpEx leverage boosting operating income through the $600MM ceiling."
But Fitzgerald isn't the only one on Wall Street with their eyes on these videogame stocks.
"More people are staying at home, they're looking for entertainment and options at home, and with the client base that these two companies already have, I think this is going to be fantastic for them," said Danielle Shay, director of options at Simpler Trading. "I think that the run into earnings at the end of this month is going to be a bullish one."
Ascent Wealth Partners' managing director Todd Gordon added that Activision's and Take-Two's charts show the stock is "well-supported."
According to Gordon, Activision shares are "above both moving averages" on its weekly chart, suggesting there's less risk that the stock will fall through those levels.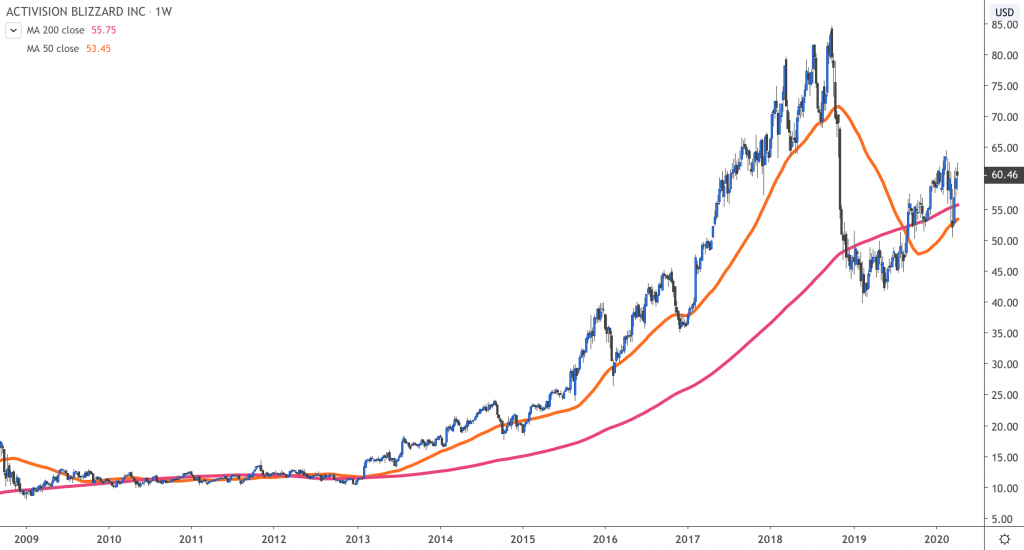 Gordon added that ATVI's daily chart shows similarly supportive action, trading above both its 50- and 200-day moving averages.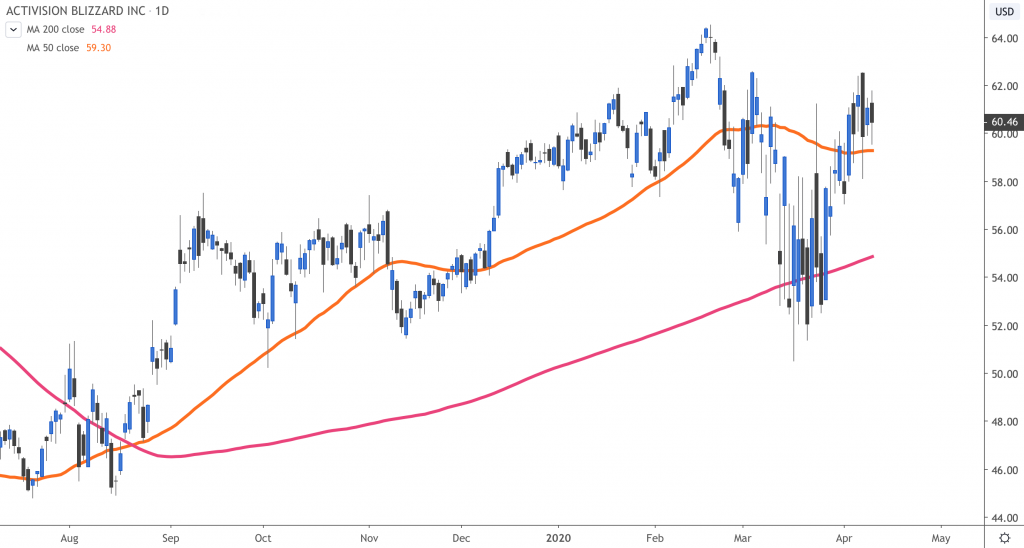 "Activision's the bigger of the two," Gordon continued. "It's a $46 billion market cap. They've got franchises like Call of Duty and Candy Crush. They have a better share of mobile gaming. Activision is well-represented across multiple platforms including PC, console, gaming, stuff like that. So, we hold Activision in our global growth portfolio."
Still, Gordon said Take-Two is also a "solid pick."
"I really like this longer-term chart. It's a smaller company, $14 billion market cap," Gordon noted. "It's got Grand Theft Auto, one of the best-selling video game franchises of all time. Wells Fargo's looking at, possibly, a release of GTA VI, which is interesting, so, they're putting about another $4 billion in net bookings on that one. So there's a little bit of a premium in Take-Two."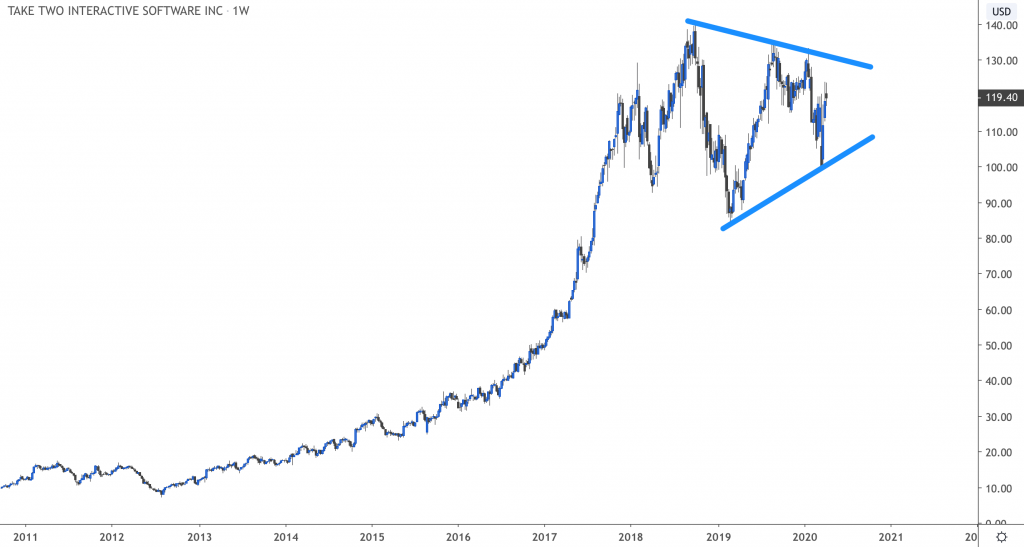 "I like the chart," Gordon concluded. "We don't hold this one personally, but I would look to add following the break higher."
By the way, if you liked this article, you'll LOVE this Meaty free training I just published on the top 3 questions and challenges every investor faces AND how to overcome them. It's titled "10k into $2.4 Million in 18 months" and you can grab it for free here