Of all the big names that helped push the Nasdaq to that big, round number, there's 1 stock in the bunch that still looks like a winner for the long-term.
On Wednesday, the Nasdaq Composite Index hit a new all-time high of 10,020 just one day after the National Bureau of Economic Research officially declared that the U.S. is in a recession that began in February.
The index has more than gained back what it lost in the coronavirus sell-off between February 19 and March 23 when the index dropped -30%.
Some familiar names helped push the tech-heavy index higher, including the FAANG stocks— Facebook (NASDAQ: FB), Apple (NASDAQ: AAPL), Amazon (NASDAQ: AMZN), and Google-parent Alphabet (NASDAQ: GOOGL, GOOG)—and names like Zoom Video (NASDAQ: ZM), Tesla (NASDAQ: TSLA), Regeneron (NASDAQ: REGN), Nvidia (NASDAQ: NVDA), and eBay (NASDAQ: EBAY). 
But there's one name in the bunch that traders say can continue to climb: Amazon.
"Amazon's the best play right here," said Strategic Wealth Partners' Mark Tepper. "It's the best diversified post-COVID pal. They're literally in every single business that's going to thrive on a going-forward basis. You've got e-commerce, cloud, digital advertising, personal assistance."
"Normally, during periods of heavy investment for Amazon like they're seeing right now, the multiple comes down, but apparently that doesn't matter anymore when the Fed's dishing out trillions of dollars like it's going our of style," Tepper added. "So, I think the best pick right here would still be Amazon."
Miller Tabak's Matt Maley also likes Amazon and said that the stock typically acts in favor of the bulls from a technical angle.
"It's had this huge move," Maley said. "It's getting overbought. It's due for a bit of a pullback like just about every other stock in the market right now."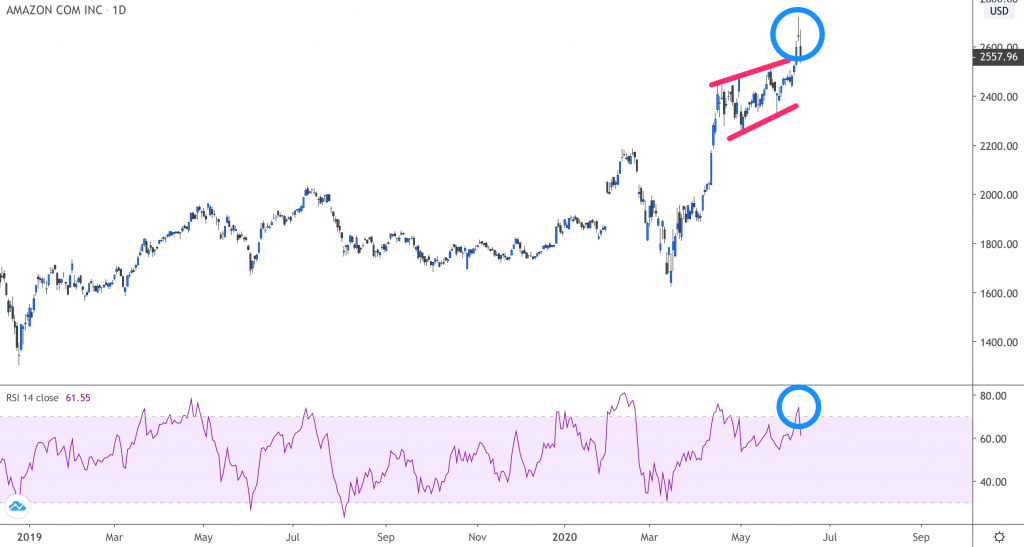 "But on a longer-term basis, first of all, it had been in a sideways range for about 18 months, and in April, it broke above that range," Maley continued. "That was very, very bullish. Then in late May or very early this month, it got stuck in another sideways range and has now broken above that."
While Amazon shares pushed into overbought territory on Wednesday as the the stock hit a new all-time high of $2,722, the stock slid lower along with the rest of the market on Thursday, dropping just over -3%.
Maley added that there's another built-in bull case for Amazon shares are commercial real estate faces more problems as businesses go under or require less office space as employees work from home permanently.
As demand for last-mile delivery continues to grow, "that's where they use a lot of money, a lot of their margin. That's going to change," Maley argued.
"They're going to get commercial real estate, even in small towns, at a cheap price. People are going to go to those places that are still very convenient and buy and pick up their stuff. If they want it taken to their door, they'll still be able to get it but [Amazon] is going to charge them for that," Maley said. "So, you're going to have this big pickup in volume that they've gotten recently, … but they're not going to have the costs associated with it. They're actually going to pick up margin. So, both on a fundamental and a technical basis, I thin on a long-term basis, Amazon's the best choice."
Tepper and Maley aren't the only ones on Wall Street bullish on Amazon.
Earlier this week, Wells Fargo analyst Brian Fitzgerald reiterated his Overweight rating on the stock and boosted his price target from $2,725 to $3,000 – 17% higher than the price as of this writing. 
"Amazon's continued build-out of last-mile fulfillment capacity and a gradual return to more hectic work and school schedules among consumers will likely shift momentum back toward rapid delivery from competitors' store-based fulfillment options," Fitzgerald wrote.