Closing out a quarter, and moving into a new one, often prompts talking heads and analysts to look back and find the storylines that carried the market over the last few months. In a pandemic world, the narrative doesn't really stray too far away from COVID-19 and the impact it continues to have, both from a health crisis standpoint as well as the long-term economic fallout. With some states starting to reimpose shutdowns of high-contact places of businesses like bars and gyms, you can bet a continued part of the narrative will continue to be focused on coronavirus.
---
Hey, do you want to be the next stock market millionaire? This free training lays it all out for you! Check it out here.

---
One of the more interesting narratives, from a functional standpoint as an investor is where the most profitable opportunities have been found in the last quarter, even as businesses across the world have been forced to shut down, or at best, significantly adjust the way they do business. When you consider the sheer scope of the shift to a work-at-home model for much of corporate America – not only in the last quarter, but also to the very real likelihood that this could become a permanent way for many companies to operate even when coronavirus eventually comes to an end – I don't think it's too surprising to see that most of the stocks that offered the most dramatic upside in the last quarter are those that were already positioned to facilitate productive, work-at-home operations. Another successful segment are companies that offer services – entertainment, in particular – that can help blunt the social and emotional impact of self-isolation, which including video gaming stocks, streaming services, and so on.
In that vein, I think AT&T Inc. (T) occupies an interesting, if under-appreciated spot in today's economy. T is, of course one of the largest wireless telecommunications companies, which has also given them the ability to branch out and diversify their business into the entertainment world. In 2015, the company acquired DirecTV, which in the last quarter was a portion of the business that underperformed, following a longer-term theme that has gone on for a couple of years as consumers are increasingly "cutting the cord" on traditional cable or satellite TV services. In 2018, T's acquisition of Time Warner gave it a foothold in the same space occupied by media companies like Viacom and Disney. The telecommunications side continues to promise to be a long-term catalyst, as T has been investing heavily in 5G wireless spectrum, development and implementation. More recently new rumors emerged that T was considering a sale of its Warner Bros. Interactive Entertainment gaming division, a transaction that could bring in $4 billion to help the company pay off new debt the company took on in the wake of COVID-19 that included costs to protect employees and a forced shutdown of WarnerMedia. Another potential headwind is the company's launch of its own streaming service, HBO Max, a late entry into a streaming video business that is becoming more and more congested and competitive. HBO Max is priced at a premium versus competitors like Disney+, Amazon Prime or Netflix, and begs the question of how much market share the service will bring in. Even with those headwinds, however, there are also some interesting strengths to consider. Do they make T a good value-oriented stock to consider?
Fundamental and Value Profile
AT&T Inc. is a holding company. The Company is a provider of telecommunications, media and technology services globally. The Company operates through four segments: Communication segment, WarnerMedia segment, Latin America segment and Xandr segment. The Communications segment provides wireless and wireline telecom, video and broadband services to consumers.The business units of the Communication segment includes Mobility, Entertainment Group and Business Wireline. The WarnerMedia segment develops, produces and distributes feature films, television, gaming and other content over various physical and digital formats. The business units of the WarnerMedia segment includes Turner, Home Box Office and Warner Bros. Latin America segment provides entertainment services in Latin America and wireless services in Mexico. Viro and Mexico are the business units of the Latin America segment. The Xandr segment provides advertising services. T has a current market cap of about $213.3 billion.
Earnings and Sales Growth: Over the last twelve months, earnings shrank by about -2.3%, while revenue declined about -4.5%. In the last quarter, earnings were -5.6% lower, while revenues declined -8.6%. T operates with a healthy operating profile that, despite declining revenues and earnings, saw margins expand in the last quarter. Over the last twelve months, Net Income was 8.05% of Revenues, and strengthened to almost 11% in the last quarter.
Free Cash Flow: T's free cash flow is very strong, at more than $27.2 billion. This number has increased steadily since early 2015, from about $10 billion, but did contract somewhat from the beginning of 2020, when it was about $29.2 billion.
Dividend: T's annual divided is $2.08 per share, which translates to a very impressive yield of 6.95% at the stock's current price.
Debt/Equity: T carries a Debt/Equity ratio of .75, which is generally considered a pretty conservative number that doesn't really paint a complete picture. Their balance sheet shows nearly $10 billion in cash and liquid assets versus more than $147 billion in long-term debt. Much of that debt is associated with the Time Warner acquisition, and which is expected to be paid down in the long run; but being forced to shut down the WarnerMedia segment due to COVID-19-imposed restrictions also forced the company to realize additional short-term costs of nearly $500 million that haven't been offset by revenues.
Price/Book Ratio: there are a lot of ways to measure how much a stock should be worth; but I like to work with a combination of Price/Book and Price/Cash Flow analysis. Together, these measurements provide a long-term, fair value target around $40 per share, which is very near the stock's pre-pandemic high in late 2019. That also suggests that, the stock is nicely undervalued right now, with about 32% upside from its current price.
Technical Profile
Here's a look at the stock's latest technical chart.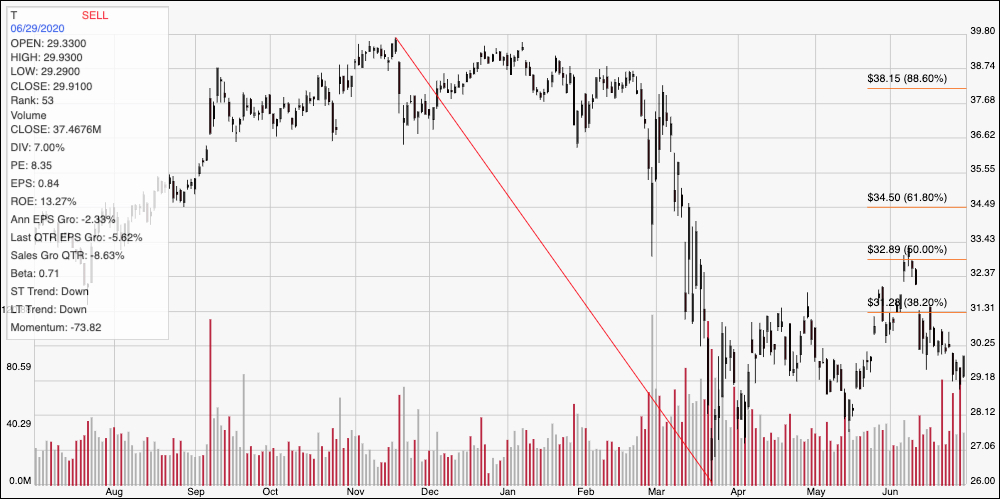 Current Price Action/Trends and Pivots: The red diagonal line measures the length of the stock's downward trend from a November 2019 peak near $40 to its low in mid-March around $26; it also informs the Fibonacci trend retracement lines shown on the right side of the chart. From the low, the stock rallied to about $33 early in June before dropping back to its current level between $29 and $30 per share. Immediate resistance is at the 38.2% retracement line, which is around $31, with support around $29. A drop below $29 could see the stock test its March low around $26, while a push above $31 should at least give the stock enough room to test its high earlier this month at $33, with additional room to rise to about $34.50 if bullish momentum persists.
Near-term Keys: T offers an interesting value proposition, and a high dividend that makes for tempting bait for both value and fundamental-oriented investors. Given the way the stock hasn't followed the trend of many of its brethren to revisit pre-pandemic highs, however, I wonder that some of the other elements at play right now aren't working against the stock's value opportunity right now. I think the smarter approach is to wait for a quarter or two to see how well the company continues to weather current market conditions. If T's operating profile remains healthy, and long-term debt begins to come down, then I think there is a much stronger case to make for the stock's long-term value proposition. That also means that if you want to work with this stock right now, your best bet lies in short-term trading strategies. You could use a break above $31, for example to consider buying the stock or working with call options, using $33 as a quick-hit profit target, and $35 if bullish momentum continues. A drop below $29 could act as a signal to consider shorting the stock, using its bear market low around $26 as a bearish profit target.
By the way, if you liked this article, you'll LOVE this Meaty free training I just published on the top 3 questions and challenges every investor faces AND how to overcome them. It's titled "10k into $2.4 Million in 18 months" and you can grab it for free here