These 2 bank stocks look poised for upside ahead.
The Federal Reserve complete its most recent stress tests on U.S. banks, and nearly all of the largest banks in the country performed well enough to maintain their current quarterly dividend. 
---
If you're a stock investor who wants to retire early, check out this free training and learn how! Click Here

---
Bank of America (NYSE: BAC), Goldman Sachs (NYSE: GS), JPMorgan Chase (NYSE: JPM), and Morgan Stanley (NYSE: MS) all said they will maintain their current dividend, while Wells Fargo (NYSE: WFC) said the Fed's assessment of its business warrants a cut to their quarterly payout.
But the group took a tumble after the Fed highlighted possible vulnerabilities in the sector, and suspended buybacks and capped dividends on banks through the end of the third quarter following the stress tests.
Even still, Laffer Tengler Investments' Nancy Tengler says there's one among the big banks that looks like a buy now: Goldman Sachs.
"This is a company that gets 96% of their revenue from non interest income, so that's a benefit in a flat to a low interest rate environment," Tengler said. "Long term, we like this story better than say a Wells Fargo that gets 20% of revenue from non interest income, and is exposed to many of the spaces—autos and mortgages, autos in particular—that we don't want to be a part of."
Comparing the two, Wells Fargo is down roughly -53% year-to-date, while Goldman is down just -14% in the same timeframe.
"From a valuation standpoint, [Goldman is] outstanding in our work, and a 2.5% dividend yield, whether they raise it or not," Tengler added.
Tengler isn't the only one who likes Goldman now. Wells Fargo analyst Michael Mayo increased his second quarter earnings estimate for Goldman this week, saying that the firm is under "big pressure to perform."
"We are buyers of GS, given more exposure to recent capital market improvement (higher volatility, equity values, more), less exposure to rate and credit risk (<10% of revenues are net interest income) an attractive valuation, in our view, with the stock below tangible book value ($215) a share for a mark-to-market firm, and now greater pressure to perform short term," Mayo said.
The analyst has an Overweight rating on Goldman shares, and a price target of $255 – 29% higher than the price as of this writing.
Piper Sandler chief market technician Craig Johnson has his eye on another stock in the sector: Citigroup (NYSE: C). 
Citigroup shares are down nearly -37% so far this year, but Johnson says the technical picture points to gains ahead.
"I want to be leaning into these kind of sell-offs and buying some of these banks," Johnson said. "Now technically, if you unpack the chart of Citigroup, all you've done so far is sort of pull back to the uptrend support line off of those February lows and from our perspective, this is a stock that we think on this pullback that we should be buying."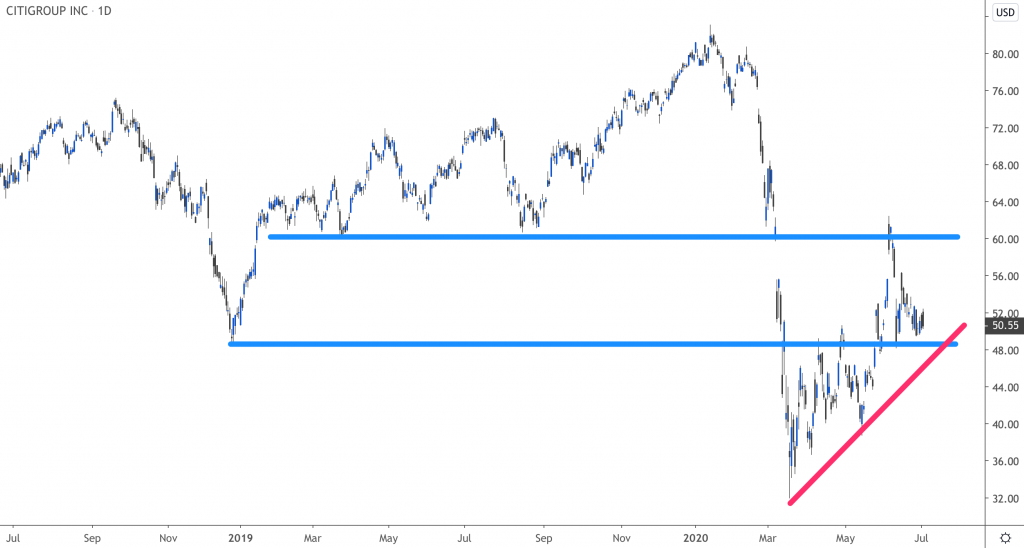 By the way, if you liked this article, you'll LOVE this Meaty free training I just published on the top 3 questions and challenges every investor faces AND how to overcome them. It's titled "10k into $2.4 Million in 18 months" and you can grab it for free here