In the last couple of weeks the market seems to have been trying to resolve the contradiction of the world we're in right now. State governments began lifting COVID-19-induced restrictions in order to restart economic activity, which gave investors reason to start being optimistic again, but even as we are seeing progress in terms of important economic indicators like unemployment (still high, but seeing measurable improvement), manufacturing and even home sales, we're also seeing significant spikes in infection rates throughout the United States – enough that a handful of states have re-imposed some restrictions in an effort to prevent the crisis from spiraling even further.
---
If you're a stock investor who wants to retire early, check out this free training and learn how! Click Here

---
This week, some positive news on the health front came from pharmaceutical giant Pfizer Inc (PFE), who reported that the experimental vaccine they have been working on has generated neutralizing antibodies in about two dozen participants in a Phase 1/2 clinical trial. Those have so far been the best results reported for any vaccine candidate and so seems to put PFE and BioNTech (BNTX), its partner in development of the drug, at the front of the pack of companies that are racing to develop a vaccine as quickly as regulatory requirements allow.
Why the optimism right now, if the reality is that broad-based implementation and distribution of a vaccine won't be possible until sometime in 2021, even with expedited regulatory approval? I think it's because a vaccine – in whatever form it is made available – will represent a the proverbial light at the end of a tunnel that just about everybody has clearly gotten tired of dealing with. It doesn't mean that the current rate of infection will slow right now – I think the only way that will happen is if individuals take more active steps to follow the suggestions and recommendations that the top medical minds in the world are making right now. That means protecting others by wearing a mask in public, and protecting ourselves by following social distancing requirements.
Given the fact, however that the market has always operated in an anticipatory fashion, it shouldn't be at all surprising to see investors reacting enthusiastically to news about PFE's trial results; coming into the July 4 holiday, the stock had rebounded nearly 7% over the last week. Even so, PFE's stock price remains well below its 52-week high around $44 per share, suggesting that the stock could be offering an interesting bargain opportunity right now. Do the company's fundamentals support the notion as well? Let's dive into the numbers.
Fundamental and Value Profile
Pfizer Inc. (Pfizer) is a research-based global biopharmaceutical company. The Company is engaged in the discovery, development and manufacture of healthcare products. Its global portfolio includes medicines and vaccines, as well as consumer healthcare products. The Company manages its commercial operations through two business segments: Pfizer Innovative Health (IH) and Pfizer Essential Health (EH). IH focuses on developing and commercializing medicines and vaccines, as well as products for consumer healthcare. IH therapeutic areas include internal medicine, vaccines, oncology, inflammation and immunology, rare diseases and consumer healthcare. EH includes legacy brands, branded generics, generic sterile injectable products, biosimilars and infusion systems. EH also includes a research and development (R&D) organization, as well as its contract manufacturing business. Its brands include Prevnar 13, Xeljanz, Eliquis, Lipitor, Celebrex, Pristiq and Viagra. PFE has a current market cap of $191.7 billion.
Earnings and Sales Growth: Over the last twelve months, earnings decreased by -5.9%, while revenues declined -8.3%. In the last quarter, earnings grew nearly 45.5% while sales dropped about -5.2%. The company's margin profile is very healthy; over the last twelve months, Net Income as a percentage of Revenues was 31.17%, declining somewhat to 28.28% in the last quarter.
Free Cash Flow: PFE's free cash flow is healthy at $11.4 billion over the last twelve months. That does mark a decline from a little over $13 billion about year ago, and translates to a Free Cash Flow Yield of 6.33%.
Debt to Equity: PFE's debt to equity is .56, which is generally considered a conservative number. The company's balance sheet indicates operating profits should be adequate to service their debt, but it also indicates the company's liquidity is decreasing – cash and liquid assets were about $10.3 billion in the last quarter versus almost $19 billion at the beginning 2019 – while debt has increased. Long-term debt was $36.2 billion in the last quarter versus $29 billion in June of 2018. I'm not sure this is a major red flag, given that the company has been directing a major portion of its focus to COVID-19; but it is worth noting that the real profit opportunity in the drug isn't in the initial implementation and distribution, even though the company has stated its intention to be able to distribute 1 billion doses by the end of 2021. The truth is that the first wave of vaccine distribution will likely be done at a loss for the company in the interest of the greater public good, to address the health crisis. Profitability is assumed to come by the ongoing need for a renewed vaccine, in similar fashion to the yearly flu or pneumonia shot that doctors recommend for just about everybody.
Dividend: PFE's annual divided is $1.52 per share, which translates to a yield of about 4.4% at the stock's current price. It is also noteworthy that the dividend increased at the beginning of the year from $1.44 per share, which is a useful indication of management's confidence in their approach.
Price/Book Ratio: there are a lot of ways to measure how much a stock should be worth; but I like to work with a combination of Price/Book and Price/Cash Flow analysis. Together, these measurements provide a long-term, fair value target around $33.50 per share. That means that PFE is currently overvalued by about -3%, with its bargain price actually down at around $27 per share. It is worth noting, however, that my price target for PFE has increased measurably since the last quarterly earnings report, from a little over $30 per share as recently as the first week of May.
Technical Profile
Here's a look at the stock's latest technical chart.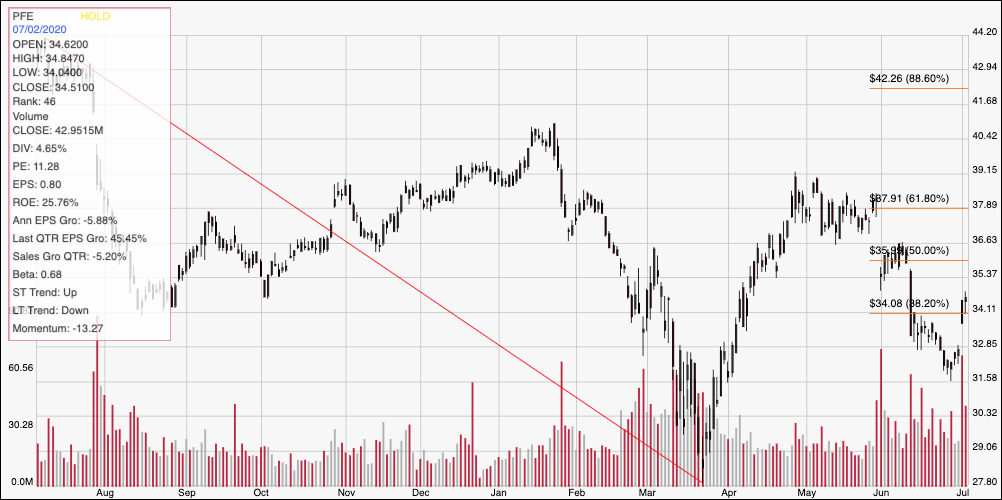 Current Price Action/Trends and Pivots: The chart above covers the last year of price activity. The red diagonal line traces the stock's downward trend from July of last year to its bear market bottom in March at around $28 per share. It also provides the baseline for the Fibonacci retracement lines shown on the right side of the chart. After rising to a short-term peak at the end of April around $39, the stock has dropped back, finding a new lower pivot in the last week at around $31.50. The news about the success so far of the Phase 1/2 clinical trial has given the stock a jolt of bullish momentum, pushing it off of that low to its current price a little above the 38.2% retracement line at around $34. Immediate resistance should be around $36, a little above the 50% retracement line due to repeated pivot activity in that range, with additional upside from there at around $38, inline with the 61.8% retracement line if bullish momentum persists. Immediate support is at $34; if the stock's momentum reverses and pushes below that point, it could fall to about $31.50 before finding new support, and has additional downside to the March low around $28 if bearish momentum increases.
Near-term Keys: If you work off of the basis of the stock's valuation metrics, it's hard to make a case for the stock right now as a good bargain. For now, the best bet if you want to work with this stock is to look for short-term trading opportunities dictated by the path and pace of price momentum. If the stock continues to show bullish strength, you could consider buying the stock or working with call options, using a bullish target price in the $38 range. If the stock reverses and drops below $34, consider shorting the stock or buying put options, using $31.50 as a first, quick-hit profit target, with $28 in sight if bearish momentum strengthens.
By the way, if you liked this article, you'll LOVE this Meaty free training I just published on the top 3 questions and challenges every investor faces AND how to overcome them. It's titled "10k into $2.4 Million in 18 months" and you can grab it for free here