Tech stocks have been beaten up the last few weeks, but these traders say there's opportunity in these 4 stocks now.
Tech stocks have struggled in the last few weeks, with big names like Apple (NASDAQ: AAPL) and Microsoft (NASDAQ: MSFT) coming under pressure amid positive coronavirus vaccine news.
But where there is weakness, there is opportunity.
That's according to Michael Binger, president of Gradient Investments who has his eye on four tech stocks in particular.
The first stock Binger is betting on he calls the "Amazon of China."
"The first one I want to highlight is Alibaba (NYSE: BABA)," Binger said. "I mean, this is the big Chinese e-commerce play here. They continue to gain share, there's a shift in China just like there is in the U.S. here where we're going from brick and mortar to online shopping, so I like it here."
Alibaba shares are up 32% year-to-date, but has fallen nearly 12% over the last month giving investors a chance to snap up shares at a discount.
RBC Capital Markets analysts issued an Outperform rating on Alibaba earlier this month.
"Alibaba's fundamentals remain intact, and we believe that it will remain a leader in China e-commerce," the RBC analysts wrote in a note from November 11. "In addition, Cloud services will increasingly become a meaningful driver of the top and bottom lines. Our stock price target is $335." That implies nearly 20% upside for the stock.
Binger's second pick is Cisco Systems (NASDAQ: CSCO).
"Cisco just had a good quarter," Binger said. "That's a change of narrative there. Remember, the quarter before that they missed and guided down."
Binger said the stock trades cheaply relative to the rest of the tech sector, with shares trading at 13 times forward earnings compared to the broader sector which trades at roughly 26 times.
Earlier this month, Cisco posted better-than-expected fiscal first quarter results, reporting earnings per share of $0.76 on revenue of $11.93 billion, compared to analysts' expectations for earnings of $0.70 per share on revenue of $11.85 billion.
Following the earnings beat, Joule Financial's Quint Tatro said that investors who are looking to capitalize on the rotation out of growth and into value may have a good trade with Cisco.
"This is a stock that's been beat up. It's not a real sexy play," Tatro said. "It's a slow grower, but they have a stellar balance sheet. …I think this stock can see a pretty significant uptick."
Aside from Cisco, Matt Maley, chief market strategist at Miller Tabak says there's a chip stock worth a look.
"You see a stock like Micron Technology (NASDAQ: MU) which is breaking out to a new all-time high," Maley said. "It's getting a little overbought, but it's still acting very, very well and should continue to do well going forward."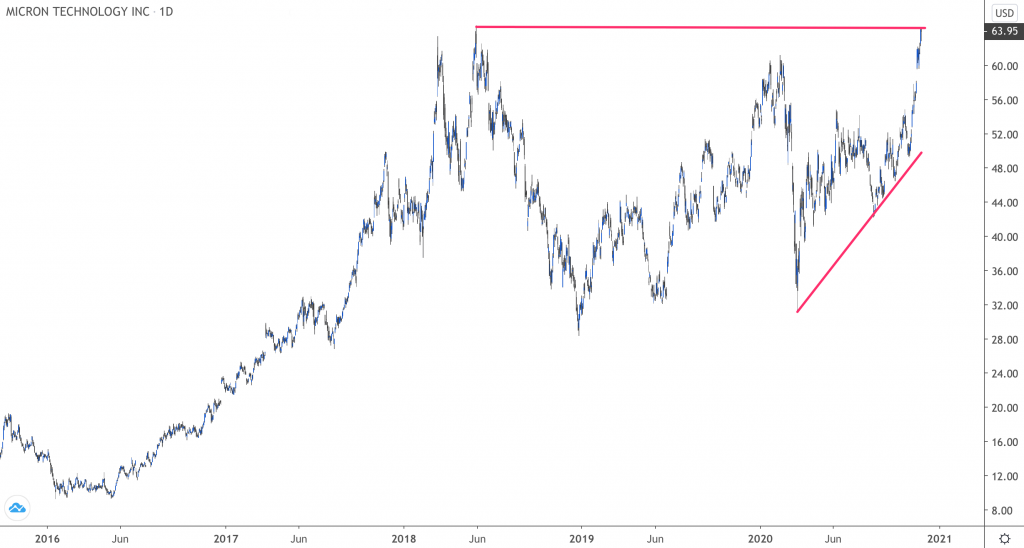 Maley also likes Seagate Technology (NASDAQ: STX).
"This is a stock where, again, it kind of underperformed for a while there while those mega-cap names were outperforming," Maley said. "But now even though it hasn't made an all-time high like some of these chip stocks have, it still made a nice higher low, followed by a nice higher high, and that should let it rally a lot further."