These 2 under-the-radar internet stocks might be the best plays in the sector in 2021. Here's why.
While the broader market has rallied to start the year, tech giants have taken a tumble this week.
The fall in names like Facebook (NASDAQ: FB) and Twitter (NYSE: TWTR) came after the social media platforms suspended or permanently banned President Donald Trump following his supporters' attack on the Capitol last week, with the stocks down nearly 11% and 13% for the week, respectively. 
But even despite the challenging political environment, Jefferies analyst Brent Thill named Facebook, Amazon (NASDAQ: AMZN), and Google-parent Alphabet (NASDAQ: GOOGL) to his top picks list for 2021 in a note this week.
With the incoming Democrat-controlled government, Thill noted that there will be increasing regulatory pressure on all three stocks, but said there will be no breakups which will lead to "ongoing valuation upside" for the stocks, pushing them higher.
Oppenheimer's Ari Wald agrees with Thill's bullishness on big tech names.
"There's really three reasons why we're bullish on the internet industry," Wald, the firm's head of technical analysis, said. "One, the industry continues to trend higher. Point two, it's really broadly strong, it goes beyond those three big cap names – it's madcaps, it's small caps as well. And point three is that it's been able to outperform in recent years, really even over the last decade regardless of the direction of interest rates."
Another name in the space both Wald and Thill like now is Wix.com (NASDAQ: WIX). 
Thill said Wix is his top mid-cap pick for 2021, writing that "as the constant stream of product innovation fills growing demand for richer websites," it should drive higher average revenue per user for the company.
Looking at the stock's chart, Wald says Wix's technical setup backs up the bullish case.
"The stock has corrected into the bullish slope of its 200-day [moving] average, which we define as a near-term opportunity to buy long-term strength," Wald said. "We think that long-term uptrend continues. In terms of levels, as long as $235 support is upheld, we expect a new high above $316 resistance."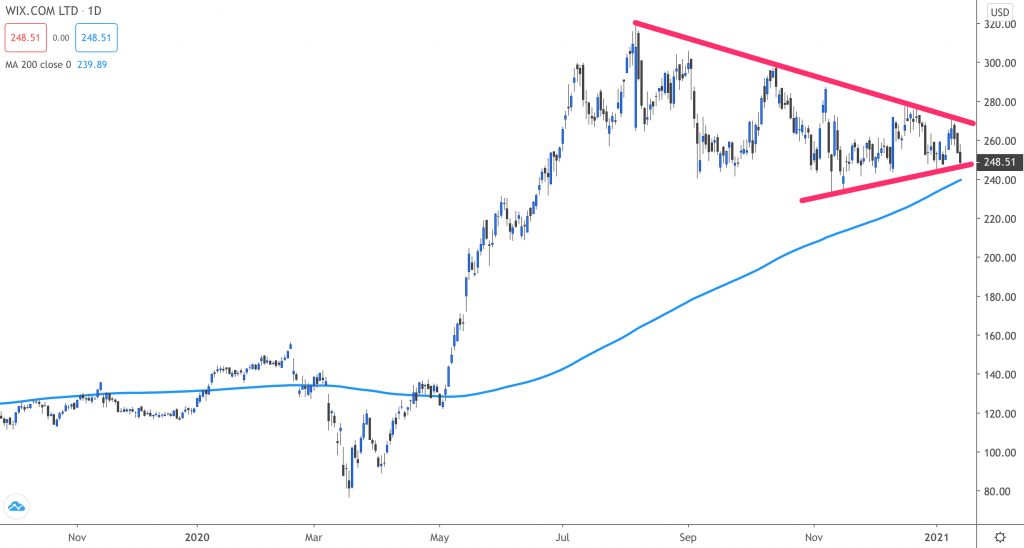 Gradient Investments president Michael Binger is also bullish on internet stocks and has his eye on another social media company that happens to have also made Thill's top stocks list: Snap (NYSE: SNAP). 
"Snap is kind of an up-and-coming player in the internet space," Binger said. "Their user base is expanding. The company is starting to monetize that better and they're drawing more ad dollars there. Snap is a company that we feel can still grow its top line 30% plus for the next three years."
Snap shares are down more than 6% this week after it too banned President Trump from its platform. Thill noted that the company is beginning to monetize its mapping feature, which could potentially add $1.5 billion in annual ad revenue within the coming years.