The market may be near all-time highs, but these two traders say there are still opportunities to be had with these 7 stocks.
Stocks started off 2021 with fireworks, with all three of the major indexes hitting new all-time highs just five trading days into the new year.
Since then, stocks have slipped slightly, but as of Thursday's close, the S&P 500 is less than 1% from its record high, the Dow is less than 0.3% from its, and the Nasdaq is less than 0.7% from its high.
With stocks near records, two traders said this week that there are still opportunities to be had in the market.
"As we look at this entire market, it's really been a story of rising water lifting all boats," said Piper Sandler senior technical research analyst Craig Johnson. "We're overweight tech, we're overweight consumer cyclicals, and we're also overweight industrials."
Looking at the chart of the XLI S&P 500 Industrial Sector SPDR ETF—which holds names including Union Pacific (NYSE: UNP), Honeywell (NYSE: HON), Boeing (NYSE: BA), and Raytheon (NYSE: RTX)—Johnson noted that the sector is beginning to break out to new highs.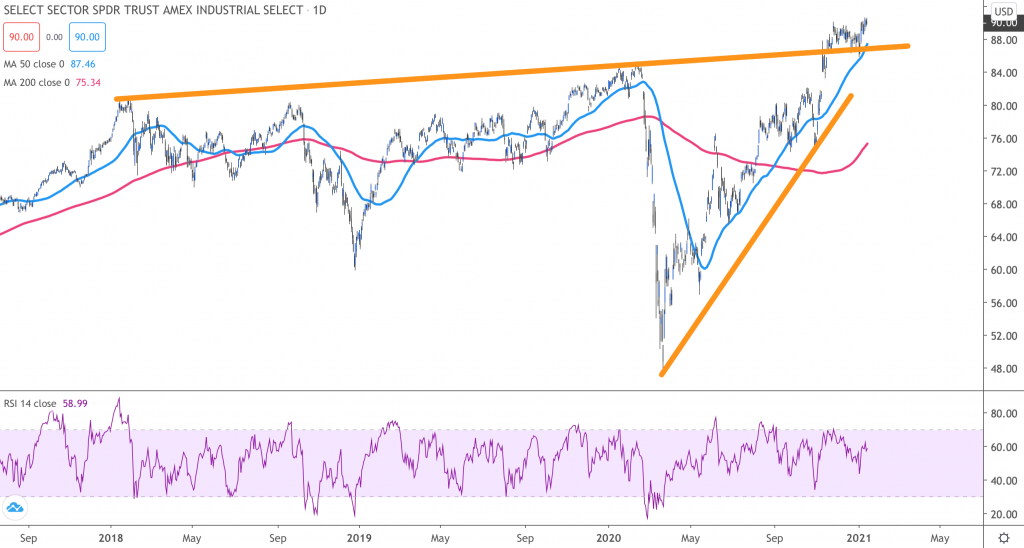 "If we're going to get a reopening trade,… I would think that we're going to start to see some of these early cyclical-type names really start to perform and do very well," Johnson said, adding that industrials Honeywell, Caterpillar (NYSE: CAT), Deere (NYSE: DE), and GE (NYSE: GE) are all "starting to look a lot more constructive."
Three out of the four of these names are up so far this year, with Caterpillar up 8.5% year-to-date, Deere up 12.6%, and GE up nearly 8% so far this year.
"This is an area that I think will do very well throughout the remainder of 2021," Johnson added.
Beyond industrials, Simpler Trading's Danielle Shay has her eye on growth stocks now.
"I love the semiconductors, I love solar stocks right here, I also like the hot new IPOs and I'm watching the FAANG stocks, particularly for a run into earnings at the end of this month," Shay said, referring to Facebook (NASDAQ: FB), Amazon (NASDAQ: AMZN), Apple (NASDAQ: AAPL), Netflix (NASDAQ: NFLX), and Google-parent Alphabet (NASDAQ: GOOGL).
All five of the FAANG stocks have underperformed to start the year, with Facebook shares down 10%, Amazon down 4%, Apple down 3%, Netflix dow just over 7%, and Alphabet down more than 1%.
Shay also is eyeing an under-the-radar group of stocks.
The "one space that I think hasn't really gotten a lot of attention that probably should get a little bit more attention is going to be the cloud-based internet security companies," Shay said, naming Appian (NASDAQ: APPN), Cloudflare (NYSE: NET), and Zscaler (NASDAQ: ZS) as her favorite picks in the sector.
Shay isn't the only one bullish on these cloud names.
Jefferies analyst Brent Thill named Cloudflare one of his top internet stock picks in a note this week, and raised his price target on the stock from $80 to $95 – 18% below the stock's price as of this writing.
And Zscaler shares got a boost this week after the security software company hosted a well-received virtual meeting with analysts. After the call, Credit Suisse analyst Brad Zelnick said the meeting gave him "even more conviction around both the size of [the company's] opportunity and ability to execute against it." Zelnick reiterated his Outperform rating on the stock and boosted his price target from $175 to $215.
"You have people working from home. We've had to make a lot of adjustments," Shay added. "Companies have to make a lot of adjustments as well, and they're going to have to provide clients internet security at their homes. And so, I think that this is a space that's going to really continue to grow."