As the broader market has moved to record highs this week, these 2 stocks look poised to continue to outperform.
The S&P 500 and Nasdaq both closed at record highs for the second straight day on Thursday as investors bet on the odds of another round of stimulus and the Biden administration working to confront the coronavirus pandemic.
As the major indexes moved higher, familiar names like Alphabet (NASDAQ: GOOGL), Activision Blizzard (NASDAQ: ATVI), Etsy (NASDAQ: ETSY), General Motors (NYSE: GM), and Netflix (NASDAQ: NFLX) pushed higher, hitting their own records. 
In fact, all five stocks have been climbing higher over the last week, with Alphabet up nearly 8% for the week, Activision up more than 5%, Etsy up 2.7%, GM up 13%, and Netflix up 14% over the last week.
Oppenheimer's Ari Wald says these big market standouts look poised to continue to move higher.
"You've got to stick with your winners," Wald, Oppenheimer's head of technical analysis, said. "Ride them out. Stocks that make it to new highs, that's a good thing. Stocks that make new highs are usually stocks that continue to make new highs."
Wald pointed specifically to Activision Blizzard, noting its breakout above resistance from its September 2018 peak at $85.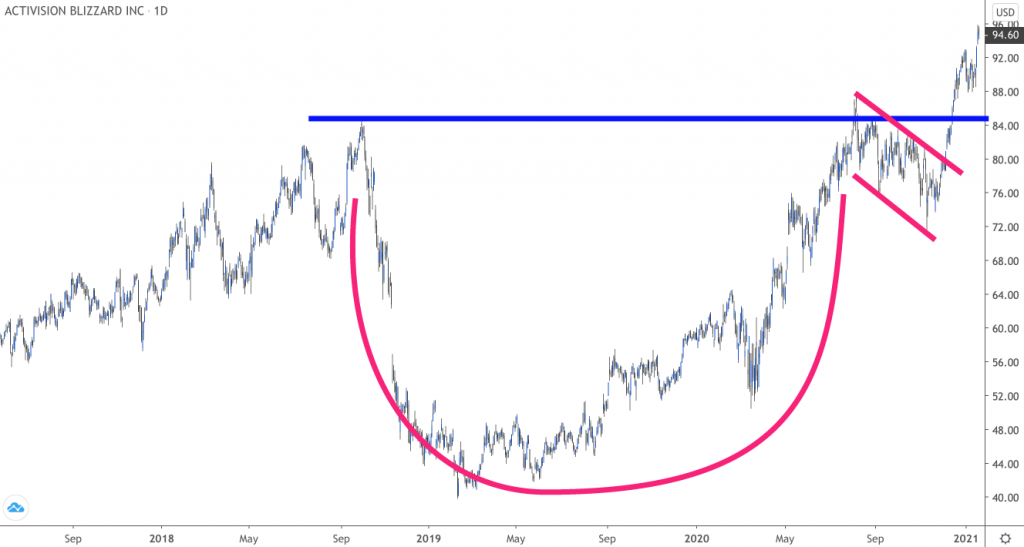 This breakout above $85 follows a bullish cup-and-handle pattern, where a security's price forms a "u" shape cup and then a downward-drifting handle, which the stock has since broken out from, setting it up for a long-term rally.
"We're seeing a resuming breakout of that big level from over two years ago," Wald added. "I think it portends additional gains with the sector strength behind it, too. Activision Blizzard looks good."
Gina Sanchez, CEO of Chantico Global and chief market strategist of Lido Advisors, says Netflix also looks poised for more gains ahead.
Netflix shares traded sharply higher to a new record on Wednesday after posting better-than-expected fourth quarter earnings and subscriber growth that topped estimates. The streaming giant added 8.51 million net new subscribers, pushing it to more than 200 million subscribers for the first time.
Following the earnings beat, at least 17 analysts raised their price targets for Netflix shares, with formally cautious analysts at UBS and Wells Fargo throwing in the towel and upgrading the stock to Buy and Overweight, respectively.
Morgan Stanley analyst Benjamin Swinburne reiterated his Overweight rating, and boosted his price target on the stock from $650 to $700 – nearly 21% higher than the price as of this writing.
"We have long believed that as the business scaled and its transition to self-produced content played out, this business would move to sustained and substantial annual free cash flow," Swinburne wrote in a note to clients. "That moment has arrived."
From a technical perspective, with this week's pop, Netflix shares have broken out of the sideways trading range the stock has been stuck in since July 2020. The bullish move may signal further gains ahead.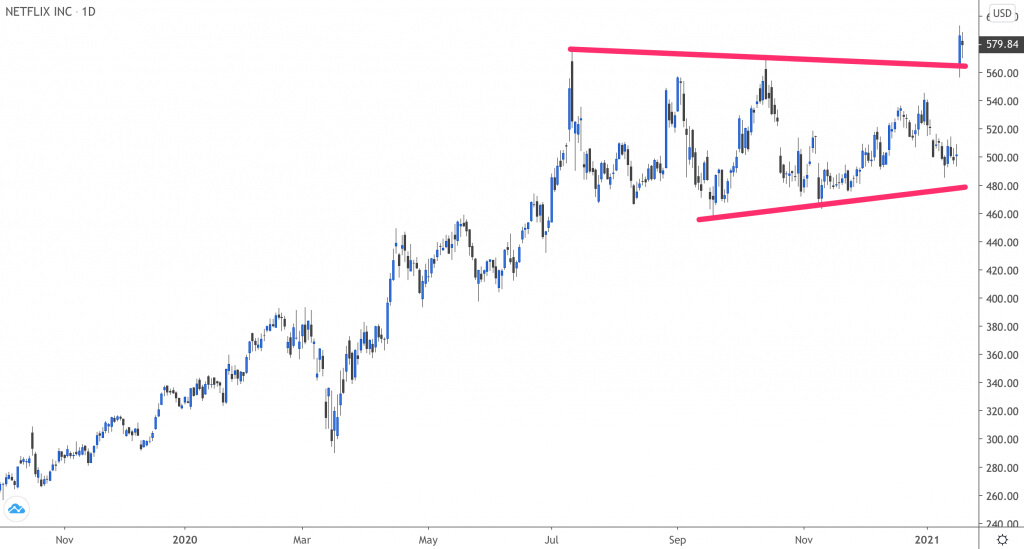 "Netflix has really flexed its muscle if you think about how it has pushed its new content, which was a risky gamble, but to some degree, they had some luck when the pandemic hit, which was that a lot of people stayed home," Sanchez said. "That's a huge pickup for Netflix, and if you look at where they're going, they're continuing to push this content play to continue to build that subscriber base."
Sanchez added that up next, Netflix will have to prove that it can hold on to its impressive subscriber base.
"You have to wonder how much this pace can maintain, especially if we go into a reopening economy and people are moving away from working from home to working back in the office by the end of the year," Sanchez said. "I think that's going to be the real litmus test for Netflix."