These 3 stocks with big short interest look poised to deliver gains in the near-term.
GameStop (NYSE: GME) shares have so far had a wild 2021.
The stock is up more than 128% year-to-date, gaining nearly 116% in the last two weeks alone.
The rally has been fueled in part by the company disclosing that RC Ventures, founded by Chewy (NYSE: CHWY) co-founder Ryan Cohen, has taken a 12.9% stake in the videogame retailer and had agreed to increase its board to accommodate the appointment of three RC Ventures representatives, including Cohen.
But the bulk of the gains in GameStop shares can be attributed to a short squeeze rally, where investors who are short the stock are forced to cover their positions when it rises, a repeating pattern that propels the stock ever higher.
After last week's pop, Wedbush analyst Michael Pachter said the stock's recent rally was "purely a short squeeze, accompanied by Robinhood-type retail enthusiasm for a transformation to e-commerce," and added that short sellers are being "squeezed by rabid retail investors."
Pachter said he doesn't think the rally will last, issuing a Hold rating on GameStop and giving the stock a $16 price target – nearly 63% below the stock's price as of this writing.
But GameStop isn't the only shorted name that has been rallying higher lately that looks set up for a short-term trade.
American Airlines (NASDAQ: AAL), Bed, Bath & Beyond (NASDAQ: BBBY), and StitchFix (NASDAQ: SFIX) have all risen higher recently, with American Airlines gaining 2%, Bed, Bath & Beyond rising nearly 17%, and StitchFix soaring just under 24% over the last week alone.
Each of the three have above-average short interest as a percentage of their float.
Miller Tabak chief market strategist Matt Maley argues Bed, Bath & Beyond shares have more room to run, given its short interest at 64% of its float.
"This stock has already broken above, on a technical basis… its trend line going all the way back to 2015," Maley said. "Remember, this is one retailer that got hurt long before the pandemic came along."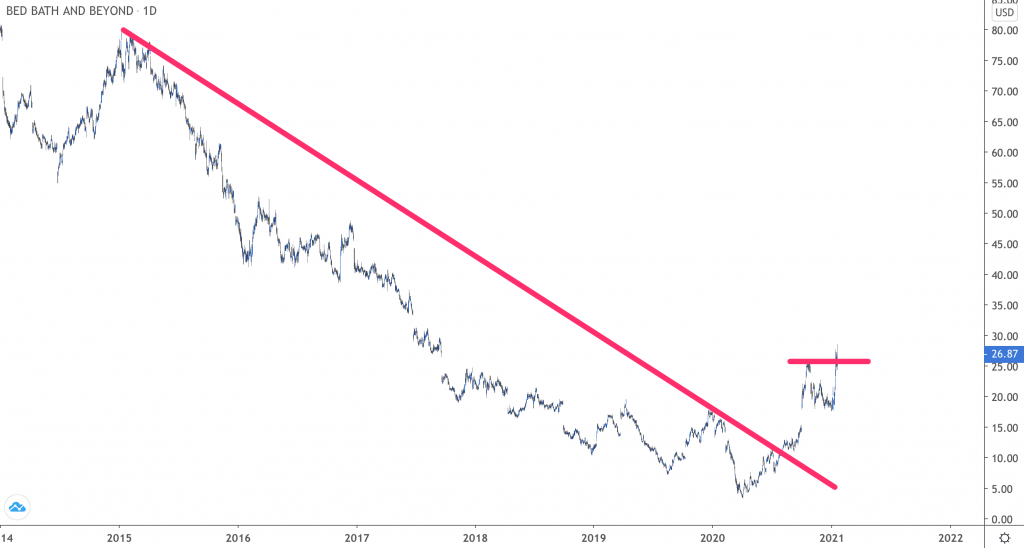 Laffer Tengler Investments' Nancy Tengler said American Airlines is her pick for an upside squeeze. The carrier has 28% short interest.
"The airline play in American Airlines, the reopening travel play, is the way I would go as a trader on this," Tengler said. "We have our reopening bet in Southwest Airlines (NYSE: LUV), but I like the potential for American Airlines here."
"You have to give a concession to the fact that earnings are horrible, can't really get any worse. So we think, at the margin, that could be positive," Tengler added. "We have a relative price-to-sale ratio chart that we look at this on valuation. It looks ugly, but tells us what we already know – [American Airlines] is a cheap stock that I think you get a bounce in, and it's a trade, it's not an investment."