The energy sector has been surging higher after a rough 2020, and these 2 stocks in the space might be the best way to play the reversal.
The energy sector has been on a roll lately.
The XLE S&P 500 Energy Sector ETF is up nearly 33% since the start of the year, and is up 66% since the start of November.
But after trailing the rest of the market last year, the reversal seen this year has "caught a lot of people by surprise," said Piper Sandler senior technical research analyst, Craig Johnson said.
Pointing to the XLE's chart, Johnson said "it's at a very interesting inflection point."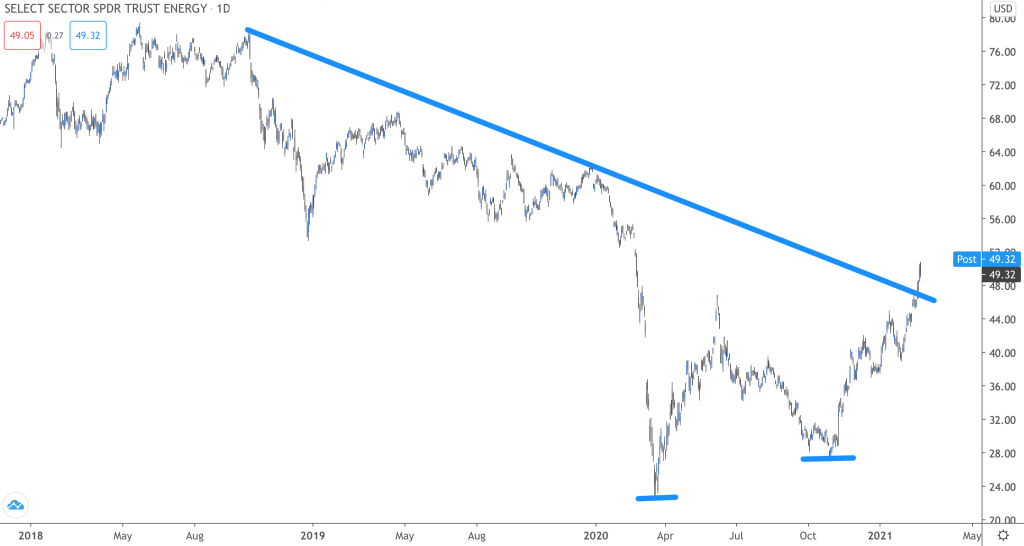 "You've made a very nice double-bottom low and it looks like… we're getting very close to reversing," Johnson said. "I think from here, people have to add energy exposure – begrudgingly."
But as for which stocks in the sector might be good bets now, Johnson said he's keeping an eye on Exxon Mobil (NYSE: XOM).
The technician said that if Exxon can close above $54, it "should open the door to a new leg higher. The stock closed at $55.76 per share on Thursday.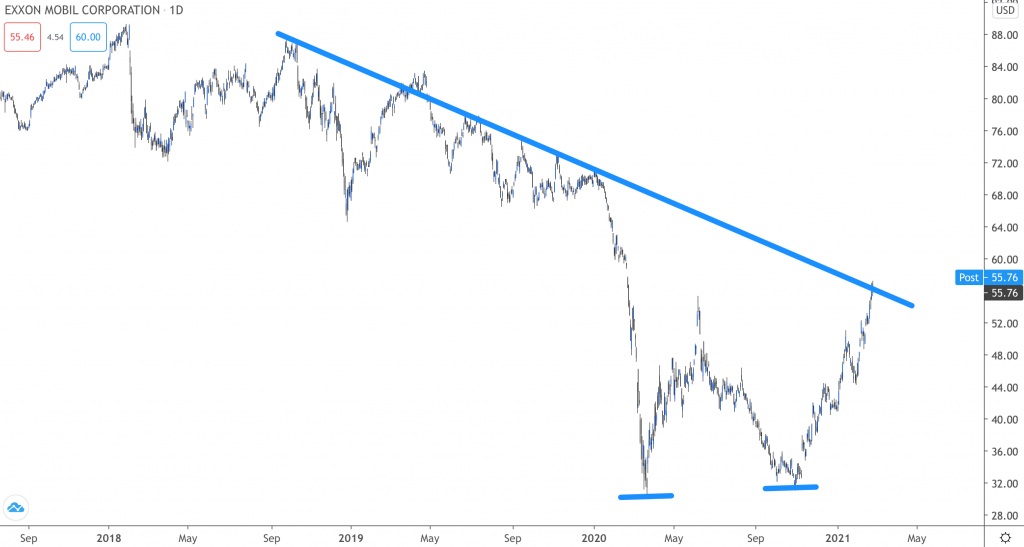 BK Asset Management's Boris Schlossberg said he's watching shares of Marathon Petroleum (NYSE: MPC).
"It's the largest refiner in the U.S.," Schlossberg said of Marathon. "It's just sold off its retail operations to 7-Eleven. It's going to use that money to pay down debt and maybe buy back shares. It's got a 4.25% yield."
Marathon Petroleum delivered an earnings beat earlier this month. CEO Michael J. Hennigan said in an earnings release that the company "took aggressive action to reposition the company for long-term success" in 2020.
"As we enter 2021 and progress toward the close of the $21 billion sale of our Speedway business," Hennigan said, "out top priorities remain reducing debt to strengthen our balance sheet and efficiently returning capital to shareholders."