After the S&P 500 rose past 4,000, traders say these are the sectors—and stocks—to consider now.
The S&P 500 surged above 4,000 for the first time last week, kicking off the second quarter with a big round number.
Just a week later, the index notched another record high, closing on Thursday at 4,097.17 amid a strong rally in major tech stocks.
With tech stocks on the move, Blue Line Capital's Bill Baruch says there's a way to play the biggest names.
"Tech has had these really big runs," Baruch said. "Trimming names like Apple (NASDAQ: AAPL), Microsoft (NASDAQ: MSFT), PayPal (NASDAQ: PYPL) has proven to be a really good strategy, and then rebuilding those positions on extreme weakness that we've seen here. You can't ignore the fact that the Nasdaq [100] is breaking out above a trend line going back to Feb. 16 and it's coming through the 50-day moving average right now, so it's going to be moving higher."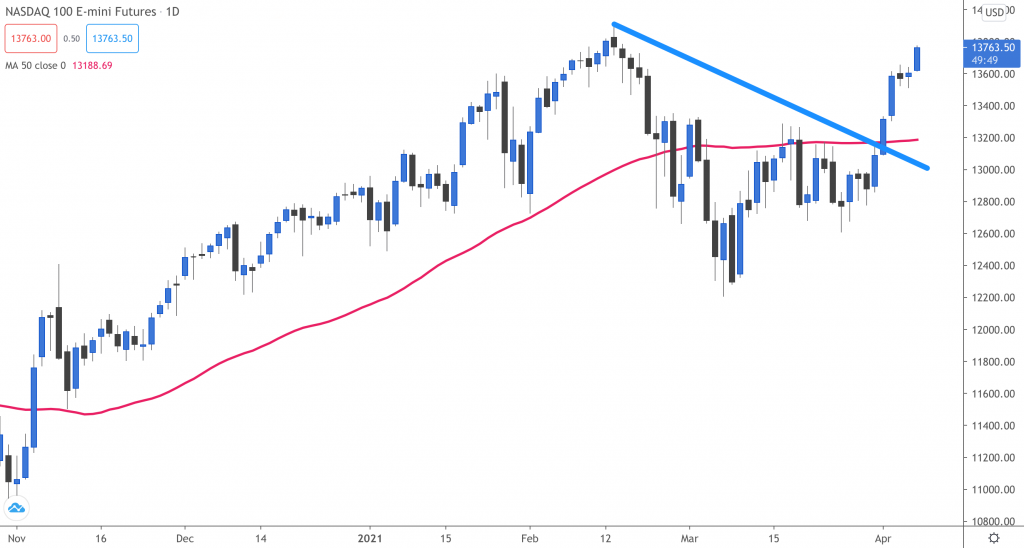 Baruch also says value stocks still have potential.
"I think value is going to continue to lead. Overall, economic activity is going to continue [to] pick up," Baruch said. "Infrastructure spending will be a tailwind, and deal activity in general is going to be a tailwind to the sectors, especially banks."
Beyond banks, Baruch likes the aerospace and aviation, and rails sectors, as well as crude oil-sensitive stocks.
Tocqueville Asset Management portfolio manager John Petrides has his eye on the robotics and artificial intelligence sectors as the market moves higher.
"In a post-COVID world, where this supply chain is going to have to get more efficient, where you're going to have less human contact within a supply chain, that favors the robotic side of the coin," Petrides said. "Companies are doing more with less, and are forced to do more with less, which is going to favor the artificial intelligence side of the coin. Those two themes have a very long runway to go ahead."
Petrides specifically pointed to the BOTZ Robotics & Artificial Intelligence ETF, which is up more than 87% over the last year. The ETFs holdings include Nvidia (NASDAQ: NVDA), Intuitive Surgical (NASDAQ: ISRG), Brooks Automation (NASDAQ: BRKS), Cerence Inc (NASDAQ: CRNC), and iRobot (NASDAQ: IRBT).