A global semiconductor shortage has led to production halts for the world's largest automakers amid surging demand for vehicles, but this 1 stock may be the best way to hedge the chip shortage and take advantage of the rising demand for cars. Here's why.
Auto CEOs got their chance this week to make their pleas for chips to President Joe Biden.
On Monday, more than a dozen chief executives, including General Motors (NYSE: GM) CEO Mary Barra and Ford (NYSE: F) CEO James Farley Jr., participated in a virtual summit with top Biden administration officials to discuss the ongoing global semiconductor shortage that has idled automakers worldwide. 
With automakers taking a hit from the shortage, MKM Partners chief market technician JC O'Hara said this week that there's another way to take advantage of a big uptick in demand for vehicles.
"Used car sales are through the roof, so one play that I'm very interested in here is CarMax (NYSE: KMX)," O'Hara said. "They are a huge used car sales company, and the positivity from used car sales is being reflected in the chart."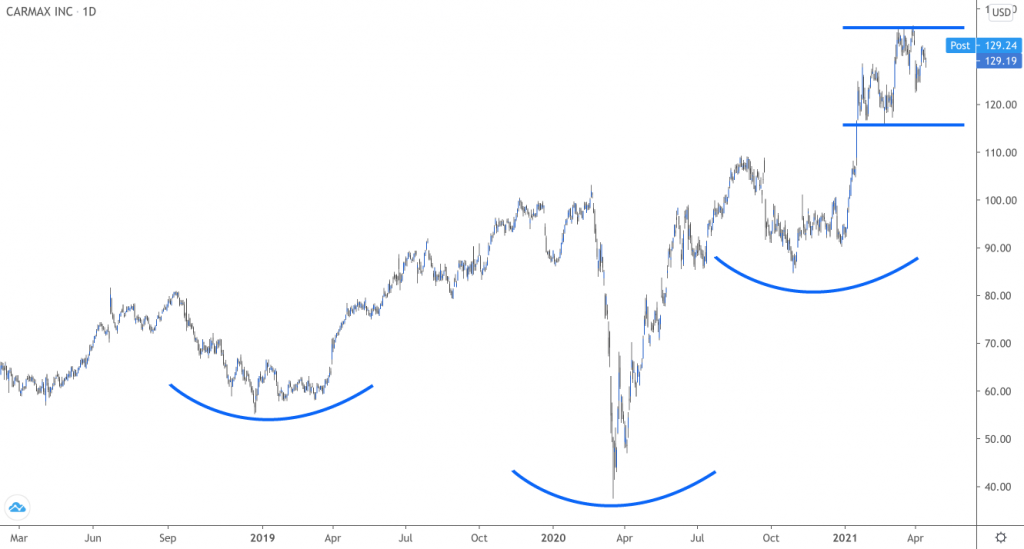 CarMax shares are up more than 100% over the last 12 months, and have gained a whopping 199% since the March 2020 market bottom.
And the stock is up 37% since the start of the year as demand for cars continues amid strong consumer spending fueled on by another round of stimulus checks.
New Constructs analyst David Trainer is also bullish on CarMax, recently issuing a $147 price target on the stock – indicating nearly 14% above the current price.
"CarMax's competitive advantages manifest not only in more than twice as much revenue from used-car sales as the next largest competitor," Trainer said, "but it also has the highest return on invested capital (ROIC) among its peers."
As for the new car makers, Gina Sanchez, chief market strategist at Lido Advisors and CEO of Chaotic Global, said that the chip shortage is "something that's probably not going away" in the near term.
Sanchez added that with names like Ford and GM moving into electric vehicles, "the outlook for Ford is significantly better than GM, based on the idea that they're really moving into the electric car space, but what's interesting about that is that electric cars are going to require more chips," not fewer.
"Suppliers just did not stockpile enough chips because auto demand plummeted during COVID, and so now they're just caught on the wrong foot, and it's not so easy to just order up more chips," Sanchez continued. "This is going to take probably several months to work through, and it's going to dampen the recovery for the auto sector."
O'Hara added that for long-term investors, Ford and GM are more stable plays in the EV space than a name like Tesla (NASDAQ: TSLA), and any weakness is a buying opportunity.
"We have a chance to move into lower volatility names," O'Hara said. "GM and Ford, who are now looked at as EV plays. I think you will get a pullback and I think that pullback is buyable."