Solar stocks have struggled so far this year, but traders say now is not the time to sleep on the sector – it's about to shine again.
Solar stocks have had a rough start to 2021.
While many solar names got a boost at the start of the month alongside other clean energy names after President Joe Biden announced his $2.25 trillion infrastructure plan that included sweeping investments in electric vehicles, renewable power, and greenifying the electric grid, the TAN Solar Invesco ETF is down nearly 10% for the month, and more than 17% year-to-date.
Many of the TAN ETF's holdings are down by double digits as well, with names like Enphase Energy (NASDAQ: ENPH), First Solar (NASDAQ: FSLR), SolarEdge (NASDAQ: SEDG), Sunnova Energy (NYSE: NOVA), and SunRun (NASDAQ: RUN) down 13.4%, 20.6%, 16.6%, 18.4%, and 28.4%, respectively, since the beginning of the year.
Even still, RBC analyst Elvira Scotto initiated coverage of SunRun in a note last week with an Outperform rating and a price target of $81 – 74% above the price as of this writing.
Scotto argued in the note that SunRun controls around 25% of the rooftop solar market. While rooftop solar has only penetrated roughly 4% of the U.S., Scotto says that could grow to 13% by 2030.
"To reach about 13% penetration, average annual installations would need to grow about 15% through 2030, which we view achievable given the greater than 15% average annual growth over the past 10 years," Scotto wrote. "As the market leader we expect Sunrun to grow at or better than the market growth given its scale, brand recognition and cost advantage on financing."
Scotto isn't the only one with an eye on solar stocks. Katie Stockton, managing partner and technical analyst at Fairlead Strategies, said she has been watching weakness in the group play out for a while now.
"Solar stocks had been under pressure along with growth stocks," Stockton said, adding that her firm had initially recommended shorting Enphase shares but had to cover the position as a short-lived correction in TAN looked to be stabilizing.
"I think this is a nice staging ground for a potential relief rally," Stockton continued. "The ETF had already been up nearly 500% off that COVID low from last year. Retracement like this is healthy, in our opinion, and something that can contribute to the long-term uptrend."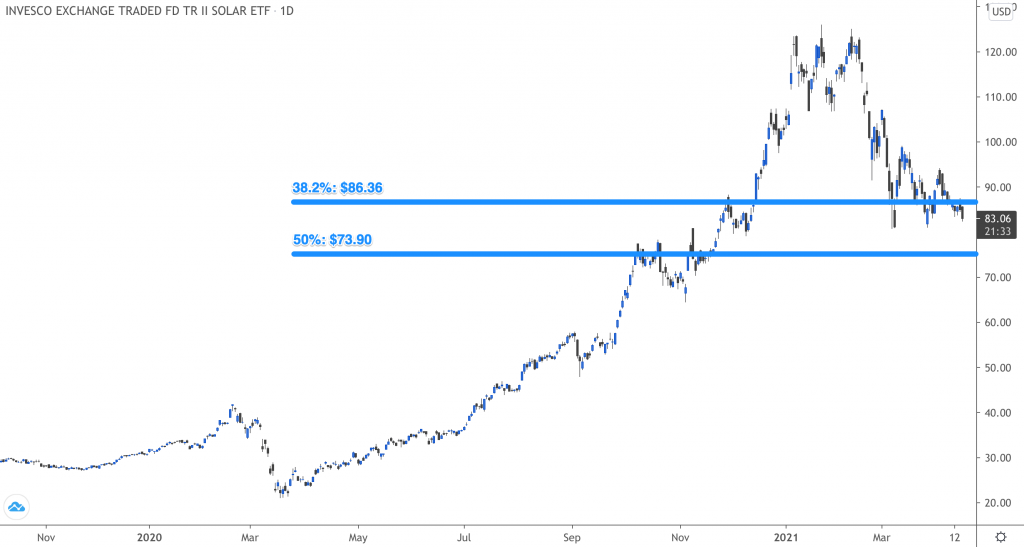 "Investors can't fall asleep on these names down here," added Joule Financial chief investment officer Quint Tatro. "It's easy to do with underperformance, but I think there's some value to be found."
Tatro's top pick in the sector is First Solar.
"We view this company almost like a utility stock, like a solar utility play," Tatro said, noting the company's book value of $52 per share, low debt, and solid earnings growth.
"We need momentum," Tatro concluded. "That's true for growth. That's true for solar, but don't fall asleep on these names. I think they'll shine again."