Bitcoin is down nearly 20% over the last week and experts argue it could see a much larger decline in the near-term. Here's why.
Bitcoin has had quite the week.
Last week, the world's largest cryptocurrency surged to nearly $65,000 on the heels of crypto exchange Coinbase's (NASDAQ: COIN) public debut.
Since then, the digital coin has taken a very choppy tumble—even as PayPal (NASDAQ: PYPL) announced its Venmo app would allow users to buy, hold, and sell cryptos, amid other positive institutional developments—and now sits at $51,956 at the time of writing. That's a drop of nearly 20% in just over a week.
And one expert argues this fall is just the start of a much bigger downward streak.
"Given the massive move we've had in bitcoin over the short run, things are very frothy, and I think we're going to have to have a major correction in bitcoin," Guggenheim Partners global chief investment officer Scott Minerd said this week. "I think we could pull back to $20,000 to $30,000 on bitcoin, which would be a 50% decline."
Looking at the cryptocurrency from a technical perspective, Tallbacken Capital Advisors's Michael Purves said in a note from Wednesday that "a chart is a chart is a chart" and bitcoin's record high from last week wasn't confirmed by its relative strength index, and its upward momentum is fading.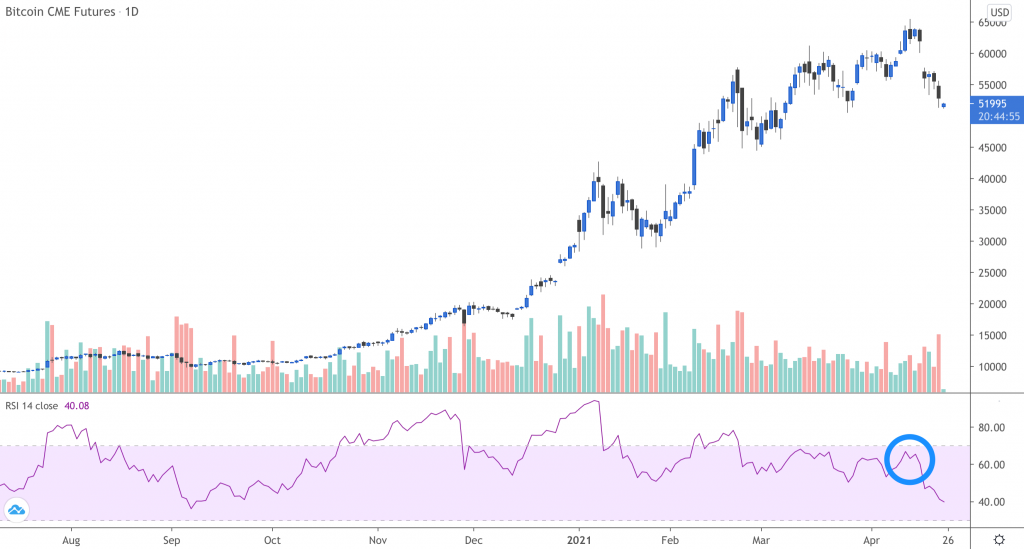 "From purely a technical perspective, the bullish case looks highly challenged here in the near term" after its recent rally, Purves wrote. "Trading bitcoin on the bullish side right now does not appear to have favorable risk-reward and if you have made profits, it seems like a good time to go to the sidelines for now."
JPMorgan strategists led by Nikolaos Panigirtzoglou warned that if bitcoin isn't able to break back above $60,000 soon, momentum signals will collapse.
"Over the past few days, bitcoin futures markets experienced a steep liquidation in a similar fashion to the middle of last February, middle of last January, or the end of last November," the JPMorgan strategists wrote in a note. "Momentum signals will naturally decay from here for several months, given their still elevated level."
In all three of the previous instances, the strategists noted that the overall flow impulse was strong enough to push bitcoin back up above key thresholds, yielding further buildups in position by momentum traders.
"Whether we see a repeat of those previous episodes in the current conjuncture remains to be seen," the strategists said, adding that the likelihood of such a scenario happening again seems lower given that momentum decay seems more advanced and thus, more difficult to reverse.
But even with a significant fall in bitcoin likely imminent, Minerd is still long-term bullish on the coin, noting that a correction is part of "the normal evolution in what is a longer-term bull market."
And Minerd says that bull market could see bitcoin prices eventually reach between $400,000 to $600,000 per coin.