This billionaire investor—and long-time gold skeptic—just changed his tune on the yellow metal, and is now buying gold as a hedge. Here's why.
A growing cohort of Wall Street elites are sounding the alarm on inflation.
At Berkshire Hathaway's annual meeting last weekend, Warren Buffett said he's seeing creeping inflation among the conglomerate's businesses as the economic recovery from the coronavirus pandemic kicks into high gear.
"We are seeing very substantial inflation," Warren, Berkshire's chairman and CEO, said. "It's very interesting. We are raising prices. People are raising prices to us and it's being accepted."
"We've got nine homebuilders in addition to our manufacture housing and operation, which is the largest in the country," Buffett added. "So we really do a lot of housing. The costs are just up, up, up. Steel costs, you know, just every day they're going up."
BlackRock's Rick Rieder also said this week that his firm's clients are growing concerned about inflation.
"Listen, every client call I'm on including the one I just finished," the BlackRock chief investment officer of global fixed income said,"is talking about overheating. Everybody is talking about overheating."
Billionaire investor Sam Zell is also seeing inflation everywhere, and has been buying gold as a hedge – even after having knocked others for doing so in the past.
"Obviously one of the natural reactions is to buy gold," Zell said. "It feels very funny because I've spent my career talking about why would you want to own gold? It has no income, it costs to store. And yet, when you see the debasement of the currency, you say, what am I going to hold on to?"
While Federal Reserve Chairman Jerome Powell said last week that inflation will be transitory, with Richmond Fed President Thomas Barkin saying this week that he sees inflation building this year and subsiding in the next, Zell wonders if inflation may stick around for the longer term.
"Oh boy, we're seeing it all over the place," Zell said, referring to inflation. "You read about lumber prices, but we're seeing it in all of our businesses. The obvious bottlenecks in the supply chain arena are pushing up prices. It's very reminiscent of the '70s."
Given that, Zell says gold is an attractive investment now, while fossil fuels are looking far less appealing.
"Right now, oil and gas is not priced to reflect the risk of what's going on, whether it be in the EV world, a climate changed world," Zell said. "As recently as a couple of years ago, I thought the risk-reward ratio was appropriate. It's clearly become very inappropriate as our political situation has changed."
But while Zell likes gold now over oil, Connor Broadley Wealth Management CIO Chris Wyllie says there's another metal that might be a better bet in the current environment.
"We're not calling time on gold, we just think that while those (interest rate) dynamics are fighting their way through, we see better ways to play precious metals," Wyllie said. "And we prefer silver at the moment, which has got industrial applications as well. So with a very buoyant global economy, that's another string to its bow."
After hitting multi-year highs last August, gold has since struggled and is down 6% so far this year. Silver, however, has surged higher and is up 70% over the last year.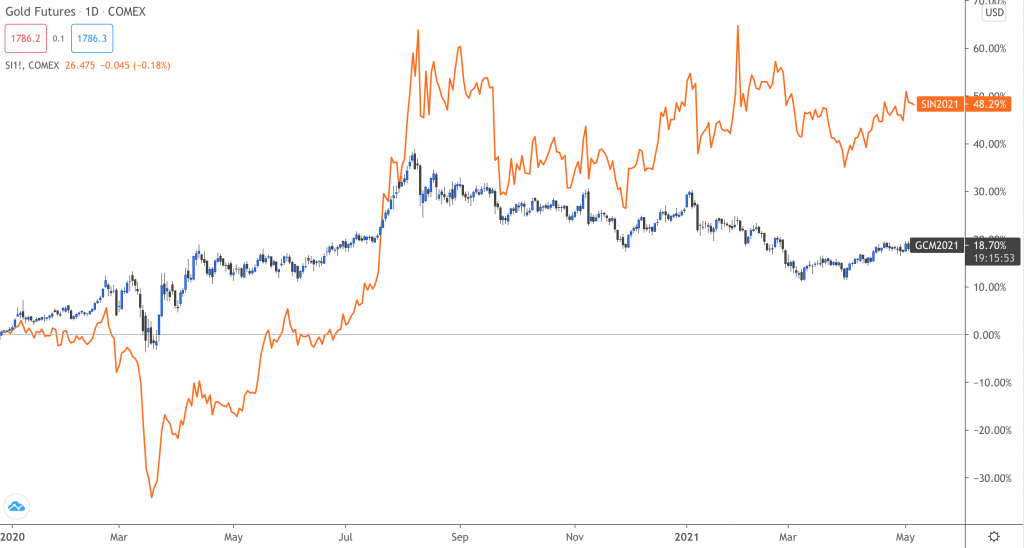 ---