The Nasdaq has had a rough week and many tech names have fallen into correction territory or worse, but traders say there's 1 big-name Nasdaq stock that looks like a solid rebound bet now.
The tech-heavy Nasdaq has struggled over the past week, dropping more than 4% since last Wednesday, as the rotation out of high-growth tech names marches on.
As the index slips lower, some of its most popular names have fallen into corrections or worse over the last month. Baidu (NASDAQ: BIDU) has sunk more than 15% in the last month, Peloton (NASDAQ: PTON) is down 24%, Splunk (NASDAQ: SPLK) has dropped nearly 21%,  and Tesla (NASDAQ: TSLA) has sunk 19%.
But what comes down will come up and traders say there's one Nasdaq staple that is best positioned for a rebound.
"It would be Microsoft (NASDAQ: MSFT)," said Nancy Tengler, chief investment officer at Laffer Tengler Investments. "This is not March of 2000 when the 10-year was at 6.5%, and we were at the end of a business and earnings cycle. In fact, tech capex is now about 50% of total capex, so we want names [that] are going to participate and benefit from that."
Tech has underperformed this year as inflation fears rise and yields climb, and Microsoft is no exception. The stock is down more than 6% over the last month and has added just 7.45% year-to-date, lower than the S&P 500's rise of nearly 10% in the same timeframe.
Tengler also points out that the 10-year Treasury yield has risen to 1.685%, which is still historically low.
"Microsoft has sort of been trading sideways, in line with the market this year, but grew revenues at 90% last quarter and raised guidance," Tengler added. "We like revenues because they're a fact, so this is a company we want to own for the next three to five years or you want to buy for your grandkids."
Late last month, Microsoft reported its biggest quarterly revenue since 2018, posting earnings per share of $1.95 on revenue of $41.71 billion. Analysts had expected earnings per share of $1.78 on revenue of $41.03 billion.
As for guidance, the company said it expects to see revenue of between $43.6 billion to $44.5 billion in the fiscal fourth quarter. The middle of that range would represent 16% growth, and is more than the $42.98 billion consensus estimate among analysts.
Piper Sandler analyst Brent Bracelin advised investors to buy the dip post earnings.
"Not only does Microsoft operate the world's largest cloud business at a $70 billion-plus scale, it is gaining share, growing faster than the cloud industry and boats a 40%-plus operating margin," Bracelin said in a note. The analyst rates Microsoft Overweight and boosted his price target from $300 to $305 – nearly 28% higher than the stock's price as of this writing.
Blue Line Capital's Bill Baruch is also bullish on Microsoft and says the technical picture points to gains ahead.
"Ahead of earnings, they had a tremendous run," Baruch said. "We trimmed our positions in half in Microsoft ahead of earnings. I'm simply putting that back on here" now.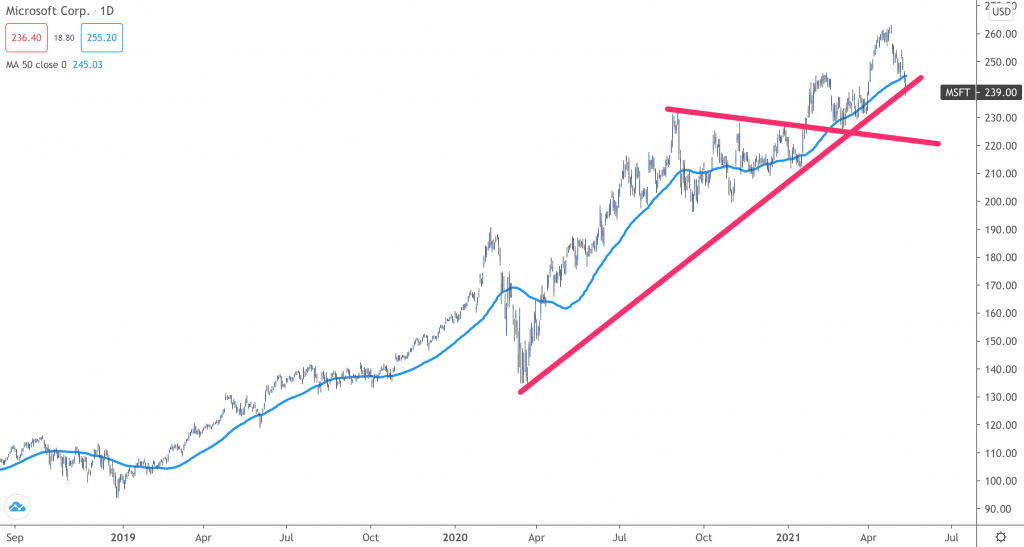 "It hit a trend line… from the March lows… at about $240, so I think that's going to be a big support, and we're going to see a rise here from there," Baruch concluded. "I like Microsoft, and I think that's going to be a leader."