A bearish technical pattern has emerged in the charts of these 2 stocks. But while there may be pain in the short term, traders say any weakness is a buying opportunity. Here's why.
This week delivered quite the ride for stocks.
On Wednesday, the market sank lower on inflation fears after the Labor Department reported that inflation accelerated at its fastest pace in more than 12 years in April as the U.S. economy kicks into high gear. The S&P 500 dropped 2.14%, bringing its loss so far this week to nearly 4%. The Dow also fell 2% on Wednesday, while the Nasdaq sank by 2.67%.
As the broader market fumbles, several stocks are waving bearish technical red flags. But among them, traders say there's a buying opportunity in two names.
Both Amazon (NASDAQ: AMZN) and Take-Two Interactive (NASDAQ: TTWO) have seen their 50-day moving averages pull below their 200-day averages in a technical signal known as a death cross.
A death cross pattern indicates the potential for a major sell-off in a stock and, according to Investopedia, has proven to be a reliable predictor of some of the deepest bear markets in history, including in 1929, 1938, 1974, and in 2008.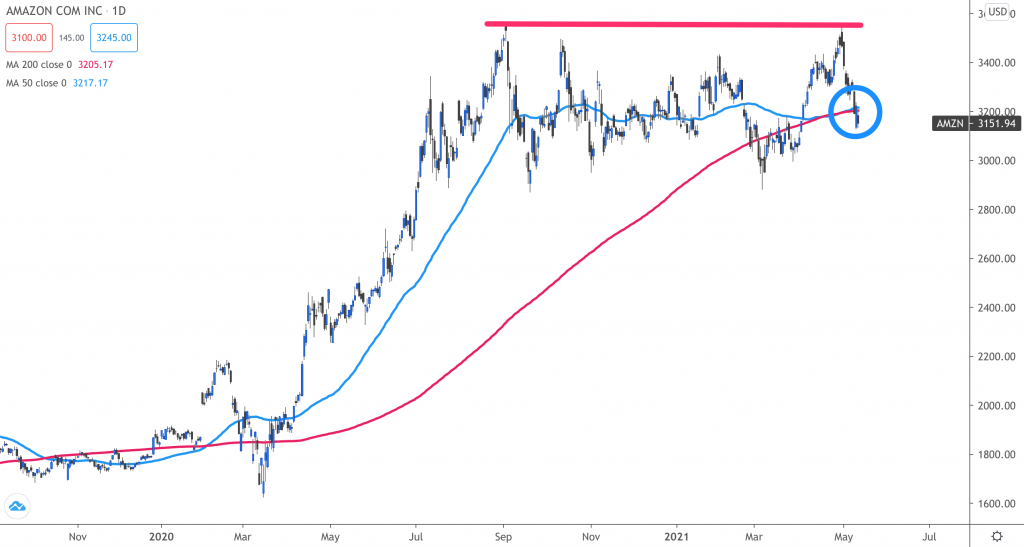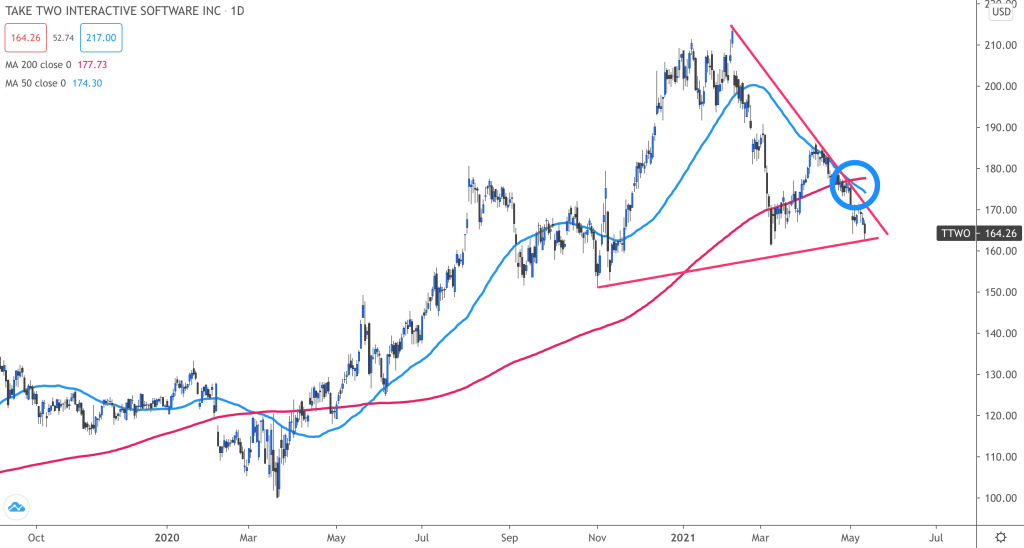 Chantico Global CEO and Lido Advisors chief market strategist Gina Sanchez is bullish on Amazon despite the recent weakness and death cross.
"It is a staple in our portfolio at Lido Advisors, partially because the trend toward e-commerce was already well established before the pandemic—the pandemic just brought in the late adopters and forced them to the party—but they also have their cloud play, which was up 32% this quarter, and that you cannot ignore," Sanchez said.
"Even though we're seeing some pullbacks, which I think is natural," Sanchez added, "I think that this stock still has a lot of room to go."
Sanchez isn't the only one who likes Amazon now.
Following the e-commerce giant's massive earnings beat late last month, Evercore ISI analyst Mark Mahaney said in a note that Amazon reported "a clean beat and raise quarter, with very powerful fundamentals… revenue growth at massive scale marked no major deceleration despite a tougher comp and with record-high 9% operating margins."
Mahaney pointed out that the stock has been range-bound for over six months following its 80% surge last year. "We believe these results prove that Amazon is emerging from COVID structurally stronger and that Amazon shares deserve to re-rate," the analyst wrote.
Mahaney reiterated his Outperform rating on Amazon shares, and boosted his price target from $4,000 to $4,500 – nearly 43% higher than the price as of this writing.
As for Take-Two, BK Asset Management's Boris Schlossberg says the current weakness in the stock is a buying opportunity.
"Take-Two is the preeminent studio in gaming, and yes, it's getting a sell-off because of the post-pandemic sugar high," Schlossberg, the firm's managing director of FX strategy, said. "But long term, it has Grand Theft Auto 6 coming out which is going to be probably the single biggest blockbuster hit in the history of gaming."
The wildly popular Grand Theft Auto 5 was released in 2013 and has proven to be a consistent moneymaker for Take-Two. The sixth installment of the game is expected to launch on the PlayStation 5 and Xbox Series X and S later this year.
Beyond the Grand Theft Auto franchise, Take-Two has more than 90 projects in progress, and Truist Securities analyst Matthew Thornton said in a note this week that the company could soon surprise investors with one of the 20 mobile games it is building or the launch of its PGA Tour 2K22.
"Any savvy investor is going to buy the dip at this point, because long term, I think the prospects with Take-Two are very, very, very strong," Schlossberg added.