Stocks like these 4 could be headed higher, according to one technical analyst.
There's a semiconductor shortage just about everywhere you look these days.
The global chip shortage has slammed everything from automakers to consumer electronics, home appliances, and video games.
Still, the semiconductor sector has been on the rise this week with the SMH Semiconductor VanEck ETF and SOXX PHLX Semiconductor iShares ETF up 3.5% over the last week.
Both ETFs' top holdings have moved higher as well, with Applied Materials (NASDAQ: AMAT) and Nvidia (NASDAQ: NVDA) up nearly 6% in the last week, Taiwan Semiconductor (NYSE: TSM) up 3.5%, and Texas Instruments (NASDAQ: TXN) up just over 2%.
And one chart watcher says the group could be headed higher.
Oppenheimer's Ari Wald said this week, "We're bullish on the semiconductor industry. The reason why is that the industry is correcting from a position of strength – specifically, the semiconductor SOXX index is coming off a new high relative to the tech sector in April."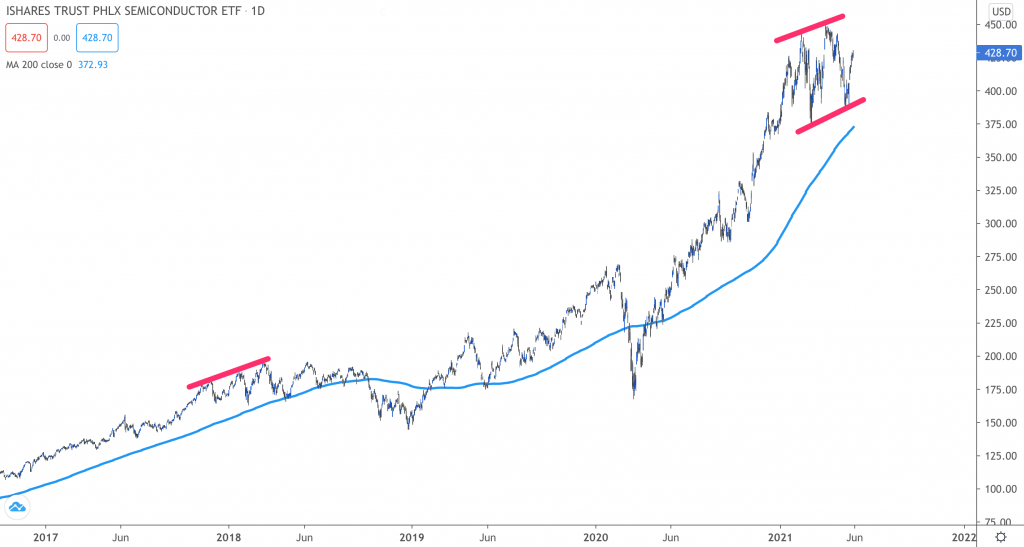 "Looking ahead, we'd be much more concerned if a new price high was undermined by a lower relative high versus the sector," Wald, Oppenheimer's head of technical analysis, added. "That would indicate that leadership is shifting away from this high beta, cyclical part of the sector. That is not the case."
One thing complicating the semiconductor shortage is a resurgence of coronavirus cases in Taiwan, a key location for chip manufacturing.
Taiwan has closed schools, curbed social gatherings, and shut down museums and other public venues. While businesses and factories are still operating, the government may still insist on broader restrictions.
The country is, of course, home to Taiwan Semiconductor, which is the world's most advanced chipmaker and counts Apple (NASDAQ: AAPL) and Qualcomm (NASDAQ: QCOM) among its customers. While the company did report that one of is staff members had contracted COVID-19, it said operations had not been impacted.
But the specter of a further supply chain squeeze due to the pandemic is something BK Asset Management's Boris Schlossberg isn't worried about.
"The story in Taiwan is a little bit overblown," Schlossberg, the firm's managing director of FX strategy, said. "I think they have incredible control on the ground, tremendously disciplined society so whatever COVID problems they have, they'll be able to get them under control and I think it's going to have minimal impact on production going forward."
Should the market get spooked by possible supply chain issues, Schlossberg says any weakness in the semiconductor space is a buying opportunity.
"Any kind of buy the dip is basically the story of SOXX, the shortage of supply right now is going to take a very long time to work out and demand is going to remain constant for quite a while so I think any kind of dip in the SOXX index is going to be a buy," Schlossberg said.